Get To Know: Smoke DZA
More than meets the smoke.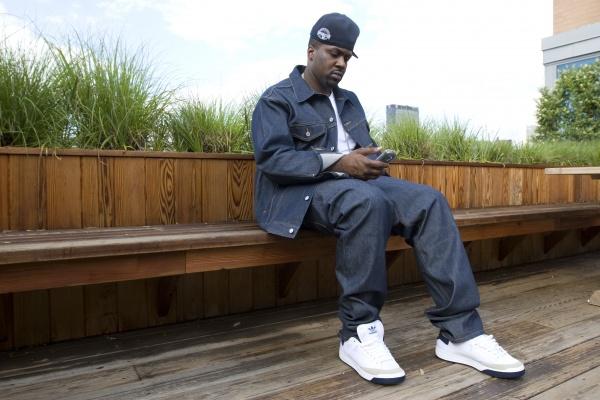 Who:
Smoke DZA
From: Harlem, NYC
Why You Should Get To Know Him: Because his rhymes are big, but his dreams are bigger.

Smoke DZA has no qualms about discussing his love of Kush. While there's a whole league of rappers who rhyme about it (including his friends Curren$y and Wiz Khalifa), DZA proves his skills exceed the pot talk. Rolling Stoned was the catalyst that sparked the movement, but for Smoke DZA it's not enough. His current project Rugby Thompson features beats from longtime friend/producer on the rise Harry Fraud. As DZA was on tour, Groove caught up with him to speak about his Harlem grooming, his next projects, and how the moment in Hip-Hop time feels alot like Woodstock.
How influenced where you by Harlem Hip-Hop?
Ma$e and Cam'Ron and Big L were huge influences to me growing up because they're from where I'm from. So you know, we always aspired to be as big or bigger than them. Ma$e especially, because Ma$e was like the first artist to do it commercially (so to speak) and really have an album named Harlem World and everybody talking about Harlem. So that played big on me coming up and watching those guys. Bumping into Ma$e in Footlocker and getting heads nods from him because I ran into him so many times that it was just like, "Okay, I know this little nigga." So I mean yeah, I was influenced by that a lot.

What about being Guyanese? Musically, how did that influence you?
I embrace my culture, of course and my heritage and my family. That's not something that I really dwell on a lot but you know, that's my heritage - that's where I came from and there's a big West Indian following in Hip-Hop. It's a lot of West Indians. Like Nicki Minaj is West Indian, so I mean, it's something that I don't dwell on a lot, but I will be dwelling on sooner than later and really try to get a part of that wave and have people looking at that a different type of way.
So who were some of your favorites, outside of Harlem?
Jay-Z, Biggie, Snoop...that's about it, those guys. To really have an influence on me like to where I wanted to emulate what they did, I wanted to have the sound or look or whatever, those three guys for sure.

In a short span of time, like 3 years, you released a ton of projects. But it felt like it all came together with Rolling Stoned. You kept making music until people started to pay attention. Is that what the formula was over these few years?
Definitely. It was really based on consistency to me. It was like, you know, every time I dropped a project, I wanted more because I always saw the kind of recognition I would get off of anything I put out, and then it just started to grow. Like it started small, started to get a little bigger you know, different people reaching out, different people listening. And I always knew from me staying consistent and I keep hitting them, I'd get in front of who I wanted to get in front of and it'd be heard and it won't be like, overshadowed. So, I just believe in being consistent because I know you're only as good as the last project you put out. So I never just feed off one project. I always want to put out more music. When I'm done doing music, I want to have a wide body of work to where people could look back and really look at these eras and really remember where they was at and where I could remember where I was at in a lot of these songs. So I mean yeah, it's just all about being consistent for me.

What are some of the best pieces of advice you got from Jonny Shipes?
Don't take no for an answer, and if people don't laugh at your dreams, you ain't dreaming big enough. That's really the Number One. Like dream big, no matter if they feel it's outlandish. Even if you feel it's outlandish, just believe in what you believe in and if they laugh at you, you're dreaming big enough but if they don't laugh at you, then you know it's possible. So just basically, sky's the limit.
When did you really feel like people were starting to take notice of you?
Right now. Before I didn't feel that. Before I always felt like, I would always put my all in everything I do and I would feel like that's the one like, "Oh yeah, this is going to be the one that does it for me!" and then it just never happened. Like I might see a write-up or I might get a rating that I didn't like and I'd just automatically write it off like, "Aw fuck man, they're still sleeping on me!" Even though that's the goal, that's like something I strived for. I thrive to be the best at what I do and to get the recognition that I feel I should get. So I mean right now, it's starting to bud into that. Like I'm not really getting all the way that I feel I should get but I'm definitely getting noticed and I'm blessed and I'm excited about that. But I just got a hunger for more. I want to be the best.

Are you excited about the response to Rugby Thompson?
I'm super excited about it. I got to work with one of my favorite producers for a whole project.
La musica de Harry Fraud.
Exactly, and he happens to be one of my best friends. So I mean, to get to work with him and fucking really put that project out and the roll out be what it is and to be getting recognized and all these write-ups and cool people...just bigging me up is just, that shit means the world to me because this is what I've been working on for the past 10/whatever amount of projects I put out. I been working towards this.

It sounds like you're really comfortable over Harry Fraud beats, like your songs sound like they just fit really well over what he's rocking with. Does he tailor make those beats for you or does he come to you with some beats and you're like, "Oh I like this."
Nah. Harry cooks up on the spot. Like I'm a guy, I don't write rhymes so I don't just come in the studio with rhymes ready to go.

Oh you're of the Jay-Z school of thought!
Yeah and not even just because he does it. Just because I started doing it when I used to write rhymes. Sometimes I couldn't find a pen, sometimes I couldn't find a pad. Or I used to write rhymes in my Sidekick and if I didn't pay my bill for my Sidekick, it'd delete all my notes. So it was like after I got my notes deleted so much from the Sidekick, I just started to memorize in my head and really like, get to the pattern of writing rhymes and formulating it in my mind as it's happening - just laying it down with that emotion with everything that's going on in my mind. I feel like you can't read a flow, if that makes any sense. You can only rap it the way you hear it in your mind. On paper, it'll sound like you're reading it, you know? So for me, that's just my technique and just driving myself to be better and helping me learn those words. Because I tour a lot so, I got to perform these songs so it's easier for me to learn these songs as I'm just coming up with it in my mind. So that's how I work. And Harry just any time I came to the studio, he'll pull up a sample and we'll go through mad samples and I'll be like, "I like this one," and he'll just do his Fraudy thing to it. He'll just cook it up and next thing you know, we got a great record. Like I don't have not one record that was like, "Eh, this is ok" with Harry. Like everything we did, we used. We got one record that we left off Rugby Thompson and that was because we didn't get the guest feature that we wanted to get in a fashionable time of the project coming out. And we just did a whole lot more for Rugby Thompson 2.
What do you put on your tour rider?
Starbursts, 2 bottles of Rosé, pizza, fruit, Lemon Key, Simply Lemonade, those are the things on my rider. Not to say that I get them in every venue but you know, when I get them it's good. They lucky I don't ask for no weed. They're lucky. You know, I give them another few months before I start demanding a zip of the local greenery.

It's no surprise that you like smoking. Do you get kind of irked though when they put you in a category of pot rappers?
Yes, it pisses me off. That's like my biggest pet peeve. But it's like a gift and a curse because I accept it like yeah, some subject matter is about pot. Like it's just a given if I make a song called "Kush God," obviously it's about weed. But everything I do doesn't have something to do with weed. Like that's the whole purpose of me even doing Rugby Thompson, because I had to name it something other than weed and do conceptual songs that have nothing to do with pot for them just to...I wanted them to take me serious. I feel like they didn't take me serious before because I would name something Rolling Stoned or George Kush Da Button. Like they'll get the humor off the cover and the humor off the name, but really it'd be a lot of serious music in there, but they'll bypass all of that to take a topic...to take a name...and run with it like that. So it bothers me, but I had a great conversation with Wiz Khalifa one day and I asked him and I was like, "Bro, how do you take people saying you're a weed rapper?" He was like, "Dude, embrace it. We are. We're the best. If we didn't do anything and they didn't title it or give us a label, then we're not doing it right. Like fuck it. They want to put us in that box, let's just dance in the box. Let's show them that we're bigger than that. Let's show them that fuck it, we are that but we're the biggest in doing that." So that shit made me feel good. He really like, made my life a whole lot easier and brought my morale all the way up by really letting me know that from somebody that has hit records, that's actually a household name and a friend of mine. So that was tight to me.
Will you two be collaborating again? You were also rumored to be working with Spitta [Curren$y].
Yeah, me and Spitta might do a EP or something. Put together something for the fans maybe. And Wiz, me and Wiz got records that's unreleased right now that people don't even know about yet. That's my brother. Like Wiz and Spitta, those are my guys, so along with K.R.I.T., we'll always be working. It's a lot of stuff growing from all of us. Like we all collaborate with each other, we all got unreleased music that hasn't got out there yet.

It's nice the sense of camaraderie that's happening now with the newer generations in Hip-Hop.
In this generation where we at with it, all my homies from the TDE guys to the Jet Life guys to the Taylor Gang guys and the Odd Future guys, it's all love. The A$AP guys, it's all love. It's like a Woodstock feel. We all just want to work and get money and tour and hustle together. Because we see that sticking together is the best thing to do. They want us to bicker, they want us to beef with each other, they want that. And that shit is wack because all that shit does is make people that have no beef or no malice with each other just be at each other's throats for some shit that has nothing to do with nothing. And you know, for the sake of competition, everybody wants to be the best, but we can all showcase our talents and work together and let the people decide who the best is. Everybody be the best at whatever they do. If you want to be the best at whatever, be the best at that. That's your superpower. I look at us like Expendables. A whole bunch of fucking superheroes together that's just fighting some whole other shit. The war ain't really with each other, that shit is against the people that don't believe in what we're doing. We all got doubters. We all came out the peanut gallery. Nobody just came out and was just like bam, I'm the man! Everybody went through some type of horror to get to where they at so we all embrace that and we all embrace each other and we all just work.
Of all the places you have toured, where's your favorite city?
I love San Francisco, because of the pot. I think they have the best weed in the world and they always roll out the red carpet for me whenever I come out there. I go to all the dispensaries, you know? I'm just like, the guy. I go in there and I leave with goodie bags and I don't have to pay. They just love me! And I eat their food and I got a lot of grower homies out there so I get to kick it with my homies and they tell me about the new strands coming out, and I get to try new shit. The Bay is tight, man. Berner, Kenny Powers, I love those guys. I love the Bay Area. I love Chicago too. Chicago has an awesome crowd. On some crowd shit, Chicago is always awesome for me. That's a Smoke DZA city. I love the Windy City. They always show mega love out there. I mean, I love everywhere I go truthfully. Because I get love everywhere so I mean, it's good to go where they love you at.

So what's next for you?
Well when I come off tour, I want to put out like 3 more projects before the year is over. I'm currently working on George Kush Da Button: Da Second Term, and I want to put that out maybe the top of next year. I really want to do it in November but it's looking like the top of next year. But I'm definitely working on that and that's going to be something huge for me. I'm probably going to put out Cuz I Felt Like It. It's a mixtape. I got a series that I been doing and it's called Cuz I Felt Like It. And I always put out 8 or 9 freestyles because I felt like it via Twitter, for free. And I'll probably do that some time soon. Maybe before I get off the road or as soon as I get off the road. I don't know. But that's pretty much done. And I'ma let my DJ, DJ Will Gates, host it and brand him because we're trying to do something big in New York City. We're trying to take over that movement over there. And I don't know, maybe one of these joint projects. Maybe the one with Spitta, maybe the one with Action Bronson. I don't know, something. I know we're going to put together something. Something will be brewing.
If you weren't here doing this, where do you think you would be?
I would be....damn, I really don't know. I can't see myself not doing this. Me and Joey [Bada$$] was just talking about this the other day, and I was like when I was a child, I never saw myself being normal. I never saw myself working a 9 to 5 and just having a normal life. Like I always saw myself doing something, always knew I was going to be special at something. I don't know what I would be doing. I think I would be doing the same thing, truthfully. I don't know. Or maybe I'd be at my mom's watching reruns of Wrestlemania 10 on cassette tape. I don't know. Rap is my thing.
live local music on
Enter your ZIP code to see concerts happening in your area.
Data provided by Zvents
follow msn music