Jay-Z's Baby Will Murder You
Highly Anticipated "3 Kingz" Mercifully Amazing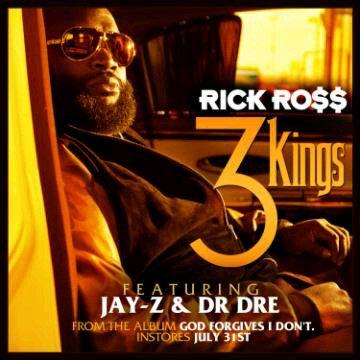 It's often scary when event-records with big-name collaborations are announced weeks ahead of their release. Expectations are raised sky-high, but more times than we care to remember, the results are spotty and instead of a new classic, we get a forgettable e-mail collab that doesn't escape the gravity of the hype. Luckily, Rick Ross's "3 Kings" is the opposite of that, and the Hov & Dre-assisted banger lives up to the standard set by the three men and their fans.



Dre's verse was clearly penned by Ross (no surprise) so while Rozay himself has the least amount of time on the track, knowing that he's speaking through Dre on the rest of the track allows him to confidently own it anyway. Jay nearly pulls the same game, doing a little stuntin' on behalf of Blue Ivy as he strolls through one of his better verses of late (not that I'm even counting anymore). The group meets over a DJ Khaled-assisted track that would make a dope solo record on any of their next solo albums—or at least would if the album ever actually came out, Andre—adding another point to Khaled's own string of recent successes.
"God Forgives, I Don't" is going to have a lot of work ahead of itself to own The Summer with "Cruel Summer" and "Based on a T.R.U. Story"
coming soon and "Life is Goo"d
having just dropped, but if this in any indication of what the rest of the record sounds like, the competition might not be so tough after all.
Hear the track:
http://soundcloud.co​m/defjam/rick-ross-3​-kings-ft-dr-dre
live local music on
Enter your ZIP code to see concerts happening in your area.
Data provided by Zvents
follow msn music