Get To Know: Stranger Day
Party like it's 2012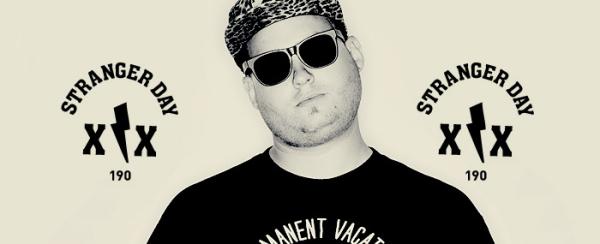 Who:
Stranger Day
From:
Charlotte, NC
Why You Should Get To Know Him:
Because he can show you a thing or three about having fun.
Hip-Hop has been inching toward a more diverse sound for years now. As more genres filter in, a brand new style is created, paving the way for burgeoning talent. While Charlotte, NC is not the most hopping place on the map currently for Rap, Stranger Day is out to change that. The artist has both Rock and Rap influences that meld together into one awesome sound. His latest project
Vice Matters
takes all of Stranger Days' vices and sets them to music. Looking for a soundtrack to your wild life? It's right here.



What was the Charlotte music scene like for you as a kid?
Pretty slow. There as always been a scene, but it lacks support from the city. I feel that is changing for the better every day though. I remember sneaking out of my house on Mondays during early high school days to rap at open mics and what not. There has always been a lot of dope rappers in
Charlotte...hopefull​y
we get our shine soon.
You have so many different influences from Rap to Rock. How did you become so well-versed in both worlds?
Just being a product of the '90s. The Grunge Era was so huge, and it was also the Golden Era of Hip-Hop...it was impossible to ignore either of them. I grew up with my pops playing everything from Earth Wind and Fire to Crosby Stills and Nash.

With Hip-Hop changing its sound and style so much these days, do you feel there is a perfect place for your style of music as opposed to maybe a few years ago?
Yes, I feel it is easier now than ever to be yourself in Hip-Hop and find/create your own lane and support base via all online tools etc. People are much more open minded these days.

What's your formula for creating your buzz?
Work hard, put out quality music, travel and meet as many folks as possible - like minded, good people recognize that in each other. From there, just build and assemble an army of supporters. 
Your current project is Vice Matters. What would you say are some of your biggest vices?
Women, whiskey, classic cars, and Rap music.

What did you aim to do differently from Barstool Bounce on Vice Matters?
Develop MY sound.. be original and create that true Stranger Day sound from both a writing standpoint and production standpoint. I feel
Barstool Bounce
set a foundation for me to expand on. It was the start to a long lane I hope to pave.
Vice Matters
was just the next step.
You and Permanent Vacation are known to party hard. What's one of your craziest party memories?
Sometimes my memory is a bit blurred during those nights, but I would have to say. On my last birthday we got super faded and expressed our love for brunch all day long. Then my roommate, Ian and I went and got "Brunch Life" tattooed on our fingers. It's been pretty well received thus far! I have many of wild stories, but I am choosing to be very selective on what gets printed for the world to see.

What's the greatest lesson you've learned so far in the game?
Be a good person and be patient. Timing is everything. 

What's your New Year's Resolution for 2013?
Stay healthy, step my whip game up, and document my life more so than ever - videos, songs, stories etc.
If you weren't here doing this, where do you think you would be?
If I was not rapping myself, I would still be involved in music one way or another. Finding talented fools and trying to help put them on. I hope to do that one day anyway, once I'm too old for this Rap shit. Rap and music in general is something I will be apart of until I'm rested in peace. Outside of music, I love the whole speakeasy, cocktail culture. I would love to own a dope bar for all the homies to get down at and serve the steeziest drinks around.
live local music on
Enter your ZIP code to see concerts happening in your area.
Data provided by Zvents
follow msn music