Get To Know: Tito Lopez
Rapping since Day One...literally.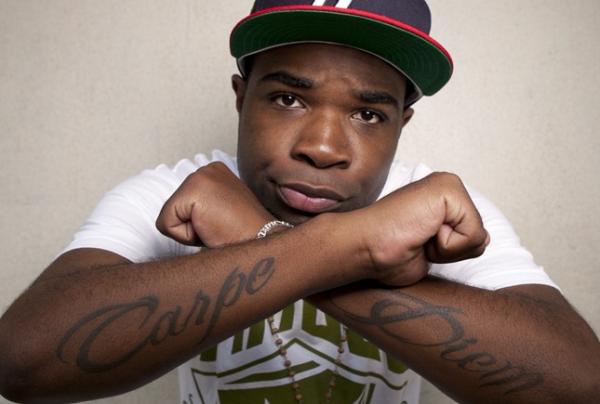 Who:
Tito Lopez
From:
Gulfport, Mississippi
Why You Should Get To Know Him:
Because Dr. Dre does.
Chances are, you've at least heard of Tito Lopez by now. The Gulfport, Mississippi native has been piquing on the radars of Hip-Hop heads for the past few years, given his sharp delivery and steady flow of freestyles/tracks. Most notably, Lopez received a huge cosign from Dr. Dre, the video of which went viral. Lopez is also rumored to have worked on the elusive
Detox
, and was also named an honorary member of the Dungeon Family. All of this from a guy whose first words were Kool Moe Dee lyrics and who knew all of the words to PE's "Fight the Power" at three years old. As Tito Lopez gears for a new mixtape and an album by the end of the world, he talks to Groove about his work ethic, his rap muses, and why some good local music has a hard time hitting mainstream ears.
How did you get the name Tito Lopez?
Lopez is actually my middle name. My birth name is Antonio Lopez Mouring. And Tito has been a nickname since childhood. I've always said that I'm not a character, I'm a person, so I wanted my rap name to reflect that. Shit, if my birth name had a ring to it, I'd keep that. So it's my nickname and my real middle name put together, and it sounds great.
What was the Hip-Hop scene like in Mississippi coming up?
There wasn't really one. A few club shows here, and a community center show there. But there wasn't really steady open mic nights or anything. And although there are talented artists there, there's also a lot of division. Everyone going for self. That was my take on it. But in all fairness, my city/state is not a big Hip-Hop market, so we all do what we can. The radio can't play much local stuff. Politics as usual.
Which rappers inspired you to start rhyming?
Biggie, Outkast, Eminem. A lot of the crew era like Ruff Ryders, Cash Money, Roc-a-Fella, etc. But Kris Kross is who I saw and loved because they were kids, and I was a kid so they inspired me. And I used to dance to MC Hammer constantly.
You were actually really really young when you first started rhyming. Can you speak on that?
Yea, my first words were actually Kool Moe Dee lyrics. "Wild Wild West" in the highchair one day. Go figure [laughs]. But my first recollection was Public Enemy. Used to rap the entire "Fight The Power" song at three years old. And wrote my first rap at five. It was smooth freestyle-esque. Like Da Brat, Snoop, etc. I wasn't rapping how I am now of course [laughs].
You have a large collection of projects under your belt. How many hours do you clock in the studio a day?
I never clock in or clock out actually. Doesn't feel like it. I was able to crank out projects for a few years straight because my studio was in my room. A mic and a laptop. So I could wake up in the middle of the night and record a joint. And it's what I do for leisure, so anytime I'm at home. I'm also in the studio.
When can we expect your debut album?
Beginning of 2013. The re-start. Since we're allegedly supposed to see the end of the world this year.
Who are some dream collaborations?
Lauryn Hill first and foremost. I've always wished Nas' joint with her was my song. Outkast as a group. Not just 3000. Timbaland production wise. Beyond rap though, I love Pink, the Gorillaz, Fort Minor, etc. Other than that, man, whatever happens happens. If it makes sense, I'm open. I've already worked with some of my idols in the Dungeon Family, and somebody legendary like Dr. Dre. I'm pretty good on collaborations [laughs].
Do you feel there are any other artists out there who bring your level of Hip-Hop to the game?
Well I don't know about my level, but young cats I like are
Kendrick Lamar
, all of
Odd Future
are crazy talented,
Big K.R.I.T.
has that old soul like I have. I like a female MC from NY named Siya a lot. She's true to who she is. There's more, I'm just really feeling all of them. And my crew, G.P.T., will be something very special.
How do you respond to people who still consider you a "new" artist?
I can't be mad because they don't know any better. I am a new artist to an extent. My skills just aren't anything new. But when they research me they'll understand.
If you weren't here doing this, where do you think you would be?
I would be doing something in film. Not just acting but directing, editing. etc. My 2nd love is film. Or in college studying Psychology. I enjoy analyzing things. Maybe too much [laughs].
live local music on
Enter your ZIP code to see concerts happening in your area.
Data provided by Zvents
follow msn music