Melanie Fiona Made a MF'in Album
And it's gooood.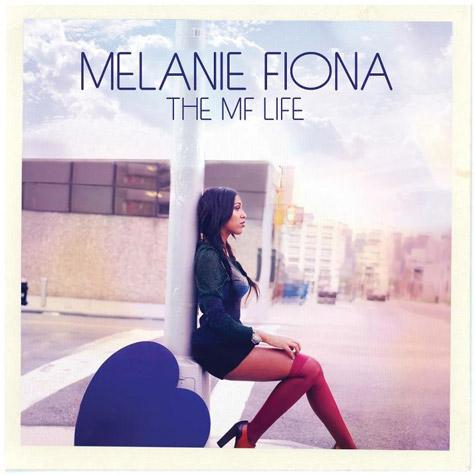 If the success that came with Adele exploiting her failed relationship is any indication, then Melanie Fiona has a promising 2012 to look forward to – one that will easily make her forget whatever dude just broke her heart and inspired her second album, The MF Life.
Kicking off with "This Time," a stomp-and-shake beat backs Mel as she begs for a second chance on a sing-along chorus: "This time…I'll love you like I never ever loved you before… / This time, if you say yes, I'll give you best." But by the next track, "4 AM," her compliance has fallen to the wayside, her politeness out the window, and we get to hear her exclaim that other "MF" word when she discovers that her man still hasn't made it home by the early morning hour. Her impatience is matched only by metronome-like faucet drippings. (Her and T-Pain later try to mash the song up with his own "5 O' Clock in the Morning" hit for a collaborative sequel titled "6 AM" – get it? – but the silly concept seems to have taken precedence over whether their two voices actually harmonize well together – they don't, she outshines – and you're left wondering why the "ironic" tune wasn't left on a mixtape somewhere.)
"Break Down These Walls" is another plea – "At best you're distant and at worst, you're hiding, I try to break through…" – but with the piano-pounding, cumulative handclap, church choir and ascending guitar solo, the wise words get lost under what sounds like an overwhelming attempt at an angry woman's anthem. Thankfully, "I Been That Girl" follows and makes up for the missed step with minimalism; only a muffled drum pattern assists Mel as she reflects and warns a fellow female against a dead-end relationship in a "told-you-so" fashion (hear it below).
The most forgettable tunes are ones where cheesiness was chosen over something more challenging. The rock guitar riff-inspired "Watch Me Work" doesn't fit anywhere but on a Victoria's Secret Fashion Show catwalk and, unfortunately, it's still too soon for the release of any ukulele-driven song, like "Can't Say I Never Loved You" - blame Jason Mraz's ubiquitous 2008 hit "I'm Yours." However, cutesy does work when John Legend assists on "L.O.V.E" – yes, it's "all they need" and it's "the answer," but it's joyful, impossible-to-ignore​ encouragement for the ages on an otherwise seductively sad album.

And some of the album's best moments are when Mel employs new sounds. "Wrong Side of A Love Song" boasts the type of blues you'd see someone sob on stage at a dive bar - and wail she does, begging "why?" and "please!" but to no avail. "Bones" is immediately reminiscent of "I Put A Spell On You" and rightfully so as Mel, now a voodoo-practicing vamp, demands she be given her lover's skin and skeleton over eerie horns. And on the reggae-tinged "Like I Love You," she sounds so comfortable wine'ing while explaining her need to be wanted.
Despite "Gone & Never Coming Back" being released as a single, it never grows old; Mel knows the importance of having a powerful chorus and she never fails in building the anticipation for her listeners. And though the majority of the album recalls the aftermath of a love gone sour, Mel doesn't wallow for long and reminds us lovers that if ever in the same situation, we can keep faith, move on, and figuratively "Change the Record" (on the uplifting track of the same title). Hear it below.
live local music on
Enter your ZIP code to see concerts happening in your area.
Data provided by Zvents
follow msn music