Nelly Furtado Returns with Dubstep on "Big Hoops (Bigger the Better)"
And some other (more annoying) qualities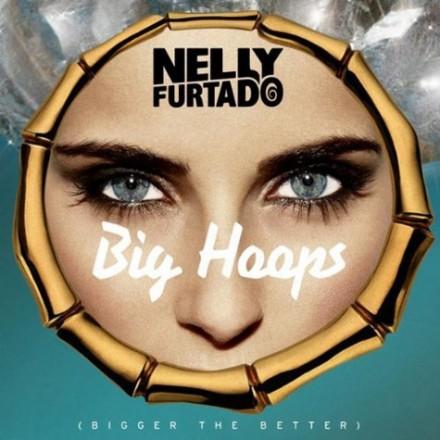 Let me start off by saying that I love Nelly Furtado. I loved her tree-hugging, hippie-like steez during the
Whoa, Nelly!
era. I credit her for teaching me a bit of Portuguese with the less-commercially successful, but culture-inspired
Folklore
. And I wasn't at all offended, nor did I see her as a sellout, when she very briefly (and forgivably, because it gave us a year's-worth of back-to-back inarguable hits) reinvented herself, once again, into a slightly more sexy, but much less cerebral singer on
Loose
.
But when I heard her new single "Big Hoops (Bigger the Better)," from her forthcoming album
The Spirit Indestructible
, I was taken on a short high -- she spits the catchy intro at beatbox speed -- before immediately and unwillingly crashing, thinking, "Was she always this bad?!" Where had I been? And I
love
bamboo earrings! What had happened?
"Big Hoops," like anything else, has it's moments. But the verses
aren't
it. And if you can get past the sheer shrill that is Furtado's voice - yes, it's always been slightly nasal, but that's as much her trademark as is Shakira's yodel, and in this instance, it's just squeaky overkill - then you
may
get a pleasing surprise at the end. But until then, it is a challenge you didn't sign up for to hear Furtado very flatly deliver syncopated syllables in the interim: "To- / -night / is  / the / jam, I'll be there til' dawn / I'm go- / -ing / down / I got my big hoops on."
She then develops an unforeseen and questionable Rihanna-like accent - "Ay, ay, ay, what's the scenari
o
?" - before
finally
bringing the heat in what, much like
Beyonce's "Run The World,"
sounds like a 3-part chorus made up of the (thankfully) more melodic line, "I can go fast / I can go slow," then segues into a chant request from the crowd, "Everybody say hey-ey-ey…," before finally finishing with a cocky beat-driven breakdown, "I bet you never seen something like that, like that." And it's enjoyable and everything you expected from Furtado. Prayers answered.
Unfortunately, things take a turn for the whiny worse again with the second (still-pitch imperfect, but slightly more tricked-out) verse that's just as irritating, but seems shorter this time around because you've either grown numb to it or have discovered that the Rodney "Darkchild" Jerkins-created
stomp-clap-&-percuss​ion-taps
beat is enough to keep you interested.
The latter becomes most evident when Furtado abruptly stops the audio to build anticipation for a surprise dubstep infiltration and distorted outro. And now it's kind of growing on me.
live local music on
Enter your ZIP code to see concerts happening in your area.
Data provided by Zvents
follow msn music