Estelle & Janelle Monae Teach How To "Do My Thing"
Take notes.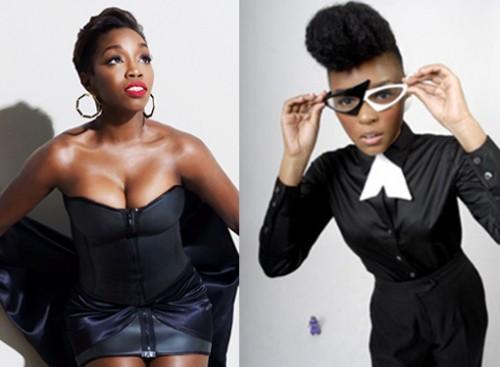 If you've had any trouble jumping on the bandwagon of Brandy & Monica's latest collaboration "It All Belongs To Me" (which, let's face it, was never ever going to be as big as "The Boy Is Mine") and/or if you're still feeling slighted by Alicia Keys & Beyonce for forgoing the release of "Put It In A Love Song" (despite teasing us for the entire winter of 2010), consider Estelle & Janelle Monae the latest superwomen to come to your rescue.
Their "Do My Thing" duet is an energetic, retro-inspired - think keyboard synths and melodic "oohs" - empowerment anthem that isn't half as dramatic as something Bey would require a hair-blowing fan for while singing, or half as corny as something the Spice Girls would have sung 15 years ago (though one of the ladies
does
employ a cackle on the record that recalls Mel B.) VV Brown certainly could have pulled this off, but she doesn't boast the same in-your-face sassiness needed to deliver the Ne-Yo-penned track.
It's an uptempo tune - the kind your Grandma would find a hoot because it reminds her of Motown, there are lots of hand claps, and the lyrics are easy to remember: "I wear my clothes like this because I can / I wear my hair like this because I can / I walk around like this because I can." Plus, it's impossible not to imagine Monae fancy-footworking herself down a stage while shouting "When I dance, I dance to the beat of a drummer you don't hear and you can't see / So if I look offbeat to you, well, the problem must be you, not me."
Estelle claims the song, off her upcoming
All of Me
album, was inspired by her journey from her mother's garage to successful singer - I don't hear any of that, but I do hear big horns when the U.K. and U.S. union becomes no more evident and joyful than on the bridge; the two ladies close the gap, going line for line: "Irregular, but never irrelevant / Unusual but never uncool."
live local music on
Enter your ZIP code to see concerts happening in your area.
Data provided by Zvents
follow msn music