Mariah Carey's "Triumphant" Comeback is Anything But
We try to forgive her.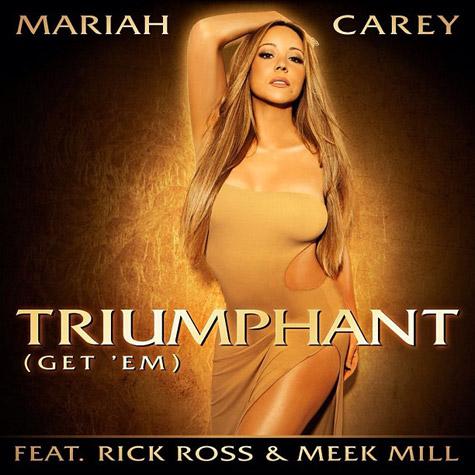 It's been three years since Mariah Carey released an album, and it was one most critics would like to forget. It's also been a year since she had
"dem babies,"
so we'd like to blame the utter lack of effort shown on her new single on sheer fatigue.
Mariah's never shied away from taking advantage of a rapper's shine when in need of a cooked-up collaboration: "Fantasy" featured the late O.D.B., "Honey" had the Lox, Jay-Z was guest on "Heartbreaker", "Boy (I Need You)" co-starred Cam'Ron, Snoop Dogg helped "Say Somethin'," and who could forget the femme fatale that fell flat, "Up Out My Face" featuring Nicki Minaj?
So it came as no surprise that for Mariah's anticipated comeback single, she went the Rick Ross route (since the rapper has no less than four songs in rotation on urban radio in
any given week
).
But where as, in the past, Mimi's musical matrimonies felt organic, "Triumphant (Get Em)" feels forced - and certainly opportunistic considering the Olympics (ad placement, anyone?). Using the Maybach Music Group for marketing purposes sounds good in theory, but when its labelmates front the first two-and-a-half minutes of your supposed return to the spotlight, you may want to re-think why you invited
the friend that always steals your thunder
in the first place.
Ironically, "Triumphant" - produced by Jermaine Dupri and Bryan Michael Cox (but strangely featuring Lex Luger's trademark laser tag) - is surprisingly somber. Slow horn-like synths give way to a verse from Meek Mill, while even sadder piano keys and strings back Rick Ross. Mariah, herself, has been reduced to a hook girl whispering generic inspirational quotes: "Can't fall down / stay triumphant / keep on living / stay on your toes / get off the ropes / don't let 'em ever count you out."
Ok, Mariah, we won't. But just this once.
Update:
Mariah has released two
remixes
worth listening to... if you're into dance.
live local music on
Enter your ZIP code to see concerts happening in your area.
Data provided by Zvents
follow msn music