Usher Still "Looking 4 Myself" After All These Years
...and keeps finding basically the same thing.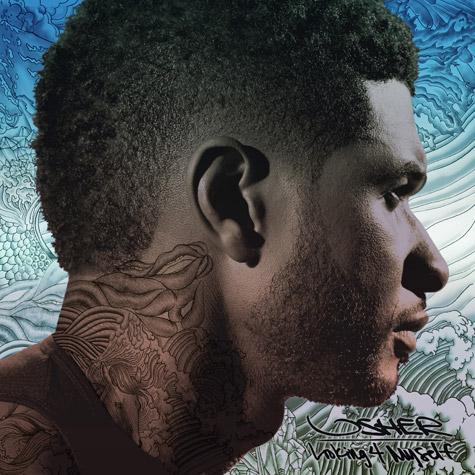 After singing and dancing his way through adolescence and young-adulthood, it would seem that Usher should have managed to find himself by now, but according to his new album's title, he's still looking. Even with a nearly twenty-year career behind him, Usher still has plenty of time left to it's good that he's still motivated to keep himself current, but despite those efforts, he still always manages to land in a similar place: a decent album with a few great singles to raise the average. "Looking 4 Myself" is frankly not much different, but the good news is that Usher is still a solid performer overall, so even when he's not knocking them out of the park, he still manages to get on base.
Surprising no one, a good percentage of "Looking 4 Myself" is based in the House-Pop sound that dominates the current Top 40 landscape. While things start off shaky with opener "Can't Stop Won't Stop"—rave synths and an "Uptown Girl" interpolation don't mix—the blatant trend-spotting is eventually tempered by more traditional tracks like "Show Me" and more innovative ones like the Diplo-produced "Climax." "Sins of the Father" is surprising with its relatively dark feel, and The Neptunes and Empire of the Sun also contribute on "Twisted" and the title track (among others) to add a little variety to the tracklist. 
Usher is well practiced at what he does so it's hard to say that anything on "Looking 4 Myself" is bad—he even puts some energy into paint-by-numbers tracks like "Numb"—but certain parts are still a little on the unremarkable side. "Scream" and "Euphoria" will work well as background for a group of costumed teens on "America's Best Dance Crew," but most just because the songs won't be interesting enough to distract from the action. Not all of the "bonus" tracks on the deluxe version are really much of a bonus either, and "Hot Thing" (with A$AP Rocky and The Neptunes) stands out as particularly disappointing considering how good it should have been. At no point are you likely to hear a song and shut it off in disgust, but several will just float by with little fanfare.
Despite having a number of fantastic singles, Usher's last few albums haven't quite rolled over to the "classic" category because the highs are often padded with a bunch of okay filler. Usher's version of filler still hits a certain level of quality, so like many of his albums, "Looking 4 Myself" is decent but largely forgettable. At 33, Usher still has a few years before he hits the next phase of his adult sound so it'll be interesting to see how that develops since it seems like he'll wear maturity well. In the meantime, Usher's albums might not always be amazing, but he'll certainly have an amazing first disc for his greatest hits collection.
live local music on
Enter your ZIP code to see concerts happening in your area.
Data provided by Zvents
follow msn music