Get To Know: Pep Love
Hieroglyphics' rhyme-spitter defies the Hip-Hop rigmarole.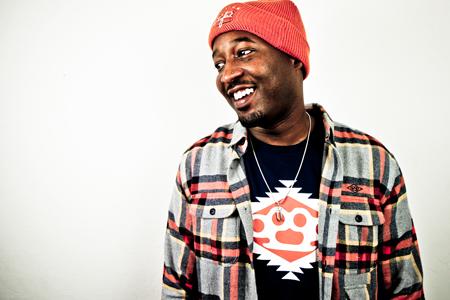 Who:
Pep Love
From:
Oakland, California
Why You Should Get To Know Him:
Because he's damn good.
Anyone who is familiar with the Hieroglyphics collective knows who Pep Love is. The Bay Area emcee has been a part of Hip-Hop's foundation for close to 20 years and has just added
Rigmarole
to his extensive album collection. Known for sharp lyrics and clever wordplay, Pep is one artist who has never faltered in delivering high quality Hip-Hop. If you haven't known about him by now, it's time to get familiar.
What have you learned about yourself/career as both a solo artist and part of the Hiero crew?
That I love music and creating and performing. And that I'm good at it.
You've been a mainstay in Hip-Hop for two decades, but with the landscape constantly changing, do you feel like you have to keep reintroducing yourself to new audiences?
I wouldn't say that I've ever been a mainstay. I'm just trying to do what I love doing at the highest level and make a good living. I feel like Hip-Hop culture and music is about being cutting edge, original and innovative. And in that way it's about continuing to create, define and pioneer my own landscape instead of catering to the changes that have nothing to do with art and creativity and more to do with industry and pop culture. I want to be the best and that desire should drive me to look forward to introducing myself to a new audience every time I put myself up on the stage and create and release new music.
What was your mindstate going into the making of Rigmarole?
That I love music and creating and performing. And that I'm good at it. So going through the process of creation and performing will ultimately carry me to the accomplishment of my greatest goals.
How did your approach differ from Ascension?
My approach was much more self-contained and independent. I was much more personally involved in every part of the process of bringing the Rigmarole to fruition creatively and commercially than I was with
Ascension
. Out of choice and necessity.
Hip-Hop is now in the middle of this DIY movement, something Hiero perfected early on. Are you noticing that same spirit in these new artists?
I had to look that acronym up. Oh yeah. Everyone has to do it themselves now. No record company is going to develop any artists and help them build their core audience anymore. So its either do it yourself or nothing.
Even though you're from the Bay Area, your sound was never very specific to the region. Was that a conscious decision?
Not really. I love Bay Area Hip-Hop! But I'mma natural born leader and I've never been much of the trendy type. I never felt the need to try to fit in. I believe in me more than I believe in the world or region around me.
Who were some of your influences coming up?
Eric B. & Rakim, Public Enemy, Boogie Down Productions, A Tribe Called Quest, Big Daddy Kane, LL Cool J, Afrika Bambatta and The Soul Sonic Force, Run DMC, Grand Master Flash and The Fuirious 5, Melle Mel, Too Short, NWA, Ice Cube, The D.O.C, Stevie Wonder, Cameo, Shaka Khan, Curtis Blow, George Clinton and many more
What do you think is the key to your longevity as an artist?
I can only hope to achieve longevity. At this point, I'm still trying to get it how I live. So I guess we shall see.
You are very active within your fan base, something that Hiero has always been very good about. Has that closeness to your fans ever backfired?
Well, I try to be as friendly and pleasant as possible, but I'm not the biggest on tweeting and Facebook or even going out into the audience at shows because I want to stay friendly and pleasant as much as possible when I do encounter fans. Sometimes people don't respect your personal space. People try get me to tell them my real name and other personal stuff that I don't necessarily share with a total stranger. But the best activity that I can have with them is when I am on stage busting raps, performing my music. Because it's all about the music and I want to entertain and maybe even enlighten
How many Hiero tattoos do you think you have seen in your life?
More than enough. I thinks it's kinda bizarre. But to each his own...
live local music on
Enter your ZIP code to see concerts happening in your area.
Data provided by Zvents
follow msn music