A Guest Appearance Analysis: Justin Bieber's "Boyfriend" Remix
2 Chainz vs. Mac Miller vs. Asher Roth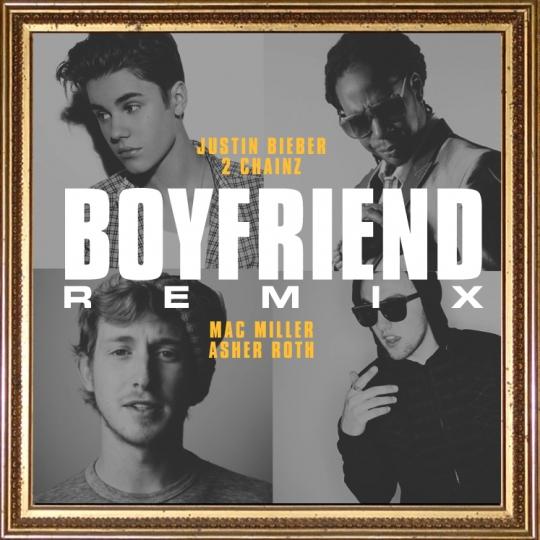 The success of Justin Bieber's "Boyfriend" can pretty much be credited to Justin Timberlake who first braved and tread the waters -- of employing whispery antics to prove sudden adulthood -- during his
Justified
era. The downfall of "Boyfriend," however, is the sole burden of Bieber himself and the lyrics he so chose to use to establish himself as a rapper.
There's the one, in which he's unsure if he likes melted cheese, but opts for it anyway: "Chillin' by the fire while we eatin' fondue / I dunno about me but I know about you"
And this one, in which he attempts to seduce his date by misguidedly likening himself to a toy fit for a child: "I could be your Buzz Lightyear / Fly across the globe."
And lastly, this one in which he simply confuses himself for Gucci Mane: "I'ma make you shine bright like you're laying in the snow / Burr"
Luckily, Bieber's got friends -- real ones who either politely advised he never rap again or famous ones who suggested that they appear on the track instead. Or both. Either way, in a unforeseen union, 2 Chainz, Mac Miller and Asher Roth go verse-for-verse on the "Boyfriend" remix, leaving nothing of Bieber's original attempt in tact, except for his more
appropriately-execut​ed
"hello to falsetto."
Let's compare [Listen here]:2 Chainz
sounds like he can't catch the whistle-backed beat, but achieves points for successfully keeping his lyrics PG - considering he often refers to himself as "Tity Boi." However, he uses that ubiquitous punchline-peppered delivery: "I told her let's kick it, karate / Got a black belt on, Versace / Wanna get my eat on, Hibachi." Then again, he closes with a request that's not half as romantic as it is clever: "Hello? Hear that wedding ring? And if you answer, then we settling."
Mac Miller
's up next and manages to fit twice as many syllables into his verse than his predecessor. He speedily spits lyrics about an expensive lifestyle we're not sure he can even afford, but hey, he's awarded for taking on the POV of Bieber who, we know, most certainly can: "Have you ever had a Rollie / Stuart Weitzman on your feet? And you can be my queen / Couple thousand on the jeans." Talk of boat-required vacations and big checks ensue.
Asher Roth
finishes slowly, and gets a gold star for name-checking Bieber's real-life lady - "And we can be like Selena and Biebs / Wild and free, a couple disobedient teens" - but his account of what he believes their young love consists is adorably antiquated: "Cause 7 minutes in heaven ain't enough when we're together / Kisses to the forehead, when I slide my hands to second." Considering Gomez is just a month shy of turning 20, we have a feeling they're not playing these games anymore.
Mac wins.
live local music on
Enter your ZIP code to see concerts happening in your area.
Data provided by Zvents
follow msn music