FEATURED POST
By the skin of their teeth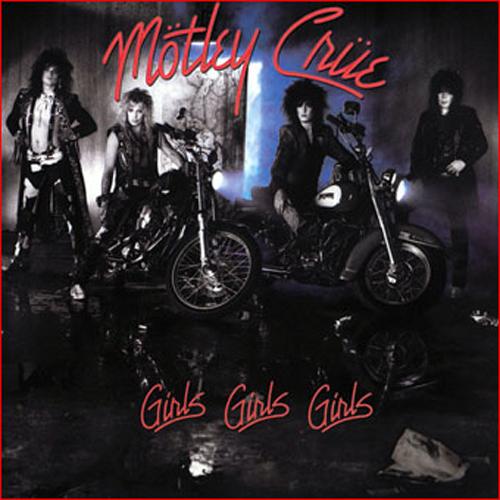 Of course, heavy metal had been on the rise for a good four years by the spring of 1987. That June, however, something happened that cemented metal's crossover into the mainstream, kicking off a three or four-year period where that wave of popularity would start to crest. For the week ending June 20, five of the top six albums on the Billboard albums chart were of the metal variety. At number six, Ozzy Osbourne's Tribute live album featuring the late Randy Rhoads. Number five, Poison's 1986 debut Look What the Cat Dragged In, which was finally starting to take off. Number four, Bon Jovi's smash Slippery When Wet, which was ubiquitous to the point of annoyance. Number three, the stunning self-titled comeback album by a shrewdly made-over Whitesnake. And in the second spot, the fourth album by the biggest metal/hard rock band on the planet at the time, Mötley Crüe's Girls, Girls, Girls.
Although Mötley Crüe made a massive impression early that decade, starting with 1981's excellent debut Too Fast For Love and 1983's classic Shout at the Devil, in the years that followed their reputation for controversy and debauchery far overshadowed the music, and the music clearly suffered as a result. While it had its moments, 1985's Theatre of Pain was a comparatively weak album. Thanks to a pair of absolute smash singles in the cover of Brownsville Station's "Smokin' in the Boy's Room" and the great power ballad "Home Sweet Home", though, Crüe's popularity only grew, the band having made the jump to headlining arenas.
Two years later, from a commercial standpoint the band was in a prime position to knock their next record clear out of the park, but for those of us kids at the time, we had no idea just how big a mess the band, especially bassist and chief songwriter Nikki Sixx, were in. As he describes so vividly in his best-selling book The Heroin Diaries, Sixx was in the depths of a severe heroin addiction during the making of that crucial fourth album, which made the recording process all the more arduous, saying at one point,
I don't know if this album we're making is any good. I don't know if I even like it…and if I don't like it, who will?
I'm really proud of Wild Side, but other times I'm just recycling old Aerosmith riffs or repeating myself. I know I should be trying harder but I can't be bothered.
Over a five-month period in late 1986 and 1987, the band had holed up in an LA studio with Tom Werman, who had produced Shout at the Devil and Theater of Pain, and somehow, miraculously, Girls, Girls, Girls was completed. And what a strange record it would turn out to be. Rarely will you ever come across an album that contained such great, career-defining songs yet still was such a waste of an incredible opportunity. Three of nine songs would be flat-out classics, two more would be decent, while the rest would be nothing more than lazily-written filler. And if that wasn't enough, so few passable songs were completed for the record that they had to tack on a terrible live cover of "Jailhouse Rock" at the end, just to round out side two.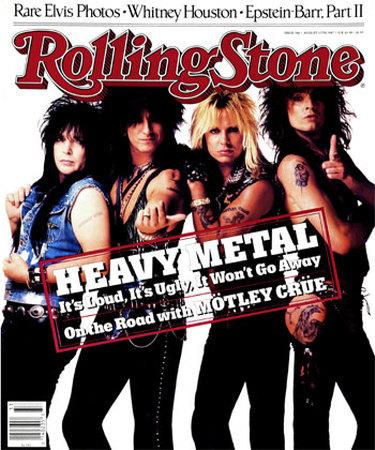 It's a real shame, too, because what a start the album gets off to. Written in the depths of his addiction, and as he later admitted a thinly-veiled tribute to Lou Reed, "Wild Side" remains Nikki Sixx's finest composition, the most complete realization of his vision of Mötley Crüe: gritty, dangerous, sleazy, badass. Mick Mars comes through with his most nimble riffing on record, Tommy Lee gives the track a phenomenal groove punctuated by his floor tom fills, while Vince Neil, who was never the greatest singer to start with, nevertheless turns in a commanding performance, snarling and spitting Sixx's lyrics with venom. It's the one perfect, definitive Mötley Crüe song. The title track follows, and whereas "Wild Side" focused on the band's darker side, "Girls, Girls, Girls" focuses on the band's otherobsession. More celebratory than misogynist – just slightly - lyrically it's little more than a silly list of the band's favorite strip clubs, but its sense of fun is undeniable, and it was the album's biggest single and to this day remains a classic nugget from the hair metal era.
Better than the title track, in my opinion, is "You're All I Need". The album's token power ballad, many instantly called the song a sequel to "Home Sweet Home", but in actuality Sixx takes the formula and turns it on its ear, adding a grisly shock rock element. Like Alice Cooper did in the 1970s, Sixx puts a macabre twist on the idea, making his protagonist sing a love song to a woman he killed, which lends an otherwise syrupy ballad an unsettling edginess to it. And of course the real story behind the song was even better, as Sixx would eventually reveal he had written the song as a mocking response to General Hospital actor Jack Wagner, who had bedded Sixx's girlfriend and whose song "All I Need" was a big hit in 1984.
While "Dancing on Glass" and "Five Years Dead" would see Sixx displaying some creative inspiration from his addiction and the 86-second interlude "Nona" paid loving tribute to his revered grandmother, the rest of the album – "Bad Boy Boogie", "All in the Name Of…", "Sumthin' For Nuthin'" – is Sunset Strip rawk at its most trite and pointless, songs that barely go through the motions, the band desperately trying to sell it, but failing miserably. And that "Jailhouse Rock" cover is still atrocious after 25 years, simply there to pad out the album to just under 40 minutes.
Despite the incredible inconsistency of Girls, Girls, Girls, this was the 1980s after all, and fans bought the album in the millions and showed up to the band's concerts in droves. With Whitesnake opening, Mötley Crüe's tour that year was a massive success, garish and over the top – featuring Tommy Lee's legendary spinning drum kit – but Sixx was still spiraling out of control, and would ultimately overdose on heroin on December 23, 1987, famously declared dead by paramedics for two minutes. Meanwhile, a new wave of sleaze rock acts were primed to steal Mötley Crüe's thunder that summer, as Faster Pussycat, LA Guns, and a carefully groomed band called Guns 'N' Roses were generating serious buzz and would blow up in a major way in early 1988. It wouldn't be until 1989 that a newly sober Crüe would return, and while their fifth album Dr. Feelgood wouldn't have the edge that their previous four albums had, it would turn out to be the most consistent album in six years, and 'scuse the pun, kickstart their career once again.
U2's heavily marketed juggernaut The Joshua Tree might have been firmly cemented in the top spot at the time that pivotal week in June 1987, but that chart performance by those heavier bands was a massive statement. Metal was what the kids were listening to, and the major labels had caught on to the idea; also in that week's top 200 albums were Cinderella, Ace Frehley, Tesla, Stryper, Megadeth, Deep Purple, Ratt, Iron Maiden, Metallica, Van Halen, and Europe. A younger reader might scoff, saying, "We see just as many or even more metal albums in the top 200 today," but in 1987 that was simply unheard of, and besides, far, far more people bought albums then. All but two of those albums would be certified platinum in the US. Back then a metal record reaching the top 40 was big news, cracking the top five unthinkable. And even though they were a total wreck, Mötley Crüe still managed to lead the way in 1987, and for all its flaws, the fact Girls, Girls, Girls was ever completed in the first place is an incredible achievement in itself.
live local music on
Enter your ZIP code to see concerts happening in your area.
Data provided by Zvents
follow msn music