FEATURED POST
Just another day off for the Most Interesting Man in Metal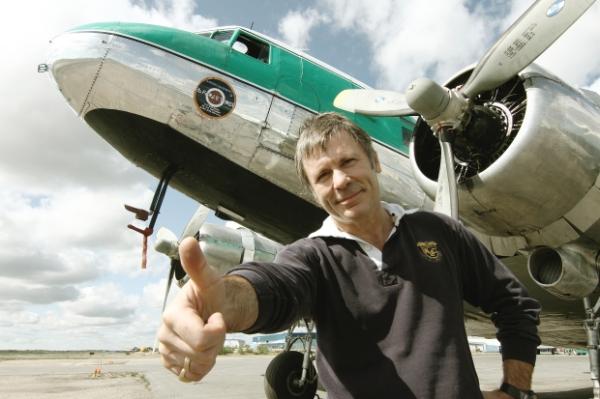 I won't deny it, when you're a music writer who's paid his or her dues you do get your share of cool assignments. However, once in a rare while an opportunity arises that is simply too mind-bogglingly awesome to comprehend, one that'll have your peers saying, "you did what?" This past Saturday Edmonton Journal writer Sandra Sperounes became the envy of Iron Maiden fans worldwide as she got to spend a day flying across the Canadian north in a vintage World War Two plane piloted by none other than Bruce Dickinson, mere hours after the man performed to thousands with Maiden in Edmonton Friday night.
Co-ordinated by the History Television reality series Ice Pilots NWT, Dickinson and series star Mikey McBryan flew an old Douglas DC-3 from Edmonton to Hay River and Yellowknife, Northwest Territories - a round trip of more than 1,200 miles - for a fun day of aviation geekery. Needless to say, it made for a fun event to follow on Twitter, and it also yielded a great feature story to boot. It's a must-read for Maiden fans everywhere.
Read the Edmonton Journal's story on Dickinson's trip up north here.
View a photo gallery of the trip here.
Watch a video documenting the trip here.
(photo by Fish Griwkowsky, Edmonton Journal)
live local music on
Enter your ZIP code to see concerts happening in your area.
Data provided by Zvents
follow msn music