FEATURED POST
'Metalion: The Slayer Mag Diaries' is a stunner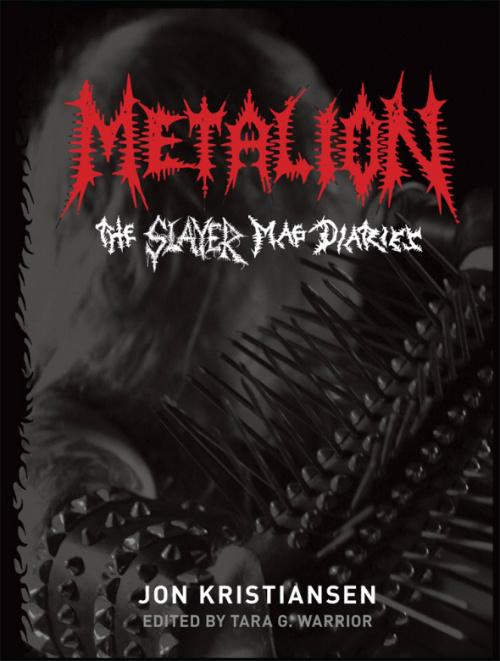 As enjoyable as it is immersing oneself in Metalion: The Slayer Mag Diaries, it's also a humbling experience for any metal fan, because no matter how much you love metal music and how devoted you are to the metal cause, it pales in comparison to how much Jon "Metalion" Kristiansen has dedicated his life to the music, its artists, and the culture of heavy metal. Over the course of 25 years he published the Slayer fanzine from his home in Sarpsborg, Norway, exchanging letters and trading tapes with bands and fans worldwide, forming relationships with many bands, and slowly building a reputation as an authority on heavy metal. That alone is a tremendous achievement, completely deserving of having the zine compiled and fully reprinted as Bazillion Points has done in this lavish 700 page book, but the fact that Kristiansen did all this from the center of the Norwegian black metal scene transforms an already cool story into an extraordinary one.
The first person to champion Norwegian black metal legends Mayhem back in 1986 (writing, "If you want to describe their style…they play Venom's 'Black Metal' on 78"), befriending band members Per "Dead" Ohlin, Øystein "Euronymous" Aarseth, and Jørn "Necrobutcher" Stubberud in the process, Kristiansen soon found himself in the middle of an extraordinary, burgeoning scene, soon devoting a lot of attention to such bands as Darkthrone, Burzum, Emperor, Dissection, among many others. However, he also watched as the scene crumbled around his feet, his peers killing themselves, burning churches, and committing murder. So in addition to the extremely valuable early Slayer interviews with so many seminal black metal bands, readers are also treated to introductory chapters by Kristiansen that set the scene wonderfully as he reminisces and muses about his relationships with those artists and the nascent black metal movement as a whole.
In addition to black metal, Kristiansen devoted a lot of time to countless other metal bands well before they became famous, including Morbid Angel, Bathory, Entombed, Sodom, Voivod, Kreator, Napalm Death, Sepultura, and Opeth. And in every single issue his passion for the music is evident; he's a fan, no question, but he's also insightful, as the interviews with the bands are always very revealing and fun to read. There's such a quirky charm to those issues of Slayer, especially in those first dozen issues, with their photocopied pictures, elaborate hand-drawn borders, the dementedly funny cartoons of mascot "Arne Babb", and that unbridled enthusiasm that Kristiansen brings to every single page.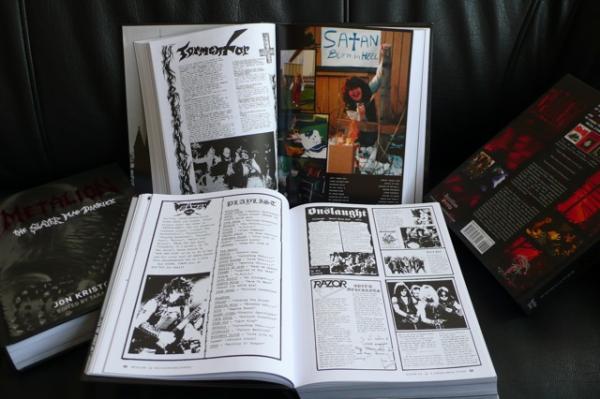 Of course the most fascinating parts of Metalion: The Slayer Mag Diaries are his accounts of Dead's suicide and especially the murder of Euronymous by Mayhem bandmate/Burzum musician Varg Vikernes. Reading the whole story from Kristiansen's point of view, it plays out very similarly to the great 1986 film River's Edge, where a member of a peer group murders another and how the surviving friends withdraw into themselves, lacking the maturity and perspective to properly deal with the tragedy as the world around them reacts with horror. You can sense Kristiansen's regret that he never properly mourned the loss of his friend, admitting that he and his other friends were completely incapable of dealing with the gravity of the situation, instead numbing themselves to it all. Instead, he threw himself into the tenth issue of Slayer, which was dedicated primarily to Norwegian black metal, and when it came out in 1995 it had a profound influence on many fans and young musicians in the metal underground.
As each issue of Slayer passes in the book, Kristiansen approaching his 40s, it's easy to see the mental exhaustion setting in, as the final issues, while as entertaining and informative as ever, don't quite burst with the same energy as the classic issues of the late-'80s and 1990s. So in a nice little coda to the story, he writes about his decision to stop covering metal music, his newfound passion for photography, and his eventual sense of contentment in leaving all the letter-writing, interviewing, promo-collecting, and cutting-and-pasting behind him.
The physical presentation of Metalion: The Slayer Mag Diaries is stunning. Bazillion Points is known for putting out top-quality books, but they've outdone themselves here. It's enormous, weighing six pounds, but it's something you like to hold, to flip through, and lose yourself in. Each Slayer issue is impeccably reproduced (key Norwegian articles translated for the rest of us), and the book is also accompanied by color photo collections, ranging from personal snapshots from Kristiansen's life to his impressive professional portraits. As beautiful as the book itself is, it's the content inside that's the most valuable, however. Sure, there are more skilled writers and more astute scholars who have written about the genre, but they don't have that intangible likeability that Kristiansen brings to both his zines and his autobiography. Simply put, there isn't a metal fan alive who won't relate to Kristiansen. We're all just as passionate about metal as he is, but he went the extra mile and then some, and the end result is a body of work that's been compiled to create a valuable resource, a very entertaining memoir, a perfect example of the unique appeal of this form of music, and what could be called the greatest book about heavy metal ever put together.
live local music on
Enter your ZIP code to see concerts happening in your area.
Data provided by Zvents
follow msn music