Leviathan's Jef "Wrest" Whitehead Sentenced to Two Years Probation
Controversial musician guilty of aggravated domestic battery, not guilty of sexual assault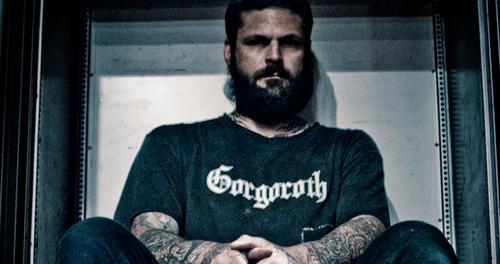 A year and a half ago Jef "Wrest" Whitehead, best known as the mastermind behind the black metal projects Leviathan and Lurker of Chalice, was arrested for an alleged assault on his then-girlfriend. The details of the assault were particularly horrific and sensational, especially when the Chicago Sun-Times reported that the assault involved a tattoo gun, which has since been revealed to be not true. While the metal world worked itself up in a lather about the charges, many rushing to assume Whitehead was guilty, a few people close to the musician vehemently maintained his innocence, including his fellow Twilight collaborators Blake Judd, Sanford Parker, and Stavros Giannopoulos, as well as Profound Lore owner Chris Bruni.
According to a report by the Chicago Reader, Whitehead, who had initially faced a 34-count indictment until 28 of them were dropped, has been found not guilty on four counts of aggravated criminal sexual assault and one count of unlawful restraint. However, he was found guilty of aggravated domestic battery, and has been sentenced to two years probation. He had been incarcerated for 94 days during the trial, and was released yesterday.
Interestingly, the provocative nature of his album True Traitor, True Whore, which was released last fall and – though he refused to comment about it at the time – clearly referenced the incident in several song titles and lyrics and had a lot of people questioning his taste and wondering if it would affect his trial, was not a factor whatsoever, as his music was not mentioned in the trial at all.
When I interviewed Whitehead for Decibel magazine before the album's release, for all his bluster there was some real worry as well, as he admitted he was staring at 16 to 48 years in prison. "I didn't do anything, man," he told me. "It's not like that, you can stop believing everything you read. It's f****d my business up; it's been rough. But the truth will come out, it always does. The truth shall set you free."
While Whitehead's lawyers and friends insist the aggravated domestic battery charge is bogus ("He shouldn't even have been charged with this. It's false," Bruni told me shortly after the announcement was made), Whitehead appears ready to get on with his life. He's served jail time, will undergo a mental health evaluation, and will be leaving Chicago for the Bay Area for a fresh start.
live local music on
Enter your ZIP code to see concerts happening in your area.
Data provided by Zvents
follow msn music