Agalloch Tour Dates Surface; New EP Completed
30 day tour starts July 12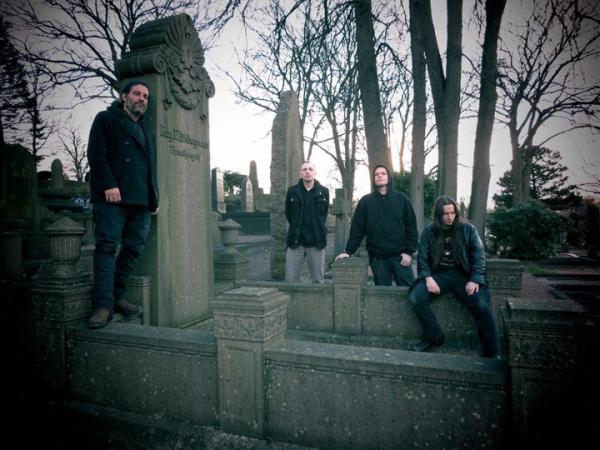 If you're not going to be able to see Agalloch perform at Maryland Deathfest next Thursday, May 24, the good news is that the great Portland band will be touring the United States and a couple cities in Canada this summer. It's a 12-date run so far (itinerary is posted below), and there's no word if more shows will be announced.
Although Agalloch fans are still basking in the afterglow of the stupendous Marrow of the Spirit, which was easily the best metal album of 2010, the band does have some new music in the works, as the forthcoming Faustian Echoes EP has been recorded with engineer Billy Anderson, described as, "a 20 minute long conceptual and colossal track live onto two-inch tape."
If you haven't seen Agalloch live yet, if you're able to by all means do so. Their atmospheric, pagan-themed black metal sounds glorious in person, especially in a venue with great acoustics, which I learned when I caught their set at Roadburn last month. Check out this Roadburn performance of "Limbs" posted on YouTube.
7/12 Seattle, WA @ The Crocodile
7/13 Vancouver, BC @ Rickshaw Theatre
7/20 Chicago, IL @ Reggie's Rock Club
7/22 Cleveland, OH @ Beachland Ballroom
7/23 Toronto, ON @ TBA
7/25 Cambridge, MA @ Middle East Downstairs
7/26 Brooklyn, NY @ Music Hall of Williamsburg
8/1 Atlanta, GA @ The Earl
8/3 New Orleans, LA @ One Eyed Jacks
8/5 Austin, TX @ Red 7
8/9 San Diego, CA @ The Casbah
8/11 San Francisco, CA @ Great American Music Hall
(above photo by Veleda Thorsson)
live local music on
Enter your ZIP code to see concerts happening in your area.
Data provided by Zvents
follow msn music