20 metal albums to look forward to in 2013
It's looking like an eclectic year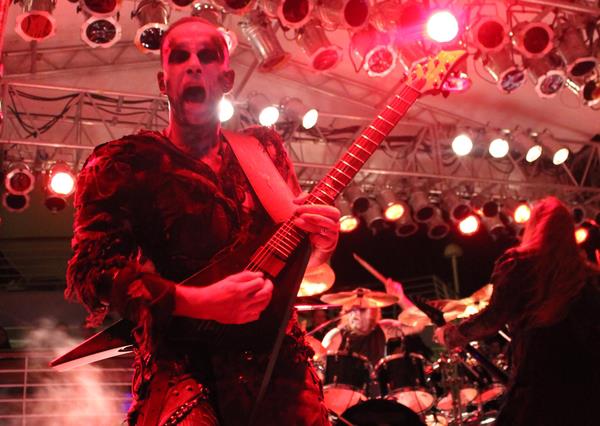 Now that the compiling of year-end lists is over, it's time to cast our gaze forward again, and figure out what metal albums are on the horizon in 2013. Looking back at my list of potential noteworthy albums from a year ago, only one was a disappointment (Katatonia), one turned out to be a big underground success (Pallbearer's Sorrow & Extinction became Profound Lore's biggest-selling album, benefitting immensely from Pitchfork's coveted "Best New Music" tag), there were a few no-shows (I was a little over-eager), and nine titles made my top 50 list in December. Not too shabby.
This year's looks a little different; although plenty of big names are set to put out new record in 2013, it's difficult to forecast who's going to come out on top. However, that unpredictability should make for a very fun year. This is no attempt at a definitive list –  I urge you to share albums you're anticipating in the comments – but merely an alphabetical list of 20 albums I'm keeping my eye open for in the coming 12 months. And no, I haven't included Tool; I don't want to jinx it.
Amon Amarth: The Swedish band has been doing a brilliant job raising their profile in the metal world over the last eight years, and we have every reason to expect their ninth album to continue that upward momentum. Interestingly, this one will be produced by Andy Sneap rather than Jens Bogren, who worked on their previous three albums.
Behemoth: In between the release of Evangelion in 2009 and frontman Nergal's conquering leukemia in 2011, Behemoth became massive, evidenced in 2012 by the Polish band's headline performances on the summer festival circuit. The long-awaited follow-up is guaranteed to be one of the year's highest-profile releases, an absolute monster for Metal Blade, and if the songs deliver, it could catapult Behemoth to the upper echelon of heavy metal.
Black Sabbath: It took a little longer than anticipated, what with Tony Iommi's cancer treatment and all, but the first Sabbath album to feature Ozzy Osbourne on vocals since 1978 will come out this year. The fact that 15 songs have been recorded is a little troubling – why not just use the best nine or ten songs instead of risking sounding bloated? – but it's going to be interesting to see if this record will hold up.
Carcass: The British death metal greats are in the process of recording their first album in 17 years, with producer Colin Richardson at the helm. Content to focus on Arch Enemy and Spiritual Beggars, guitarist Michael Amott is not participating, so it's just the Jeff Walker and Bill Steer show. Hopefully it'll come out better than 2011's over-hyped album by fellow death metal veterans Morbid Angel.
Clutch: Four long years after releasing Strange Cousins From the West, the Maryland band is set to release Earth Rocker this spring, and fans should expect more groovy, blues-driven jams, not to mention ingenious wordplay from singer Neil Fallon.
Ghost: A very pleasant surprise in 2010, Ghost rapidly grew in popularity in 2012, leading to their lucrative deal with new label Loma Vista Recordings. We've already heard "Secular Haze", a curiously moody selection from their much-ballyhooed second album, and the jury's out as to whether they can top the hooky occult rock appeal of Opus Eponymous. Unlike their innocuous start three years ago, this time around the metal world will be watching, and the pressure's on.
Gorguts: I guessed the Quebec band would return last year with their first new album since 2001, as they'd been working on their new album in 2011, but not only did Luc Lemay spend 2012 tweaking his new songs, but he chose to wait until the band's contract with Century Media expired. With guitarists Colin Marston (Krallice, Dysrhythmia) and Kevin Hufnagel (Dysrhythmia), and drummer John Longstreth (Origin) rounding out the band, this is guaranteed to be one of 2013s most exciting death metal albums.
In Solitude: The Swedish Mercyful Fate worshippers will be looking to build on the success of their 2011 breakthrough album The World. The Flesh. The Devil.
King Diamond: After heart surgery and an extended break, the legendary King Diamond will return with his first album since 2007. The metal scene is a whole lot better when he's making music, and it's going to be great to see him in the spotlight once again.
Kvelertak: The Norwegian band's debut was one of the more improbable success stories of 2010, and they're set to return with a new album entitled Meir this spring, once again produced by Kurt Ballou. Expectations for this one are through the roof, and justifiably so.
Leviathan: With his legal issues now behind him, Jef "Wrest" Whitehead is back making new music, and is apparently set to record a new album with Andrew Ragin of The Atlas Moth. Considering just how bold a record 2011's True Traitor, True Whore was, it should be another daring, provocative release by the prodigious musician.
Megadeth: For all his bellyaching about Obama, Men's Warehouse, chemtrails, and countless other things, Dave Mustaine still makes some mighty good music, and hopefully Megadeth's 14th album will offer all of us a respite from his increasingly flaky rants.
Portal: The Australian death metal band's fourth album is finally done, set for a February release, and trust me on this, I've been listening to it for the past month, and it's a great one. Suffocating, ungodly, yet never devoid of melody, no matter how buried those melodies are, Vexovoid is a highlight of the first quarter of 2013, for sure.
Purson: The UK band's Rocking Horse single bowled me over early last year, and their live set at Roadburn a couple months later impressed me thoroughly. Their debut album comes out in March on Rise Above, and is certain to win over anyone into occult-themed proto-metal.
Slayer: That's all I have to say. Effing Slayer.
SubRosa: The Utah doom band's No Help For the Mighty Ones was a huge surprise in 2011, and their forthcoming follow-up is sure to be one of Profound Lore's most anticipated releases of the year. Watch for this one in early summer.
Twilight: The supergroup featuring Blake Judd (Nachtmystium), Wrest (Leviathan), Imperial (Krieg), Sanford Parker, and Stavros Giannopolous (The Atlas Moth) welcome a new collaborator in non other than Thurston Moore of Sonic Youth, and that alone makes Twilight's third album one to watch for. While the indie rock set will be curious, those already familiar with Twilight's past work will be focusing more on their unique take on black metal more than the star quality of the band's newest member.
Uncle Acid & the Deadbeats: The Cambridge, England band became an underground sensation in 2011 on the strength of Blood Lust, and will be looking to build on that momentum even more with the follow-up.
Voivod: The Canadian innovators return with their 16th album, but most noteworthy, it's the first to feature guitarist Dan Mongrain, as well as the first appearance by bassist Jean-Yves "Blacky" Theriault in 22 years. This is another album I've had for quite some time, and it's a very exciting return to the progressive sounds of The Outer Limits and Phobos. Fans of the band will love this one.
Watain: For all their campy, bucket-of-blood-spil​ling Satan shtick, Watain always make first-rate melodic black metal, and in the wake of a very high-profile deal with Century Media, will be looking to make an even more garish splash in the coming year.
live local music on
Enter your ZIP code to see concerts happening in your area.
Data provided by Zvents
follow msn music