Wino Update
The man, the myth, the legend...
Scott "Wino" Weinrich
, the guitar god behind such ultimate biker-doom bands as
The Obsessed
,
Saint Vitus
, and
Spirit Caravan
, as well as his first-ever solo album, 2008's
Punctuated Equilibrium
, is going to have a very busy autumn. Vitus is playing some reunion shows, including one in Brooklyn in October, he's doing a solo tour opening for
Clutch
(dates below), and he's playing NYC again with a new band/project called
Shrinebuilder
.
Here's where things get murky, though. Nobody's heard a note of Shrinebuilder's music yet, and already the hype wave is cresting. The album art is awesome, I'll grant you that...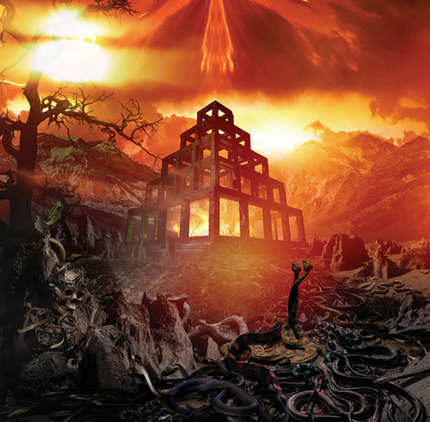 ...but I have what I think are legitimate doubts about whether the music will be any good. Shrinebuilder is a
heavy-underground-ro​ck
"supergroup" with the following members: Wino on guitar,
Scott Kelly
of
Neurosis
on guitar,
Al Cisneros
of
Sleep
and
Om
on bass, and
Dale Crover
of
The Melvins
on drums. Wino is a god - you should immediately obtain, by any means necessary (some of his best stuff, like the Obsessed's major-label album
The Church Within
, is out of print but locatable online), everything by the Obsessed and Spirit Caravan, plus his solo album. Dale Crover is an awesome drummer...with the Melvins. He's got a side band called
Altamont
, though, and they are awful. And frankly, I've just never "gotten" Neurosis. They had one halfway decent but overwrought and ultimately kinda dull album,
Through Silver In Blood
, and everything else has been even more boring and turgid and less rewarding than that. And speaking of boring, Om's music is so tedious it will either put you to sleep or drive you into a murderous rage. And Cisneros' pre-Om band, Sleep, was a massively overrated California stoner act whose sole real contribution to metal was breaking up, which allowed guitarist
Matt Pike
to form the mind-crushingly awesome
High On Fire
. So there's between a 50-75 percent chance that the good parts of Shrinebuilder (Wino, Crover) will be overshadowed and subverted by the terrible parts (Kelly, Cisneros, the side of Crover that gets expressed through Altamont and the Melvins'
annoying-noise-prank​
albums). I guess what I'm saying is, metal fans shouldn't be building any shrines to Shrinebuilder until they've actually heard the damn thing. Saves an embarrassing public walk-back later, y'know?
Oh, yeah, here are those live dates:
Wino
(opening for
Clutch
):
9/9 Pittsburgh, PA @ Mr Smalls
9/10 Buffalo, NY @ The Town Ballroom
9/11 Philadelphia, PA @ The Electric Factory
9/12 Hartford, CT @ The Webster Theater
9/13 Montreal, QC @ Lee Saints
9/15 London, ON @ London Music Hall
9/16 Toronto, ON @ Phoenix Concert Theatre
9/18 Asheville, NC @ The Orange Peel
9/19 Jackson, MS @ Club Fire
9/20 New Orleans, LA @ House of Blues
9/22 Mobile, AL @ Soul Kitchen
9/23 Nashville, TN @ Cannery Ballroom
9/24 Columbus, OH @ Newport Music Hall
9/25 Grand Rapids, MI @ The Orbit Room
9/26 Chicago, IL @ The Metro
9/27 Omaha, NE @ Sokol Auditorium
9/29 Salt Lake City, UT @ The Depot
9/30 Denver, CO @ The Fillmore
10/1 Kansas City, MO @ The Beaumont Club
10/2 Memphis, TN @ New Daisy Theatre
10/3 Oklahoma City, OK @ Diamond Ballroom
10/4 Austin, TX @ Austin City Limits Music Festival
10/6 Lake Buena Vista, FL @ House of Blues
10/7 Atlanta, GA @ Center Stage
10/8 Richmond, VA @ The National
10/9 New York, NY @ Irving Plaza
10/10 New York, NY @ Irving Plaza
Saint Vitus
- Europa, Brooklyn, NY, 10/16
Shrinebuilder
- Le Poisson Rouge, NYC, 11/15
live local music on
Enter your ZIP code to see concerts happening in your area.
Data provided by Zvents
follow msn music