New Releases For March 27, 2012
What you need to hear, and what you should avoid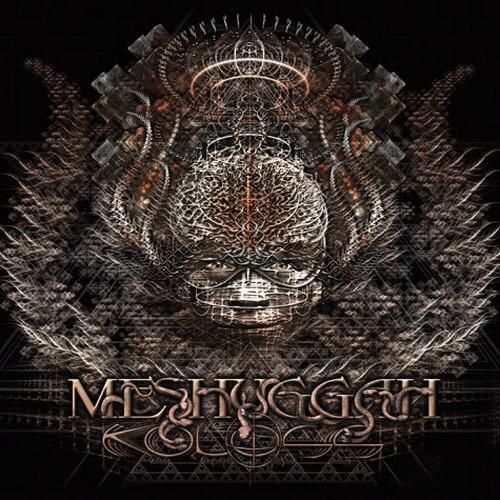 Album of the Week:
Meshuggah - Koloss (Nuclear Blast)
In a week that's absolutely loaded with good new albums, Meshuggah's seventh full-length tops them all. A record that sees the innovative Swedish band broadening their imposing sound even more, Koloss is a big step up from 2008's excellent obZen, and their finest work since 2002's groundbreaking Nothing. Most surprisingly, though, is just how accessible these new songs are. The band has always been known for its challenging polyrhythms and polymeters, and there's plenty of that going on here again, but there's a catchiness to the riffs as well as a subtle restraint in the drumming that makes this a little easier for new listeners to take in, while never for a second compromising Meshuggah's trademark sound. Read my full review here.
Also out this week:
3 Inches Of Blood, Long Live Heavy Metal (Century Media): As mentioned last week in my review, this fifth album is a big step up for the Canadian band, who have built a reputation for making consistently good traditional metal.
Angel Witch, As Above, So Below (Metal Blade): 26 years have passed since their last proper album, but Angel Witch is back with a record that dares to return to the form of their seminal 1980 debut album. Of course it won't have the same kind of impact, but the revamped band, led by singer/guitarist Kevin Heybourne, sounds fantastic, whether it's on older, previously unreleased material like "Into the Dark", "Dead Sea Scrolls", and "Guillotine", or newer compositions like "The Horla". A long, long, long time coming, this finally feels like the proper follow-up to Angel Witch that everyone had hoped for 30 years ago. If you're a fan of the NWOBHM, this will please you immensely.
Astra, The Black Chord (Metal Blade): The San Diego band first caught the attention of progressive rock fans with the confident debut album The Weirding, and the follow-up is a considerable improvement. The Pink Floyd and Yes influences are as prominent as always – "The Black Chord" almost bites off more than it can chew - but as the record settles into comfortable grooves and extended guitar/moog jams, the more you realize Astra are starting to forge their own identity rather than simply copying.
Aura Noir, Out To Die (Indie): For those who like their black metal a little on the uglier side, the sixth album by longtime band Aura Noir is just the thing. Integrated as usual with a strong dose of thrash metal, it's simple, blasphemous, and gets in your head quickly ("Abbadon" a prime example).
Axel Rudi Pell, Circle Of The Oath (SPV): When it comes to German power metal at its corniest, Axel Rudi Pell remains the king. Having churned out albums with ridiculous consistency for 23 years now, the guitarist's 15th full-length sounds as if it's still 1989, with plenty of hair metal flash. It'll either make you smile, cringe, or both.
Bejelit, Emerge (Bakerteam): Unlike all the other dozens of Italian power metal bands, at least Bejelit tries to stand apart. Combining the aggression of Symphony X and the melodies of Sonata Arctica, it's a good idea, but unfortunately that melodic side lacks the gigantic hooks that Sonata Arctica is so brilliant at.
Black Breath, Sentenced To Life (Southern Lord): By now you should know that Seattle's Black Breath never disappoints, but their second full-length (third including their first EP) is an even more fine-tuned hybrid of thrash, death metal, and hardcore. The songs are more streamlined and dynamic, the riffs are their wickedest yet, and that crusty sound has been recorded yet again by the ever-reliable Kurt Ballou.
Borknagar, Urd (Century Media): The Norwegian band always puts out strong melodic black metal with subtle folk and progressive rock influences, and while Urd won't have the same impact as their first two albums did, it will nevertheless please anyone who likes their black metal on the more accessible side.
Cianide, Hell's Rebirth (Deepsend): The long-out of print 2005 album by the Chicago death metal mainstays has been reissued with several demos and bonus tracks tacked on. Ugly, suffocating, and stubbornly primitive.
Cynic, The Portal Tapes (Season Of Mist): Not so much Cynic than a 1995 collaboration between guitarist Paul Masvidal, drummer Sean Reinert, and keyboardist/singer Aruna Abrams, The Portal Tapes amount to little more than New Age wankery. A proper new Cynic full-length would be much more preferable to scraping the bottom of the demo barrel.
Dark Empire, From Refuge To Ruin (Nightmare): Decent melodic, Nevermore-style metal on the New Jersey band's third album. For those who like their prog/power metal less frilly and with more muscle.
Evenoire, Vitriol (Scarlet): Symphonic, folk, and progressive metal don't so much collide as interweave on the Italian band's intriguing first album. Varied as it may be, there's a lot of restraint here, with singer Lisy Stefanoni showing a great deal of range.
General Surgery, A Collection Of Depravation (Relapse): Goregrind fans rejoice, as Sweden's General Surgery have compiled all of their out of print singles, EPs, and unreleased ephemera on to one CD. If you're not into goregrind, just move along, this stuff won't sway you.
God Forbid, Equilibrium (Victory): Fortunately the disappointing lead-off track "Don't Tell Me What to Dream" was only an aberration, as God Forbid's sixth album plays to the New Jersey band's strengths, that being good, solid melodic metalcore. That said, though, despite some good moments ("Pages", "Where We Come from") the new material just isn't quite on par with 2009's excellent Earthsblood and 2005's IV: Constitution of Treason, clearly an indication of how vital a member former guitarist/songwriter​ Dallas Coyle was.
Hemina, Synthetic (Nightmare): Well-made progressive metal, a nice blend of modern sounds and vintage influences, like Genesis meets Dredg.
Hour Of Penance, Sedition (Prosthetic): More simple, straightforward, technically sound, brutal death metal from the Italian band on their fifth album. The problem is, it's too straightforward, with very little for a listener remember after listening.
Iron Maiden, En Vivo! (Universal): Released on DVD, Blu-Ray, and CD today, Iron Maiden's umpteenth live recording in front of a rabid Chilean audience is as good a DVD as they've ever put out. Spot-on performance, exceptionally filmed, nicely mixed. And the CD's not too shabby either. Read my extensive review for more details.
Kwaidan, Kwaidan (Accidental Guest Recordings): Featuring members of Locrian, Zelienople, and Catherine, this live recording by the Chicago trio draws heavily from Japanese experimental band Taj Mahal Travellers with their extended improvisational drone jams. The ebb and flow of the 36-minute performance is at times masterful as the band creates some truly otherworldly music in an organic setting. Out now in a limited pressing of 100 cassettes, it can be ordered here. 
Les Discrets, Ariettes Oubliées... (Prophecy): The French band led by singer/songwriter/gu​itarist/illustrator/​filmmaker/all-around​ renaissance man Fursy Teyssier has made tremendous improvements on this gorgeous second album. Not at all constrained to one particular genre other than "dark" or "sad", Teyssier mines various influences such as post-punk, black metal, and the slick doom of Katatonia and comes up with something haunting and original. In addition, lyricist/backing singer Audrey Hadorn provides sumptuous, poetic lyrics inspired by Paul Verlaine that give the songs even more richness and depth. Songs like "Le Mouvement Perpetuel" and "Ariettes Oubliées I : Je devine à travers un murmure..." unfold so gradually and subtly that it's not until the fourth or fifth listen that it starts to click. But when it does, it's something to behold. This splendid album is highly recommended.
Mad Max, Another Night Of Passion (SPV): Not quite as polished as Axel Rudi Pell, the tenth album by the German '80s rockers is nevertheless cut from the same cloth, and in a way is even more shameless, from the goofy fun of "Rocklahoma" to the tacky "Metal Edge", which I'd like to think is an ode to the metal mag of the same name.
Make Me Famous, It's Now Or Never (Sumerian): If there's one thing remotely admirable about this atrocious album by the Ukrainian scream/electronic band, it's that they go all out with the trance element. If you're going to make music like this, you might as well go totally over the top, and that's just what they do. With plenty of hype by Sumerian, who has the kiddiecore demographic cornered, Make Me Famous just might see its wish come true, as the junior high set will go nuts over this stuff. Heaven help the rest of us when that happens.
Mencea, Pyrophoric (Indie): A short while back I mentioned how I found the latest album by Spawn of Possession disappointing. When it comes to technical/progressiv​e death metal, Mencea's second album is far more rewarding: it's plenty brutal, it has some very good ideas as far as melodies are concerned, and the songwriting is creative.
Ministry, Relapse (AFM): I hate this album. Here are a few reasons why.
Naglfar, Teras (Century Media): It's already been five years since Naglfar's last album Harvest. How time flies. Personally I've enjoyed the Swedish band's last couple albums, and this sixth album is a worthy, albeit more polished follow-up. Nothing spectacular, mind you, but as far as melodic black metal goes, it does what it's supposed to do, and contrary to what some purists will think, I actually like a lot of the cleaner-sounding passages.
Nashville Pussy, From Hell To Texas Deluxe Edition (SPV): The lovable Atlanta road dogs have re-released their 2009 album, remixed, re-sequenced, and appended by a warts-and-all live CD. The husband and wife guitar duo Blaine Cartwright and Ruyter Suys remain one hell of a team, and this release is a great example of how raucous and fun their band can be.
OSI, Fire Make Thunder (Metal Blade): A lot of progressive metal fans are likely looking forward to the latest collaboration between Fates Warning's Jim Matheos and former Dream Theater keyboardist Kevin Moore, but personally for years I have never understood the appeal of the duo's tepid, boring trip hop-infused prog. Jim should just stick with Arch/Matheos instead.
Overkill, The Electric Age (eOne): Two years ago Overkill pulled off a stunning return to form with Ironbound, and though it's not quite as strong as the last one, their 16th album follows it up with more of the same old-timey thrash the band has been churning out for the last 30-odd years. Like Exodus, Overkill has rediscovered their touch after years of middling work, with guitarists Dave Linsk and Derek Tailer serving as perfect foils for Bobby "Blitz" Ellsworth's trademark maniacal snarl.
Revel In Flesh, Deathevokation (FDA Rekotz): The kind of raw death metal that takes you back to Sweden at the beginning of the 1990s. Competent, but the German band doesn't try hard enough to stand out.
A Sound Of Thunder, Out Of The Darkness (Nightmare): Well-made prog/power metal that truly shines when the band goes into full-on Rainbow mode and singer Nina Osegueda belts out those melodies. But a song like "Kill That Bitch" has to go.
Stick To Your Guns, Diamond (Sumerian): More of the same "good cop bad cop" melodic metalcore that oversaturated the market ten years ago, this nevertheless pushes all the right buttons that metalcore fans like. It's simple and predictable, but the clean vocal hooks are half decent, and anyone who's still stuck in 2002 will probably like this.
Wretched, Son Of Perdition (Victory): The third album by the North Carolina band is unspectacular death metal. It might appeal to the kids whom Victory Records is targeting, but anyone older will know better.
live local music on
Enter your ZIP code to see concerts happening in your area.
Data provided by Zvents
follow msn music