New Releases For October 16, 2012
UK band Indesinence leads this week's new metal albums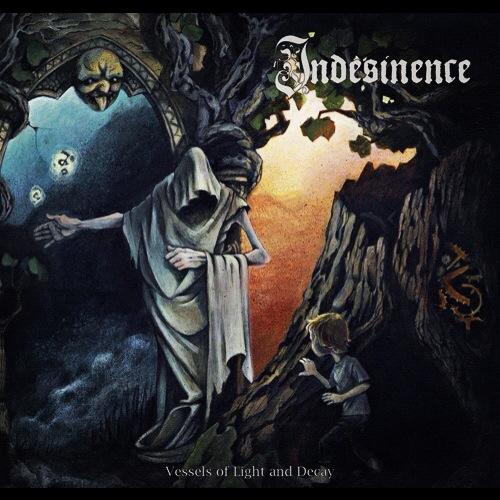 Album of the Week:
Indesinence, Vessels Of Light And Decay (Profound Lore)
It's one thing to create a strong hybrid of death metal and doom; it's another to convey eloquence while doing so, in both the music and the lyrics. They might not be the most hyped band on the Profound Lore roster, but London-based band Indesinence have quietly surfaced with an extraordinary new album, their first in six years. In fact, it's been quite a while since a death/doom album of this caliber has come out.
The formula is straightforward. Epic tracks that continually veer from the crunching, muscular riffs and rhythms of death metal to the more funereal pace of doom, but the way Vessels of Light and Decay does so with such grace is remarkable. Power gives way to contemplation, horror is superseded by melancholy, movements suddenly shift from a lachrymose pace to blazing speed. It's a phenomenal combination when it works well, and when the 14-minute "Paradigms" kicks into its menacing crunching riffs, which are so subtly overtaken by slow, beautiful doom passages, it quickly becomes clear this is no middling attempt at the sound. While the songs are definitely long, they move with a deliberate enough pace, upshifting and downshifting when need be, lending the music much more variety than the listener expects.
Just as intriguing as the music are the lyrics, which are spewed by guitarist Ilia Rodriguez in a massive, forlorn bellow. Wordy to the point of rivaling the work of Neil Peart in their verbosity, it's unusual to see this kind of dedication to the quality of lyrics in metal these days, and Indesinence's approach, while not exactly breaking new ground thematically, nevertheless feel fresh thanks to their formal, poetic style. In addition, this album boasts far and away the nicest packaging of any Profound Lore CD release. Presented in an impressive digibook, it comes with 28 pages of gorgeous photography and lyrics, perfect for a listener to lose himself or herself in for an hour.
Concluding with the startlingly multihued "Fading (further beyond)" and the massive, elegiac closer "Unveiled", Indesinence reach a level of majesty I honestly never thought them capable of. Vessels of Light and Decay is the sound of an ambitious band just starting to hit their stride, deserving of just as much praise as Pallbearer – or even more - and the reputable Profound Lore is the perfect conduit. Here's hoping it doesn't take another six years for a new record.
Purchase the CD from Profound Lore
Also out this week:
Buried In Verona, Notorious (Artery): This hilarious Australian metalcore band starts their latest album off with a song dedicated to those who have apparently tried to end their career. Clearly we critics have to try harder.
Crowned, Vacuous Spectral Silence (Seance): The Australian band creates black metal that's effectively atmospheric and murky. The songs meander at times, but it's an ambitious debut.
Darsombra, Climax Community (Exile On Mainstream): "Ultra-eclectic transcendental drone rock", anyone? Yeah, the Maryland duo's new album can feel tedious, but with a patient ear these three tracks unfold gracefully enough to feel mildly uplifting.
Dethklok, Dethalbum III (Williams Street): With each Dethklok album he churns out, the more Brendon Small shows just how accomplished a metal composer he's become. Although there's still a little sense of humor in the tracks – it's still a cartoon soundtrack, don't forget - for the first time the strength of the music has far surpassed the comedy. Bolstered by refined guitar harmonies and the pulverizing drumming of Gene Hoglan, this is excellent melodic death metal, even though Small's vocals are inexplicably low in the mix.
Illdisposed, Sense The Darkness (Massacre): The thirteenth album by the Danish death metal band keeps things simple, churning out songs in the early-'90s Swedish vein, and very well I might add. Punishing yet dynamic, these guys clearly know what they're doing.
Lacrimosa, Revolution (End Of The Light): Eleven albums in, Lacrimosa are still doing their svarte thing, creating gaudy symphonic-tinged offerings heavy on melodrama and melancholy. Although people are better off listening to The Sisters of Mercy, this is nevertheless a solid outing from the duo, highlighted by "As the World Stood Still For a Day".
My Dying Bride, A Map Of All Our Failures (Peaceville): Not surprisingly, the latest from the groundbreaking UK band is more of the same bleakly beautiful gothic-tinged doom that we've grown accustomed to in recent years. Led by singer Aaron Stainthorpe, who presides over the record like a guide and narrator, and accentuated by the mournful chords and harmonies of guitarists Andrew Craighan and Hamish Hamilton Glencross, it's spellbinding in an understated way, lugubrious, desolate, and tortured. Top marks go to the title track.
Obelyskkh, White Lightnin' (Exile On Mainstream): Peculiar but effectively trippy doom that focuses more on the stoner-oriented side of the genre, the second album by the German band won't disappoint those listeners who are looking for something a little more hallucinatory in their doom metal.
Stolen Babies, Naught (No Comment): Six years ago Stolen Babies released their mighty impressive debut There Be Squabbles Ahead, and as time went on it felt like they'd disappeared off the face of the earth. Now they're back at long last with a follow-up, and it's every bit as fun a combination of progressive metal and cabaret as the first record. Fronted by charismatic singer Dominique Leone Persi, the songs approach the zaniness of Unexpect, but are always smart enough to never overdo things.
Yakuza, Beyul (Profound Lore): Two years ago the long-running Chicago band put out Of Seismic Consequence, an album that felt like a rebirth of sorts, by far the most cohesive, adventurous, and oddly accessible album they'd ever put out. Two years later, saxophonist/vocalist​ Bruce Lamont and company continue to build on the momentum of that record with Beyul, an album that delves deeper into traditional heavy metal territory than some might have expected but never strays from the blend of avant-garde metal and jazz that makes Yakuza's music so unique. That tug-of-war between Lamont's metal and jazz muses works extremely well on this record, in fact, especially on such standouts as "Man is Machine", "The Last Day", and "Lotus Array". In addition, Lamont's singing has gotten stronger with each album, and his chants on the ten-minute centerpiece "Fire Temple and Beyond" carry a lot more emotional weight than any of his vocal performances in the past. All the while producer Sanford Parker harnesses Yakuza's heavy and contemplative sides brilliantly, helping create yet another surreal and ultimately uplifting album by this fine band.
In a year marked by Indesinence, Pallbearer, Evoken, Hooded Menace and Aldebaran, I've been curious how the My Dying Bride might stack up. Surely, they've been taking note as all doom related metals are definitely experiencing an upswing in profile, critical accaim and general quality of output? Decibel gave the MDB a very pooer reveiw, so I was curious....
Are you sure you want to delete this comment?
live local music on
Enter your ZIP code to see concerts happening in your area.
Data provided by Zvents
follow msn music