Remembering Randy Rhoads
On the 30th anniversary of his death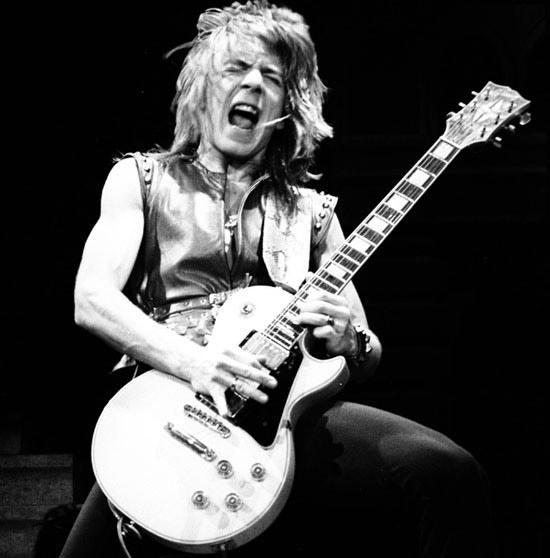 On this day 30 years ago a small Beechcraft Bonanza airplane carrying three members of Ozzy Osbourne's touring entourage who were out for a joyride in Leesburg, Florida, flew too low, accidentally clipped its left wing on a tour bus, lost control, and crashed into a nearby house. All three aboard were killed instantly: 36 year-old pilot and tour bus driver Andrew Aycock, 58 year-old tour hairdresser/seamstre​ssRachel Youngblood, and a 25 year-old budding guitar phenom named Randy Rhoads.
Much has been written and said of the death of Randy Rhoads over the last three decades, and there's no doubt you're familiar with not only the story but most importantly just how huge an impact Rhoads had made with such a small musical body of work. Excluding singles and EPs, he only appeared on four albums: two generic glam rock efforts with Quiet Riot, with whom Rhoads played from 1975 to 1979, and of course two albums that would become undisputed classics in heavy metal and hard rock.
In addition to being the perfect foil for Ozzy Osbourne when was hired to join Osbourne's post-Black Sabbath band in 1979, the classically trained Rhoads was allowed to truly show some creativity with his guitar playing on 1980's Blizzard of Ozz and 1981's Diary of a Madman, albums that remain seminal works. With co-songwriters Bob Daisley (bass) and Osbourne, Rhoads flourished, creating towering, formidable riffs that contrasted with his slight frame (how could such menace and power come from someone so tiny?), riffs that became instant classics ("I Don't Know", "Crazy Train", "Suicide Solution", "Over the Mountain", "Little Dolls"). He'd tinker with atonal sounds ("Believer"), create truly ambitious epic compositions that had a progressive/neoclass​ical bent to them ("Revelation (Mother Earth)", "Diary of a Madman"), play a vital role on a pair of gorgeous ballads ("Goodbye to Romance", "Tonight"), and even contribute a beautiful little classical guitar piece ("Dee").
Personally what I've always loved most about Rhoads on those two albums, however, are his solos. He never struck me as an innovator on the level of Tony Iommi, Jimi Hendrix, or Eddie Van Halen - though a generation of guitarists are hugely indebted to him - but his solos, while displaying plenty of flash and technical ability, are immaculate in composition and execution. The solos complement the songs they're in, but they're also separate compositions in themselves, nimble, ferocious, yet extremely disciplined and undeniably catchy. From the playful tones and melodies of "Crazy Train" to the disturbing solo on "Diary of a Madman", those solos stayed in your head long after first hearing them. Countless guitarists have come and gone in the decades since his horribly untimely death, but nobody would match what Rhoads accomplished in his solos on Blizzard and Diary.
I was a bit late to Rhoads's music, first hearing it in early 1985. As a 14 year-old I didn't "get" the appeal of Ozzy Osbourne because save for one song 1983's Bark at the Moon album absolutely sucked (it still does), but when a friend made me a copy of the famous Bat's Head Soup bootleg, recorded in Cleveland in 1981, my opinion did a total 180, and it was because of that little dude shredding away on guitar. His extended solo on "Suicide Solution" made my jaw drop. To this day Rhoads remains my favorite guitarist of all time ("Believer" being my all-time fave Rhoads track), and I'll find myself listening to Blizzard of Ozz and Diary of a Madman and continue to marvel at those impeccable double-tracked solos. Of course it's tempting to wonder what Rhoads might have been capable of as the years wore on – in 1982 he was seriously considering returning to his classical guitar studies at UCLA – but even though he tragically died well before his genius could be fully realized, he left us with two of the most perfect guitar performances ever put on record. That alone is an enormous gift, and 30 years later we're still grateful.
Blizzard of Ozz and Diary of a Madman (iTunes) were both reissued in 2011, the latter appended with an astounding live CD that obliterates the polished 1987 live album Tribute, and both are absolutely worth getting, whether you're a longtime fan or someone who's just discovering Randy Rhoads for the first time.

Randy did like a rock star should.  Put everything into your first writings/releases and then bow out before you start having to try and match perfection.  His riffs and chords play more like solos than rythym.  I love the songs as much, all written by Ozzy, but having grown up in the era, I would bet Ozzy would not have done all that he has without those first two albums
Are you sure you want to delete this comment?
live local music on
Enter your ZIP code to see concerts happening in your area.
Data provided by Zvents
follow msn music