Review: Baroness, 'Yellow & Green'
Double album lives up to the hype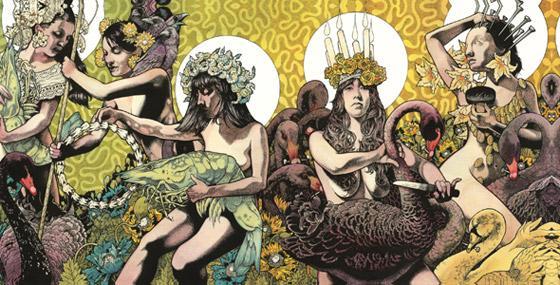 The first time I heard Baroness's 2007 debut full-length Red Album, my immediate gut reaction was, is it me or do these guys sound like Built to Spill? On the heels of the First and Second EPs, as well as the split CD A Grey Sigh in a Flower Husk, it was quite a surprise to hear moments on Red that bore similarities to the Crazy Horse-derived live indie rock jams that Built to Spill became known for in the 1990s. Granted, that Southern sludge influence, which Baroness shared with fellow Georgia acts Mastodon, Kylesa, and Black Tusk was still prominent, but for all the heaviness at hand it was clear that a stronger melodic sensibility was starting to creep into the music. As excellent as 2009's follow-up Blue Record was, progression-wise it still felt like baby steps toward something Baroness wasn't quite ready to admit yet: that they're at heart more an indie rock band than a metal band.
With the ambitious double album Yellow & Green guitarists John Baizley and Peter Adams and drummer Allen Blickle – new bassist Matt Maggioni joined after the album's completion - have taken that next big step that everyone could tell was inevitable. Aside from one moment early on in the album, all traces of metal influence have been shed in favor of a sound far broader and diverse. In fact Baroness now sound so comfortable embracing their indie/alt-rock tendencies that Yellow & Green feels truer, more genuine than anything they have ever put out in the past. The shackles are off, and they're ready to run, no matter how many unfair cries of, "Sellout!" come from the metal side of the fence.
By saying this is an indie rock record, though, means it bears far more similarities to the guitar-based American sounds of the 1990s than, say, the more milquetoast fare we hear today. 20 years ago indie rock still had some muscle to it. Bands like Dinosaur Jr., Superchunk, Grifters, Drive Like Jehu, and the aforementioned Built to Spill specialized in rock music that wasn't afraid to crank up the distortion and volume, yet restrained enough to avoid the bombastic, riff-oriented traps of straight-up metal. Within those confines of loud guitars and vocal melodies, Baroness sound like a natural fit, making this stylistic move is the smartest thing they've ever done.
The second smartest thing Baroness did was to divide the 18 new songs on Yellow & Green into two separate 35-minute discs. Whereas a 70+ minute CD would have felt too overwhelming, giving listeners two separate, relatively brief listening experiences allows the music to sink in a lot more quickly. Also, there's a definite divide in styles between Yellow and Green, showcasing the band's greatly expanded musical range.
Yellow is by far the most cohesive of the two, and definitely the superior. Vibrant and laden with hook after enormous hook, it features the most confident songwriting of Baizley's career. After "Take My Bones Away" eases longtime listeners into the record with its aggressive tone and insistent rhythm section, the worm starts to turn on the revelatory "March to the Sea", where the Almighty Riff takes a back seat to soaring vocal melodies, propelled by a thrumming arrangement. Baroness have never put out a song as remotely accessible as this one, and they feel liberated in the process. After that the horizon-expanding kicks off in a big way, starting with "Little Things", which channels both the jangly sounds of the Paisley Underground with the taut, icy post-punk of the great, underrated For Against, capped off with a bittersweet chorus that feels unapologetically nicked from Pinkerton-era Weezer (yes, Weezer). After the acoustic "Twinkler", not the first Baroness song to evoke a comparison to Fleet Foxes, comes the stunning "Cocainium", a slinky little psychedelic number that alternates gracefully from richly layered verses to thunderous, distorted choruses. It's on this track where the dry tone by producer John Congleton works numbers, the phenomenal drum sound complementing the style of the music perfectly. After the lilting 6/8 pace of "Back Where I Belong" and the propulsive "Sea Lungs", Yellow hits yet another high note on the sublime "Eula", its chiming guitars and keyboards giving the song a dreampop feel, those delicate tones juxtaposed with a hard-hitting rhythm section. Strip the song down to its core, and you'd get something that closely resembles something Slowdive would have done 20 years ago.
Green, on the other hand, is a lot more adventurous, starting off rustic in structure and tone, where that Crazy Horse/Built to Spill vibe rises fully to the surface, first with the instrumental jam "Green Theme" and then on "Board Up the House", feeling less lush and a little rougher around the edges than Yellow. Baizley's songwriting shows a more vulnerable side than anyone could have expected on the stripped-down tracks "Mtns. (The Crown and Anchor)" and "Stretchmarker", while the languorous "Foolsong" shamelessly echoes Dark Side of the Moon-era Pink Floyd, with its sleepy pace and pillowy-sounding snare drum. "Collapse", meanwhile, sees Congleton utilizing various effects to create a more surreal, psychedelic feel. "The Line Between" briefly flirts with heavier riffs during its intro, making it seem like the band intends to bookend the double album with more metallic-sounding compositions, but it's only a tease, as thunderous distortion is ditched in favor of a more angular sound akin to Drive Like Jehu.
In no way is Yellow & Green a metal album, and anyone wishing otherwise will be plain out of luck. However, shedding that metal side of the band's sound, which was feeling more like a façade with every release, is a fitting move for Baroness. Plus the fact that few, if any, of these 18 songs are throwaways is especially impressive – the skittering "Psalms Alive" is almost a bit too precious sounding for this record – easily making Yellow & Green the best rock double album since the Drive-By Truckers' Southern Rock Opera in 2001. It's a bold yet very accessible effort bent on crossing over to a much wider audience than what Relapse Records caters to, and with Baroness now having fulfilled their contractual obligation with that label, and with Metallica's managers Q Prime fully behind them, that crossover seems like an inevitability. Although Yellow & Green feels daring now, it feels like only the beginning of what should be a fascinating journey, eschewing the exclusivity of metal for the inclusivity of accessible rock 'n' roll.
Stream Baroness's Yellow & Green here.
Are you sure you want to delete this comment?
live local music on
Enter your ZIP code to see concerts happening in your area.
Data provided by Zvents
follow msn music