Sabbath Assembly Premieres "In the Time of Abaddon II"
Second album of surreal ritualistic music to be released in September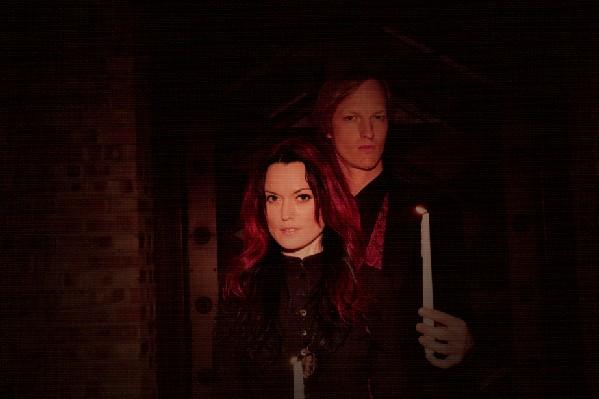 The Process Church of the Final Judgment was created by a Scientologist named Robert DeGrimston in the mid-1960s, and remains a fascinating little cult that took a very hippy-appealing "love your enemy" philosophy and underscored it all with an audacious, blasphemous idea: Why not worship Jehovah, Christ, Lucifer, and Satan together, equally?
In 2010, Dave Nuss of New York experimental band teamed up with singer Jex Thoth and Sunn O))) producer Randall Dunn to create the Sabbath Assembly project, where several of the Process Church's quirky hymns would be re-recorded with dark, psychedelic rock arrangements. Thanks in large part to Jex Thoth's overtly sincere singing, the resulting album, 2010's Restored to One, was a spellbinding piece of work, seductive, reverent, and unsettling at the same time. "Judge of Mankind" was particularly mind-blowing, an eight-minute Doors-style jam featuring an incredible performance by Thoth.
Two years later Sabbath Assembly have returned with Ye Are Gods, an even more thorough exploration of the music and philosophy of the Process Church. Instead of going through more hymns, Nuss has recreated the church's holiest mass, the "Sabbath Assembly", following the exact ritual text and structure of the ceremony. Although Jex Thoth doesn't sing on this album, former Hammers of Misfortune member Jamie Myers is a more than capable replacement. In addition, the inimitable Genesis P-Orridge plays the role as High Priest(ess), which lends the record an even more surreal quality than expected, and original Process Church member Timothy Wyllie provides the homily, reading from one of DeGrimson's works. Needless to say, this is one weird, weird album; unlike Restored to One, where individual songs stood out, Ye Are Gods works better as full album experience, as listeners are drawn into the church's strange ritual, which subtly shifts from darkness to shameless hippy-dippy optimism.
One track, "In the Time of Abaddon II", has been released via Soundcloud. Its theatrical, atmospheric vibe is a perfect indication of what's in store on this album.
Listen to Sabbath Assembly's "In the Time of Abaddon II" here.
Ye Are Gods will be released on September 21 via The Ajna Offensive.
live local music on
Enter your ZIP code to see concerts happening in your area.
Data provided by Zvents
follow msn music