Accept, Kreator Announce 'Teutonic Terror Attack 2012 Tour'
Month-long run starts September 5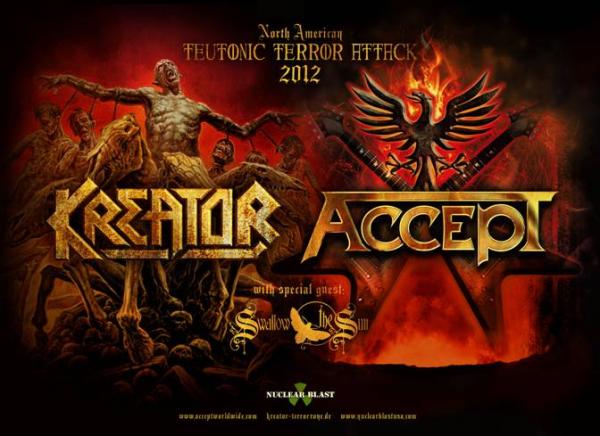 Fans of '80s metal, especially of the German variety, are going to love this. Hell, any metal fan should freak out over the dream pairing of legendary bands Kreator and Accept, who will be embarking on a month-long tour across the United States and parts of Canada this fall. The full itinerary is below.
What makes the aptly named Teutonic Terror Attack Tour extra sweet is the fact that both bands arrive on North American shores riding late-career career peaks. Accept has been on a terrific roll ever since reuniting in 2009 and hiring singer Mark Tornillo, their new album Stalingrad (Nuclear Blast) their best effort in a very long time (I'd even dare call it their best since 1985's Metal Heart), proof that 2010's comeback album Blood of the Nations was no fluke. Kreator, meanwhile, has been churning out solid music consistently throughout their long career, but their excellent 13th album Phantom Antichrist – out June 5 on Nuclear Blast – has them sounding rejuvenated.
Along for the ride are melodic doom standouts Swallow the Sun, and although their being Finnish clashes with the whole Teutonic theme, they're nevertheless a great band whose recent album Emerald Forest and the Blackbird is their finest work to date.
Exclusive internet pre-sale tickets for the tour are available online at EnterTheVault.com through May 26th; afterwards, tickets will be on sale through all normal ticketing outlets.
And speaking of Kreator and Accept, I should be posting interviews with both bands in the coming weeks.
09/05/12  Howard Theater – Washington, D.C.
09/06/12  The Trocadero – Philadelphia, PA
09/07/12  Best Buy Theater – New York, NY
09/08/12  The Palladium – Worcester, MA
09/10/12  Metropolis – Montreal, QC – CANADA
09/11/12  Imperial de Quebec - Quebec City, QC - CANADA
09/12/12  Phoenix Concert Theatre – Toronto, ON - CANADA
09/14/12  Newport Music Hall – Columbus, OH
09/15/12  Mojoe's – Joliet, IL
09/16/12  The Beaumont Club – Kansas City, MO
09/18/12  Gothic Theater – Englewood, CO
09/19/12  The Complex – Salt Lake City, UT
09/21/12  Rickshaw Theater – Vancouver, B.C. – CANADA
09/22/12  Showbox at the Market – Seattle, WA
09/23/12  Roseland Theater – Portland, OR
09/25/12  The Grand Ballroom – San Francisco, CA
09/26/12  The Avalon – Hollywood, CA
09/27/12  The Grove – Anaheim, CA
09/28/12  Marquee Theatre – Tempe, AZ
09/30/12  Emo's East – Austin, TX
10/01/12  Trees – Dallas, TX
10/02/12  House Of Blues – New Orleans, LA
10/04/12  Tremont Music Hall – Charlotte, NC