New Releases For September 25, 2012
Prog rockers lead a mammoth week of new albums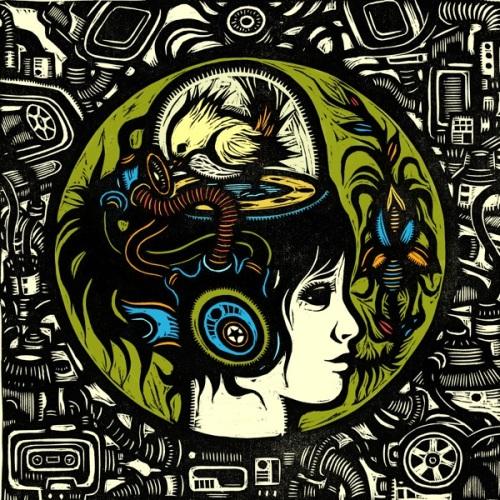 Album of the Week:
The Gathering, Disclosure (Psychonaut):
After 2009's The West Pole, which saw The Gathering and new singer Silje Wergeland trying to fill the shoes of the incomparable Anneke van Giersbergen and sounding tentative in the process, everyone sounds a lot more comfortable on the band's gorgeous tenth album. Wergeland feels nicely ensconced in her role as frontwoman, and songs like "Paper Waves" and "Meltdown" play to her own strengths as a singer. Meanwhile, the nine-minute "I Can See Four Miles" is one of the most adventurous songs the band has done in a long time, venturing into the more abstract post-rock sounds of 1998's high water mark How to Build a Planet?, gracefully building towards a soaring, cacophonous climax. It was understandable to see the band struggle after losing van Giersbergen, but they've since regained their footing and are now back to that peak form of past albums if_then_else and Souvenirs.
Stream and purchase the album via Bandcamp. 
Also out this week:
As I Lay Dying, Awakened (Metal Blade): Long one of the most boring, pointless bands in American metal, As I Lay Dying have somehow, inexplicably managed to put together a dynamic, mildly catchy album together. The band utilizes more melodies than ever to accentuate their cookie-cutter metalcore ("Whispering Silence", "Tear Out My Eyes") but it's a depressing situation when a band that's been around for as long as they have is only just now learning how to write an engaging song. Melodies make a song more interesting? Imagine that!
Black September, Into The Darkness Into The Void (Prosthetic): A workmanlike hybrid of black metal, death metal, and thrash, the second album by the Chicago band isn't spectacular but is still good enough to stand out a little ("Beyond the Realms" shows enormous potential), aided greatly by the unholy growl of vocalist Jen McMorrow. But why go out of your way to boast you have a "classically trained" singer when all she does is gurgle into a microphone?
Blut Aus Nord, 777 - Cosmosophy (Debemur Morti): The conclusion of Blut Aus Nord's ambitious 777 trilogy is the best of the three albums, and arguably one of the best albums the band – read mastermind Vindsval – has ever put out. Everything has been stripped down, songs are simpler, arrangements more atmospheric, with a very strong industrial influence permeating the entire record. No, it's nothing like the black metal of the band's past, but Blut Aus Nord is anything but predictable, and Vindsval seems liberated by this musical direction. It's a brilliant, shimmering, oddly hopeful climax to a trilogy that's captivated us for a year and a half.
Bullet, Full Pull (Nuclear Blast): Bullet's Highway Pirates was one of my favorite albums of 2011, a raucous, enormously catchy combination of AC/DC and early Accept. The Swedish band has since signed with metal giants Nuclear Blast and their new album arrives with a fair amount of hype, but unfortunately there's something lacking on Full Pull. While the tone is a little darker this time around, the energy of the last record just isn't there, the hooks not as strong. It's like going from Let There Be Rock to Fly on the Wall. There's nothing wrong with Fly on the Wall, but it's still a significant step down.
The Casualties, Resistance (Season Of Mist): There's a huge GBH/Exploited vibe on the energetic ninth album by the New York punk band, which is perfectly fine, but from time to time there's a metal element that gives the music a little more tightness. Still, when an American band sticks chants of "Oi, oi!" into a song, it feels too contrived for comfort.
Dokken, Broken Bones (Frontiers): Dokken's 2008 album Lightning Strikes Again was a very pleasant surprise, their liveliest album in ages. This one, on the other hand, goes for a much darker vibe, some of which works ("Empire") but most of which feels plodding and turgid. More bright LA hard rock tunes, fewer boring Black Label Society jams, guys.
Empty Flowers, Six (Translation Loss): Featuring members of Cable, this new post-rock band offers an intriguing combination of the tetchiness of Fugazi with the more sprawling strains of Isis. Interestingly, the more restrained these songs are, the better this debut gets, proven by such standouts as "Just Being Pushed" and "Ice On Wings".
Evershine, Renewal (Bakerteam): The debut album by yet another Italian power metal band pushes all the right power metal buttons: soaring vocal melodies, flamboyant musicianship, gaudy production. Unlike so many of those bands, though, some of these songs actually stick, like the shamelessly saccharine "Angel/Killer".
Heaven's Cry, Wheels Of Impermanence (Prosthetic): The Montreal progressive metal band has returned after a ten-year absence, and it has all the hallmarks of a veteran prog band, full of challenging, unorthodox riffs and song structures, yet mature enough to not go overboard. As a result the songs flow nicely, always tastefully arranged and never overlong.
Hellwell, Beyond The Boundaries Of Sin (Shadow Kingdom): This new project by Manilla Road founder Mark "The Shark" Shelton is actually a very cool idea, meshing Manilla Road's heavy metal with a strong Deep Purple influence as well as a harsher doom vibe. As strong as songs like "Eaters of the Dead" and "Acheronomicon" are, the production is simply too atrocious to recommend this album at all. It's a real shame, because there's a lot to like here.
Hollow Haze, Poison In Black (Bakerteam): More Italian power metal - yeah, I know - but at the very least this band's music has some character, thanks to a heavier approach reminiscent of Nevermore. Unfortunately, when the most interesting song is the faithful cover of Black Sabbath's "Headless Cross", you've got a problem.
Hotel Diablo, The Return To Psycho, California (Scarlet): Featuring members of Adler's Appetite and W.A.S.P., you expect this L.A. band to be all-out sleaze rock, but it turns out to be tepid active rock. With the band name, album title, and cover art you'd expect something a lot raunchier, but instead we get mainstream rock tunes, power ballads, and an inexplicable, awful cover of Oasis's "Wonderwall".
Kix, Live In Baltimore (Frontiers): I like Kix as much as anyone, but this is the worst sounding live album I've heard in years. Considering the live recording technology of today, this barely-above-soundbo​ard quality is inexcusable, especially considering that the band does sound great on such classics as "Cold Blood", "Blow My Fuse", and "Midnite Dynamite".
Magnum, On The 13th Day (SPV): Never mind the terrible cover art, the 16th album by Magnum is superbly done hard rock. Upbeat, at times very catchy, and with the subtle progressive touches they're known for, it might not be the trendiest sound around, but unlike other veteran bands (hello, Dokken) they know their strengths, and stick to them, best exemplified by "Let it Rain" and "Blood Red Laughter". Fans of the band will love this one.
Manetheren, Time (Debemur Morti): The Minneapolis project might be rooted in American black metal, but it's clear founder Azlum has designs on something bigger judging by this excellent third album. This time around a strong post-rock element matches the black metal step for step, iciness continually offset by warmth, creating a sprawling, atmospheric piece of work.
Midnight, Complete and Total Hell (Hells Headbangers): For those whose introduction to Midnight was last year's brilliant Satanic Royalty, you need this one. This new compilation collects all of the band's recorded output before that album, which dates back to 2003. Of course, it's very raw, but that only makes Jamie "Athenar" Walters' Venom-meets-Motörhead songs all the more appealing. It's filthy, blasphemous fun, and highly recommended.
Millions, Failure Tactics (Seventh Rule): One of my favorite hardcore bands in recent years, Millions have followed up their terrific 2009 debut Gather Scatter with a new record that continues to mine the sounds of AmpRep and Touch and Go while putting a fresh spin on it all. This time around they've teamed up with Andrew Ragin of The Atlas Moth, and while that post-punk still permeates the music, the album's less about capturing the band's live sound and more about creating a hazier, effects-laden vibe. The deeper into the album you go, the more abstract the songs become, to the point where Shellac collides with Voivod on tracks like "Tunnel Rat", "Suicide Artist", and "Numbing the Dream", lurching, atonal guitar notes and riffs underscored by massive, churning rhythm sections. For those who like the noisier, more discordant side of heavy music, you don't want to miss this. Preview and purchase it via Bandcamp. 
Monuments, Gnosis (Century Media): These kids competently do the "djent" thing, but despite mimicking Meshuggah as well as their peers, if you can't bring anything new to the table, why even bother? What started out as a fresh sound a couple years ago has quickly been beaten to death and is set to become as big a blight on the metal landscape as deathcore.
NettleCarrier, NettleCarrier (Indie): If orthodox, Satanic, Norwegian black metal is what you're after, here you go. This debut is stubbornly no-frills, layered in permafrost, seething with hatred, and brimming with ugliness. But also generic. Although it's done well enough, we've all heard this stuff countless times before.
Noisear, Turbulent Resurgence (Willowtip): I wasn't a big fan of 2011's Subvert the Dominant Paradigm at all, but the latest by the New Mexico grindcore band clicked immediately. It's nothing but 23 minutes of grind that goes on the attack and doesn't let up for a second, the insanity of the performances masking plenty of clever riff and rhythm ideas.
Oak Pantheon, From a Whisper (Broken Limbs): The debut full-length by the Minneapolis duo is a very impressive mix of the trance-inducing beauty of Agalloch, the darker strains of Opeth, folk music, and traditional heavy metal. Those influences mesh beautifully on such tracks as "We Will Tear Down the Gods" and "The Ground Beneath You", as multi-instrumentalis​ts Sami Sati and Tanner Swenson create rich, multilayered metal that's capable of both aggression and introspection. What a find for Broken Limbs. Sample it and order it via Bandcamp. 
Pathology, The Time Of Great Purification (Victory): Quality death metal rendered unlistenable by pig-squeal vocals. No, thanks.
Posthum, Lights Out (Indie): Once you get past the band name (caffeine-free coffee substitute, anyone?) this is actually a smart second album, slightly similar to the likes of Ihsahn, rooted in black metal but willing to head outside the genre every once in a while. It still feels a little too monochrome at times, but at its best it approaches sublime, and the foundation is there for great music in the future.
Pro-Pain, Straight To The Dome (Goomba): It's a Pro-Pain album, you know exactly what it's going to sound like: caustic, aggressive New York hardcore, and nothing more. Like Agnostic Front, if you feel you need to buy a bazillionth album of this stuff, then go right ahead.
Satan's Wrath, Galloping Blasphemy (Metal Blade): It's unusual to see Metal Blade sign an underground blackened thrash metal band, but once you hear how old-school these Greek guys are, you'll understand why. Referencing the primitive sounds of Bathory and the flamboyance of Mercyful Fate, this debut isn't the most original thing you'll ever hear, but its dedication to capturing that mid-'80s vibe is admirable. Besides, who couldn't love a song called "Hail Tritone, Hail Satan"?
Scythia, For the Bear (self-released): The hard-working Canadian folk metal band returns with new songs and re-done old tracks, re-recorded in order to "Capture the mood and intensity of Scythia's current lineup." And this EP does just that, balancing reverence for the band's folk heritage ("Mattawa Reel") with outright, Alestorm-esque goofiness ("For the Bear"). Bonus points for the "Video Game Medley", which references Castlevania, Skyrim, Final Fantasy, and more. Stream and purchase it via Bandcamp.
Steve Harris, British Lion (Universal): The solo debut by the Iron Maiden bassist has taken many fans by surprise, but once people get over their hang-ups - metal fans with hang-ups? You don't say! – it turns out to be nowhere as bad as thought. It does have a very rocky start, but the deeper you go into it the album settles down, focusing more on melody than heaviness, and turning out to be a mildly enjoyable record.
This Or The Apocalypse, Dead Years (eOne): This metalcore band boasts, "No cookie cutter choruses. No repetitive breakdowns…No frills, no gimmicks, no unnecessarily complicated haircuts." That's great, but what's left? Aside from a couple good moments ("A Damn Moment", "Gaunt and Fierce") album crammed with haphazard arrangements and annoying production that, while plenty dexterous, ironically turn out to be every bit as monotonous as everything else in the sorry genre.
Winterfylleth, The Threnody Of Triumph (Candlelight): I've long admired Winterfylleth's combination of Ulver-derived atmospheric black metal and devotion to their English heritage, and their third album faithfully sticks to the formula. As usual, the ferocity and speed of these tracks is accentuated by mournful melodies that creep into the music – "The Swart Raven" is breathtaking – and that combination eventually creates something that feels as lush and beautiful as the image on the album cover. After starting out as an interesting little curiosity, Winterfylleth are starting to establish themselves as one of the better metal bands in Britain today.
Witchcraft, Legend (Nuclear Blast): After a five-year wait, Witchcraft are finally back with a fourth album, and it turns out to be quite the curveball. After the strong psychedelic rock influence that dominated 2007's stupendous The Alchemist, they've not so much returned to the proto-doom of their earlier work as cranked up the retro-metal bombast. These new songs rock very hard, the production a lot more modern-sounding and pristine than ever before. Of course, frontman Magnus Pelander is smart enough to write, dynamic, catchy songs – that's always been at the core of Witchcraft – but despite the strength of this album, it does miss the character of The Alchemist, let alone the warm tone of 2005's Firewood. While Legend easily warrants a recommendation, I had much higher expectations.
Are you sure you want to delete this comment?
live local music on
Enter your ZIP code to see concerts happening in your area.
Data provided by Zvents
follow msn music