New Releases For August 21, 2012
Afrobeat/kraut/psychedelic rock from Sweden? Why not?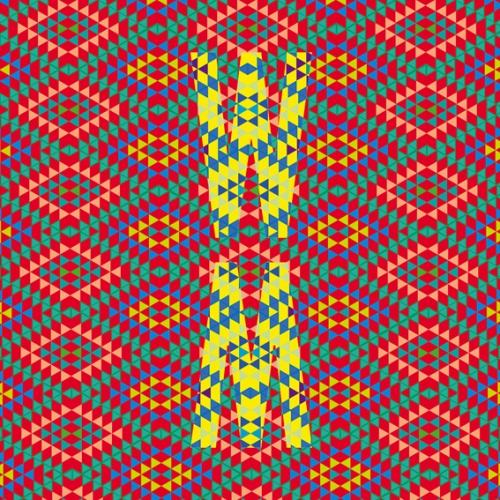 Album of the Week:
Goat, World Music (Rocket Recordings)
Who doesn't like a little mystique in their rock music from time to time? The ease with which bands can connect and interact with fans has made things so transparent these days, that is makes some people wish there was a little more mystery to the music they like. Thankfully there have been a few bands that have made an effort to keep their audience at as much of an arm's length as possible in this day and age, and the most recent addition is a curious little Swedish band that call themselves Goat.
Whether true or (more likely ) manufactured, Goat's "official" back story is a fun one. Hailing from the tiny northern Sweden town of Korpilombolo, the anonymous band – or "collective" as they prefer to say – claims to draw heavily from a tradition of Voodoo brought to the area centuries ago by a traveling witch doctor that was since quashed by the Christians and has haunted the town ever since. Okay.
Better yet, though, is the music, which is unlike anything to come out in metal/hard rock this year. Though it might be rooted in the same psychedelic rock/proto-doom sounds that are dominating Swedish heavy rock these days, Goat takes a severe left turn by incorporating a strong, hypnotic krautrock element as well as a very heavy Afrobeat influence. Consequently, you're left with a strange, bewitching amalgam of The Stooges, Can, and Fela Kuti, a wild collection of trancelike, heavily rhythmic jams and grooves. Retro metal and hard rock have always had a distinct swing to it, but it rarely if ever moves like this extraordinary debut album does.
That sense of the primal drives World Music in a way that makes it stand out from any other new psychedelic rock record you'll hear. Tracks like "Goatman", "Run to Your Mama", and "Goathead" feature such prominent percussion atop the churning jams, and with the chanted singing by the band's unnamed woman vocalist the African influence is inescapable. Under all that contagious cacophony, though, are some truly wicked, minimally arranged jams built around bass, drums, and a lone distorted guitar, augmented by some truly nasty wah-wah pedal, which squawks and shrieks as if it was Ron Asheton or Wayne Kramer. But that's not the only gimmick, though. Farfisa organ and a playful little funk beat lend "Disco Fever" a vibe reminiscent of Can's Flow Motion album. "Let it Bleed" goes total '70s funk, taking things a step further with a free jazz saxophone solo. "Det Som Aldrig Förändras" is an extended, harmonium-accentuate​d jam that's more akin to a raga than anything rock-oriented.
With a title like World Music, you'd expect such an album to be audacious, and make no mistake, Goat are just that. It's the kind of debut record that has just the right amount of arrogance and ignorance to instantly stand apart from the rest of the pack and captivate listeners, but still is sincere enough to not feel contrived at all. Energetic, propulsive, and at times soulful, this is an extraordinary find, and is absolutely worth seeking out. With music this good, we couldn't care less just who these people are, just as long as Goat keep making more.
Listen to "Let it Bleed" here.
Also out this week:
Call Of The Wild, Leave Your Leather On (Kemado): Best described as a combination of Turbonegro and The Hellacopters, this raucous debut album by the Brooklyn band is good, straightforward garage rock, fast, catchy, and with a great sense of fun.
Kiss, Destroyer Resurrected (Mercury): Kiss's most popular studio album has been given a thorough spit and polish by producer Bob Ezrin and comes with the original Ken Kelly artwork that wound up being rejected by Casablanca Records. The new mix of the album is fascinating, as Ezrin has made the record sound a lot more spacious, yet at the same time the harder-edged rockers like "Detroit Rock City" and "King of the Night Time World" possess more of a bite. In addition, Gene Simmons' bass is a lot more prominent, which fans of the album will appreciate. "God of Thunder" is a new experience entirely, while the glam rock influence on "Flaming Youth" and "Do You Love Me?" feels more prominent than ever before. If there was one gripe, it's that the only bonus track is an alternate take of "Sweet Pain" after fans were initially promised a second CD of extras. Personally I've always felt that the atrocious "Great Expectations" keeps Destroyer from achieving true classic status, but it remains a bold, not to mention iconic hard rock album, and Destroyer Resurrected is a great companion to the original album.
Like Rats, Like Rats (A389 Recordings): No-frills metallic hardcore from the Chicago band on their debut full-length. The way it contrasts black metal and hardcore is not unlike Kvelertak, but this Godflesh-referencing​ band doesn't have half the hooks Kvelertak does.
Nihill, Verdonkermaan (Hydra Head): The Dutch band returns with their third album and first since 2009's Grond, and its exactly the kind of chaotic, raw black metal you'd expect from them. For all the fury, Nihill continues to show they're much smarter songwriters than some skeptics might assume, the music constricting and loosening, constantly toying with listeners. All the while vocalist M.Eikenaar turns in a powerful, charismatic, suitably demonic performance, capping off an effectively harrowing record, a must-hear for black metal fans. Stream the album at Cvlt Nation.
Project 86, Wait For The Siren (Team Black): The eighth album by the Christian rock band is a smart mix of nu-metal and modern active rock geared toward their fans, but there's very little here to entice new listeners, especially from the metal side of the fence.
Vilipend, Inamorata (A389 Recordings): It's easy to write off this Toronto foursome as shameless Today is the Day fanboys that are more noteworthy for their tasteless t-shirt designs than anything else. However, for all the Steve Austin worship, not to mention a singer who imitates Eyehategod's Mike Williams so much it tests your patience, the deeper you delve into this debut album, the more tolerable it becomes, "Farewell, Cruel Girl" building and releasing tension like this music is supposed to. The production still leaves a lot to be desired – you get the feeling that their live shows are a lot more explosive than what you hear on record – but the potential for better things is definitely there.
live local music on
Enter your ZIP code to see concerts happening in your area.
Data provided by Zvents
follow msn music