New releases for January 15, 2013
Underrated German thrash leads the way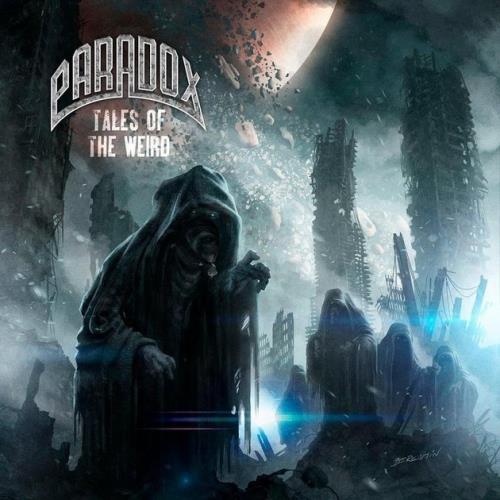 Album of the week:
Paradox, Tales Of The Weird (AFM):
Even though I tend to prefer thrash to death metal, it's been getting harder and harder to find thrash albums with enough staying power these days. Of course, there are the usual suspects who consistently make great music, like Testament, Destruction, Kreator, Sodom, and Municipal Waste, and young talents bringing fresh new perspectives to the genre like Vektor and Untimely Demise, but whether it's a lack of quality or that I'm just too damned picky, there haven't been as many excellent thrash records from the last couple years as there should be, the kinds that have me penciling into my year-end lists. I was just wondering this to myself over the past week or so, marveling at although I love thrash dearly, Testament's Dark Roots of Earth and Kreator's Phantom Antichrist were the only thrash album, placing at 46 and 42 respectively. That can't be right, I thought when I finalized the list. Surely 2013 has to be better.
It only took the first two weeks of the year to reassert that the thrash scene was indeed capable of an exemplary album, and the band that did was a total surprise. Nowhere near as popular as the seminal triumvirate of German thrash (do I even have to say who those bands are?) Paradox put out a pair of very underrated albums in the late-'80s that focused on the more melodic side of the sound, and after a decade-long split they returned, putting out four albums between 2002 and 2009. 2009's Riot Squad was impressive, but the follow-up, the awkwardly titled Tales of the Weird, has completely bowled me over.
True to their name, Paradox find a neat balance between the soaring, bombastic melodies of power metal and the aggression of thrash, and Tales of the Weird walks that line with supreme skill. Of course, it doesn't hurt that guitarist Charly Steinhauer is also a very good singer, providing strong, authoritative lead vocals as well as excellent range. With Christian Münzner, who is best known for his work in Obscura, the band has a stellar guitar tandem, and those two ingredients mesh well on the title track, which kicks off the album in Iced Earth-like fashion. It's a bold move to start off a thrash record with a nine-minute track, but the catchy "Tales of the Weird" holds up extremely well.
After that, the band gets down to brass tacks with a scorching of six songs, ranging from the hyperspeed "Day of Judgment", the darker-hued "Brutalized", the brooding "Fragile Alliance", and the all-out ferocity of "The Downward Spiral". If that wasn't enough, a brilliant cover of Rainbow's classic "A Light ion the Black" is tacked on at the end, its speed and melody a perfect fit for this band, capping off an album that came from seemingly out of nowhere to slay yours truly. It's unfortunate Tales of the Weird had to come out this early in the year, which means it'll probably wind up buried under higher-profile releases and likely ignored by many critics. We can't let that happen. Note to self: don't forget about this fine album when November rolls around.
Also out this week:
Antimatter, Fear Of A Unique Identity (Prophecy): The first new album in five years by Mick Moss's project doesn't surprise, turning out to be the kind of overtly melancholic, goth-tinged "dark rock" that we've gotten used to hearing over the years. Immaculately produced and featuring some gentle distortion for variety's sake, it's bleak and at times gorgeously so, as on the haunting "Monochome"). True, Moss's baritone voice sees him coming perilously close to "yarling", but he manages for the most part to keep things in check, making for a tasteful, albeit sedate album.
Infernal Poetry, Paraphiliac (Bakerteam): Death metal that's not afraid to dip into groovier and more progressive sounds, the fourth album by this Italian band is not without its interesting moments, like the Gojira-esque "The Glorious Orgy", but is often sidetracked by songs that are too monochrome for their own good, not to mention clumsy attempts at humor. Seriously guys…"Barf Together"?
Megascavenger, Descent Of Yuggoth (Selfmadegod): The latest project by Swedish musician Rogga Johansson is straightforward but superbly executed death metal. Guest performances by such notable death metal artists as Dan Swano, Marc Grewe, Jörgen Sandström, Paul Speckmann, and Patrick Mameli get your attention initially, but it's the strength of the songs that make this album worth hearing.
Mors Principium Est, And Death Said Live (AFM): The Finnish band has always been good at churning out inoffensive, mildly catchy melodic death metal, and their first new album in five years is more of the same. Sure, it's a little lightweight, sometimes accentuated by synths, but it has good hooks, and vocalist Ville Viljanen is an excellent lead vocalist.
The Plot In You, Could You Watch Your Children Burn Out (Rise): Tuneless, arbitrary clatter by a young band signed before they ever learned how to write a song. Alternating between comical pubescent rage and weepy, hand-wringing choruses, it's a microcosm of everything that's wrong with mainstream metal in America today. Dreadful, and unacceptable.
Resolution 15, Svaha (self-released): Thrash metal with electric violin instead of guitar, this New York band has a good gimmick, and at times their hardcore-tinged thrash meshes with enough progressive elements to warrant comparisons to Coroner. However, too much of the album centers on rote arrangements rather than trying to break the mold. And the fey, pretentious nu-metal cover of "Sunday Bloody Sunday" makes the overall experience unnecessarily overwrought.
Straight On Target, Pharmakos (Bakerteam): During the opening bars of this album, I saw my self getting into this Italian band's ultra-heavy take on deathcore. Then the godawful, generic growled vocals kicked in, and I was jolted back to reality.
Unburied, Murder 101 (Selfmadegod): From its artwork to its song titles – neither of which I'm probably not allowed to link to here at MSN – this is one disturbing album. Disturbing, but not very competent death metal, by a band that seems to have an issue or two when it comes to women.
live local music on
Enter your ZIP code to see concerts happening in your area.
Data provided by Zvents
follow msn music