25 @ 25: King Diamond, 'Fatal Portrait'
The Mercyful Fate frontman sets out on his own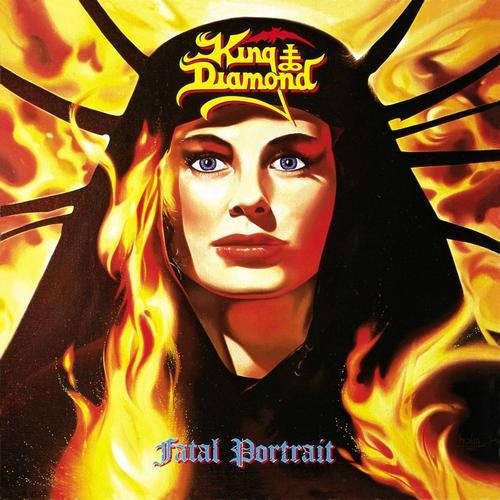 The implosion of Mercyful Fate in 1985 was swift and spectacular, happening right when the band was at its artistic peak, on the heels of two of the most important albums in heavy metal history, 1983's Melissa and 1984's Don't Break the Oath. Instead of fully capitalizing on the strength of those albums and the band's growing popularity, internal strife and musical differences would get the better of the band, and even though they'd eventually reform again in the 1990s, it would never be the same.
As for singer King Diamond, though, his personality was so flamboyant and unique that you just knew he'd keep on going with his Satanic shtick, and that's exactly what he did, wasting no time forming his own eponymous band. Right off the bat, the new King Diamond band had instant credibility. Bringing along fellow Mercyful Fate alumni Michael Denner and bassist Timi Hansen and recruiting guitarist Andy LaRocque and drummer Mikkey Dee, King Diamond the singer had a crew talented enough to continue right where the Fate albums left off, albeit focusing more on his own personal artistic vision. As a result, the band would yield a series of elaborate concept albums that placed as much emphasis on storytelling as delivering first-rate heavy metal.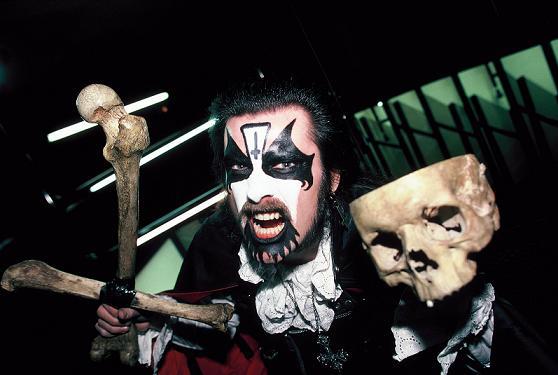 1986's Fatal Portrait was the first such attempt, and although it has a lot of the familiar characteristics that made Mercyful Fate so unique and appealing – flashy lead guitars, taut riffs, and King's unmistakable high-pitched squeal of a voice – it's a surprisingly tentative piece of work at times compared to Mercyful Fate's past body of work and eventually the two near-classic albums that would follow. From a conceptual standpoint, half of Fatal Portrait centers on an engaging storyline about a haunted painting, while the rest of the record is a hodgepodge of tracks tossed in. Musically, it's nowhere near the level of what Denner and Hank Shermann created on Melissa and especially Don't Break the Oath; as opposed to Oath's staggering collection of riffs and unpredictability, Fatal Portrait is a lot more streamlined, the approach by Denner and LaRocque simplified.
While the songs do have their moments, the overall effect is not so much jaw-dropping as comfortable, almost complacently so. Aside from the effectively atmosphere of "The Candle", the three songs that make up the first three quarters of the Fatal Portrait storyline, while pushing all the right buttons, don't impress the way "Curse of the Pharaohs" or "A Dangerous Meeting" did. Interestingly, the album gets better once freed of the storytelling. "Dressed in White" is rote Iron Maiden worship, but very slickly done, Denner and LaRocque trading lavish leads and unleashing gorgeous twin harmonies. "Charon" is a mid-tempo stomper in the same vein as Oath's "Gypsy", King putting in his best vocal performance on the album. He's all over the place, wildly schizophrenic, and to this day it's thrilling to hear. "Lurking in the Dark" actually comes closest to equaling the ambition of Mercyful Fate, adorned with ornate melodies, both from the guitars and King's singing. "Halloween" is as corny as all get-out ("Every night to me is Halloween / Like an ancient scene / You know just what I mean"), sounding like it was tossed off in a few minutes, but the band makes that simple groove and the dopey lyrics sound convincing.
The best song is saved for last, as the brilliant "Haunted" concludes the Fatal Portrait story in fine fashion. It sounds like the band is finally truly gelling, and with the perspective of hindsight, that song does feel like a foreshadowing of 1987's Abigail and 1988's "Them". Indeed, those two albums would prove to be very successful, the high water marks of King Diamond's post-Mercyful Fate career, and as a result Fatal Portrait would become more of an overlooked album. 25 years later, that record is still a bit of a mess, but its hints of greatness still make it an interesting one to this day.
live local music on
Enter your ZIP code to see concerts happening in your area.
Data provided by Zvents
follow msn music