New releases for February 26, 2013
The return of Darkthrone highlights this week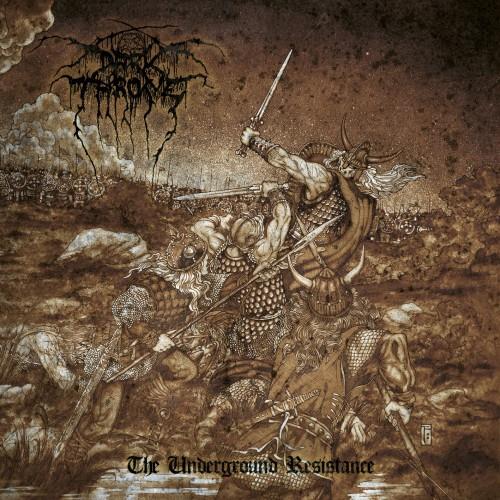 Album of the Week:
Darkthrone, The Underground Resistance (Peaceville)
I love the way Fenriz and Nocturno Culto kick off the 16th Darkthrone album. A sloppy, murky black metal riff is played on guitar and bass, over and over again, instantly creating an icy atmosphere totally befitting the duo, hinting that The Underground Resistance would be a move away from the straight-ahead crust punk influence that has dominated their last four albums. Oh, the punk influence would be seriously downplayed, but not in the way their longtime fans would expect. 30 seconds in, the intro comes to an abrupt halt, and a much sharper palm-muted riff kicks in, not sounding black metal but uncannily like classic Accept, tom-tom thuds punctuating the chords in fist-pumping fashion, and they're off to the races, the bass comfortably in the pocket, setting the Wayback Machine to 1984, where they will stubbornly remain for the next 40 minutes.
If you know Gylve "Fenriz" Nagell at all, you know he's an incredible student of the history of heavy metal, with a tremendous ear for discovering new talent as well as underrated classics from the 1980s, so when you hear the way he and his longtime collaborator channel the music of their youth, it's not so much jarring as feeling inevitable. It fits Darkthrone like an old shoe.
After "Dead Early" sets the tone immediately with its combination of extravagant riffs and d-beat section – more Motörhead than Discharge actually – "Valkyrie" shifts from a forlorn doom intro to full throttle speed metal, Fenriz singing the most flamboyantly we've ever heard from him. No, he's no Halford, but you hear the sincerity in his voice, and you can't help but embrace it. The overall feel of The Underground Resistance is just that: it revels in its energy, any hint of sloppiness never taking away from the power of the music, which it has in spades on this record.
With its buzzsaw guitar and hi-hat intro, "Lesser Man" immediately evokes comparisons to Mercyful Fate's "A Dangerous Meeting", eventually alternating between fast tempos, slow movements, and cruising, headbang-inducing grooves. The Priest-like (think Sin After Sin) "The Ones You Left Behind" and the surprisingly multifaceted, eight and a half-minute "Come Warfare, the Entire Doom" merely set the stage for the mother of all Darkthrone finales, the towering "Leave No Cross Unturned". A deliriously devilish homage to Mercyful Fate and Celtic Frost (from falsetto wails to those Frost-ian "Ooh!"s) the 13-minute song masterfully shifts gears between all-out speed and more menacing, lumbering tempos, never for a second coming off as tedious. It's as if Fenriz and Nocturno Culto decide to keep playing the song because they're just enjoying it far too much to quit. With so many reference point identifiable throughout the song – a little Tank here, a little early Bathory there – it's the kind of track that anyone who grew up on heavy metal 30 years ago will immediately identify with. Yours truly included, transported back to the days of stacks of Banzai Records cassettes and Metallion magazine in Canada, reminded of just what was so damned appealing about this form of music in the first place. When you churn out the new music with as much regularity that Darkthrone has, once in a rare while you catch lightning in a bottle, and that's exactly what they've done on The Underground Resistance. It is heavy metal perfectly embodied: energetic, joyfully sloppy, bombastic, and never lacking for passion.
Also out this week:
Apolokia, Kathaarian Vortex (My Kingdom): You can make black metal as underground, malevolent, and "kvlt" as you want, but if it's unlistenable, what's the point? You sense there might be some good songs on this Italian band's album were it not for the grating buzz created by the most inept guitar tone you will ever hear. A truly painful experience.
Centurian, Contra Rationem (Listenable): The Dutch band's first album in a dozen years, and third overall, doesn't attempt to be anything more than it is, a taut, precise, dynamic death metal album in the tradition of Morbid Angel. Very impressive.
Crest Of Darkness, In The Presence Of Death (My Kingdom): Capable, no-frills Norwegian black metal, though the band is smart enough to mix it up from time to time, tossing in the odd tempo change and guitar solo, as on the standout "Demon Child".
En Nihil, The Approaching Dark (Eibon): Structureless dark ambient/drone/noise,​ alternately soothing and jarring, more engaging when it focuses on the former rather than the latter.
Heimdall, Aeneid (Scarlet): Surprise, another Italian power metal band! This one is a little more guitar-centric than the usual keyboard-dominated bands out there, mixing Rhapsody of Fire-style flamboyance and Iced Earth style muscle. Combine that with plenty of decent songs ("Waiting For the Dawn"), and you have an album worth recommending.
Helker, Somewhere In The Circle (AFM): It's a great week for power metal, and this album by Argentina's Helker might be the best. Robust yet highly melodic, and led by a singer in Diego Valdez, who channels his inner Ronnie James Dio to tremendous effect, this is an absolute blast. Don't sleep on this one.
Karnya, Coverin' Thoughts (Bakerteam): A mildly intriguing progressive metal album that combines elements of '70s prog and more conventional hard rock.
Nader Sadek, Living Flesh (Self): A year after the debut album by the Egyptian musician's eponymous project, there's now a live recording of a performance of said album. Aside from a drum solo by the great Flo Mounier, there's very little on this poorly recorded live album to get excited about.
Old Wounds, From Where We Came Is Where We'll Rest (Glory Kid): Combining simple, aggressive, angry hardcore with discordant touches of the more forward-thinking side of the genre, the young New Jersey trio have put together a blistering, visceral debut full-length whose rage is disturbingly palpable.
Pristina, Hopeless Godless (The Path Less Traveled): What do you do when you've had a miserable year? If you're Brendan K Duff, you channel all that negative energy into on hell of a caustic new Pristina album. This is some angry, Today is the Day-level hardcore here. If you want blood, bile, catharsis, emotional devastation…you've got it.
Red Rose, On The Cusp Of Change (Scarlet): The Israeli power metal band play it far too safe on their second album, with prog-tinged songs that are so laid back they almost qualify as easy listening. Too much schmaltz, nowhere near enough power.
Ruins, Place Of No Pity (Listenable): A huge Celtic frost influence looms over the Australian band's music, and even though it's always obvious  - at times painfully so – there are worse bands you could model yourself after. Think of these guys as Goatwhore Lite.
A Story Of Rats, Vastness & The Inverse (Translinguistic Other): What makes this dark ambient/drone project by Atriarch keyboardist Garek J. Druss interesting isn't its grim blend of extreme metal tones and lugubrious tempos, but the sly Krautrock influence that rears its head from time to time, like Tangerine Dream sitting in with Boris.
Stratovarius, Nemesis (Armoury): Much was made about the acrimonious split with guitarist Timo Tolkki, but if you ask me the Finnish faves haven't missed a beat. Nemesis, their third post-Tolkki album and 14th overall, is their strongest in a long time, loaded with very catchy power metal anthems that carefully balance bombast and restraint. "Unbreakable" and "Stand My Ground" highlight an album that sees Stratovarius sticking to what they do best – creating good, simple, flamboyant tunes – something certain to please all of their fans. This is first-rate power metal.
Within The Ruins, Elite (eOne/Good Fight): These Floridians specialize in creating tetchy, at times glitchy progressive death metal, which is all well and good, but the key is to harness all that lunacy and make it cohesive to audiences. While at times they succeed mildly ("The Charm" is particularly winning), it remains a challenge for them to create memorable music while wowing listeners with the instrumentation. The potential for better things is there, though.
live local music on
Enter your ZIP code to see concerts happening in your area.
Data provided by Zvents
follow msn music