New Releases For April 3, 2012
Matt Pike's return, new sludge/hardcore hybrid highlight this week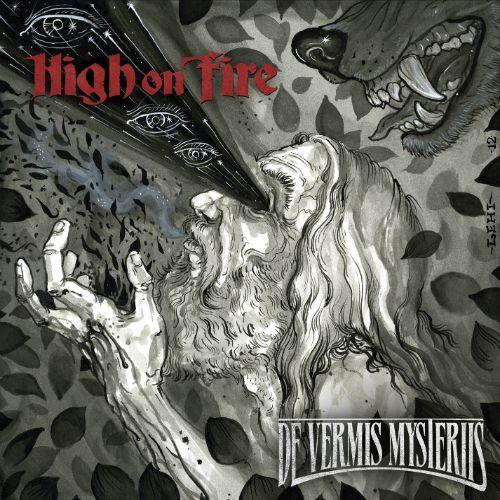 Album of the Week:
High On Fire, De Vermis Mysteriis (eOne)
If there's one modern metal band that happily revels in its own formula like a pig in mud, it's High on Fire. From the 2000 debut The Art of Self Defense through the six albums that followed, guitarist/vocalist Matt Pike has churned out the same kind of bludgeoning stoner metal, epic compositions built around his towering riffs and shredding solos, and featuring his gravel-throated gargle of a voice. 12 years into the band's career, not a lick has changed. Sure, there was the odd acoustic guitar curveball here and there, but that template Pike had created at the beginning has hardly expanded to this day.
Where High on Fire is adventurous, though, is in their choice of producer, and although every album recycles the same style of metal and the same weed-fueled lyrics, each one has its own identity largely because of its tone. Billy Anderson made The Art of Self Defense and the monumental 2002 follow-up Surrounded By Thieves ultra-dense and punishing, Steve Albini brought out the band's visceral live power to stupendous effect on 2005's Blessed Black Wings, Jack Endino broadened the sound of 2007's Death is This Communion to allow for a little more nuance in the music, while 2010's Snakes For the Divine saw Greg Fidelman create a much cleaner, mainstream-friendly tone. So while we all knew exactly what the songs would be like on High on Fire's seventh album, the big question was who would be producing, and how much would that influence the overall record.
It was only a matter of time until Matt Pike collaborated with Kurt Ballou. As mentioned countless times before, the Converge guitarist has built himself a sterling reputation as a metal and hardcore producer, helping create some of the best guitar tones on record in the last decade. Ballou's style is unmistakable, the rhythm section tar-thick, the guitar sound warm yet biting at the same time; he tends to work best with bands with reputations of being superb live acts, and with High on Fire being an incredible live band for a long time now, this partnership is logical.
While very deserving of the Album of the Week nod, De Vermis Mysteriis is nevertheless an imperfect record. Mind you, there's a lot to get excited about, especially early on. The first half of the album is stacked. Led by the monstrous drum sound of Des Kensel, the perfect foil for Pike, "Serums of Liao" is more brooder than barnstormer, but the deliberately paced track is a perfect showcase of that High on Fire/Kurt Ballou pairing. The sound is thunderous, the best tone on a High on Fire record since Albini's stellar work seven years ago, and Pike's double-tracked solo is flat-out incredible. "Bloody Knuckles", which you might have already heard, is beastly, especially when Pike launches into those muscular palm-muted chords during the verses, as the band settles into a throttling groove anchored by Kensel and bassist Jeff Matz. "Fertile Green" brings the speed, led by Kensel's martial beats, while "Madness of an Architect" slows things right down as the nastiest of Pike's riffs brings some welcome filth to the proceedings.
Although tracks like the slyly melodic "Spiritual Rites" and the positively wicked "Romulus and Remus" highlight the second half of the album, it's hard to excuse the 11-minute speedbump that brings all that momentum to a grinding halt midway through. It's easy to understand why the instrumental "Samsara" was included, as it offers a breather after those intense first four tracks, but the extended jam of Pike noodling atop Matz's repeated bass melody becomes tiring after a full minute. The seven-minute slog "King of Days" is worse, though, a lugubrious doom tune so lacking in dynamics that it quickly becomes tedious. For that type of song you need a strong vocal performance to really carry things (see Pallbearer, or in an even more classic sense, Candlemass), and Pike's strangled growl just doesn't cut it.
Overall, though, De Vermis Mysteriis remains a strong record, but the longer High on Fire goes on the more it becomes clear that it'll be very difficult to top that trifecta of Surrounded By Thieves, Blessed Black Wings, and Death is This Communion. By now what Matt Pike and his mates bring is comfortable familiarity, and although it's starting to feel like his most creatively inspired work is behind him – I remain hopeful that won't be the case – a new High on Fire album is always a good thing, and anyone who loves the band will welcome it, flaws and all.
Also out this week:
Akphaezya, Anthology IV (Code 666): I have no idea how to pronounce the French band's name, but this is one fun progressive metal album, wildly eclectic, vibrant, and adventurous, like The Gathering meshed with Porcupine Tree, Unexpect, and Kate Bush. Crazed as it all may seem, it's all held together by the dulcet voice of singer/keyboardist Nehl Aëlin. Check out the excellent new video for "Nemesis" for a good indication of what this band is all about.
Atoma, Skylight (Napalm): Here's one band with enough guts to try something different in the "post-metal" realm. Those expansive Neurosis/Isis influences are ever-present, but by adding a good dose of post-hardcore melody, sweeping synths, and electronic accents derived from trance music, the Swedish band has created something unique. This album could use a little editing, but other than that it's a very compelling listen.
Beak, Eyrie (Someoddpilot): For those craving some real originality in their progressive rock/metal, the debut EP by Chicago's Beak has to be heard. A clever amalgam of sludge metal, post-metal, and prog, it's made all the more unique by an unmistakable punk influence that somehow complements everything extremely well. These guys are bent on making genre-expanding extreme music, and this five-track CD is a remarkable first effort. Check out the video for "Hands Collide" here.
Beyond Terror Beyond Grace, Nadir (Willowtip): A combination of blackened death metal with the monstrous heaviness of Neurosis, this third album by the Australian band is a very pleasant surprise, atmospheric and meditative while at the same time absolutely pulverizing.
Black Sheep Wall, No Matter Where It Ends (Season Of Mist): Sure, the LA band is plenty sludgy, but this album couldn't be more bland, interminable songs carrying on at the same dismal pace with no payoff.
Chopstick Suicide, Lost Fathers and Sons (Peyote Müzik): Mathcore from Turkey? When it's this good, then sure, why not? For those jonesing for new music by Protest the Hero and The Dillinger Escape Plan, this impressive little record will whet the appetite.
Eye, Center Of The Sun (Kemado): Kemado has been on a great roll as of late, putting out some terrific retro heavy rock, and this debut by Columbus, Ohio's Eye is yet another example. Stubbornly rooted in 1970, Center of the Sun is rife with Black Sabbath and Hawkwind influences, but they take those influences and display some creativity, as heard on the fantastic, 19-minute doom/psychedelic hybrid title track. If you like your heavy stuff old, old, old school, this is a must.
Lonewolf, Army Of The Damned (Napalm): The French speed/power metal band is back with a fifth album of rousing tunes that channel the more robust side of the genre. Funnily enough, it took them five albums to include a song called "Lonewolf". Overall it's good, harmless fun.
Outcast, Awaken The Reason (Listenable): Describing a French metal band as "brutal djent" is just a polite way of saying they rip off Meshuggah and Gojira, but while Outcast lacks originality, they remain very good at that sort of progressive-minded extreme metal, pummelling passages countered with more accessible, melodic moments.

The High on Fire album has apparently been pushed back a week to April 10th, at least in Canada, according to the clerk at HMV when I went to buy it on my lunch break (and Amazon.ca says the 10th as well). Disappointing - but at least I picked up the new Meshuggah so it wasn't a wasted trip!
Are you sure you want to delete this comment?
live local music on
Enter your ZIP code to see concerts happening in your area.
Data provided by Zvents
follow msn music