New Releases For May 29, 2012
Dawnbringer continues to create classic metal better than anyone today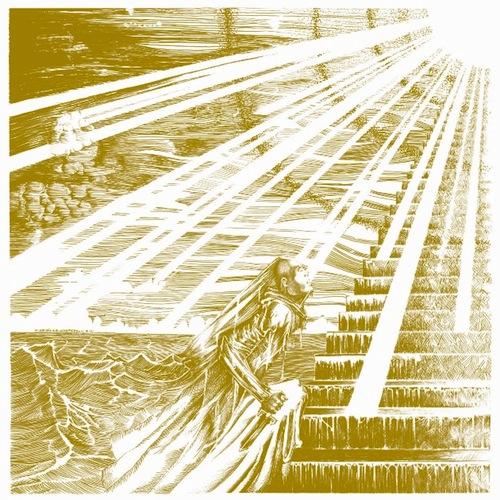 Album of the Week:
Dawnbringer - Into The Lair Of The Sun God (Profound Lore)
There's nothing quite like a band that understands the nuance and aesthetic of traditional heavy metal perfectly, that remembers a time when songs were as hook-laden as they were powerful, when bands exercised restraint, when there were no subgenres and it was simply regarded as "metal". Chris Black gets it. Whether with High Spirits, Superchrist, or Pharaoh, the Chicago musician exhibits a thorough knowledge of classic metal, but it's with Dawnbringer where he's started to create something special. Fourth album Nucleus, released on Profound Lore two years ago, was a revelation, especially to those who grew up with metal in the early-1980s, as Black and his band captured that post-New Wave of British Heavy Metal and proto-thrash vibe perfectly. While not a smash on the level of a mainstream act, it was nevertheless a very successful release by Profound Lore's standards, as Black's old-school approach clicked with writers like yours truly, and most importantly, the record-buying public.
Now Black and Dawnbringer have retuned with album number five, and although Black claims he changed nothing in his approach to the record – same band, same producer in Sanford Parker – Into the Lair of the Sun God is significantly different. While Nucleus was an affectionate mish-mash of various influences, from Iron Maiden, to early Metallica, to Manowar, the approach on this album is a lot more streamlined. Songs do range from NWOBHM gallops to thrashy tempos, but rather than simple homages they feel more like small parts of Dawnbringer's overall scope. And typical of Black, the nine songs on the new album never overreach, always letting melodies drive the songs, never falling into the trap of having a track go on for too long.
Also, with every track simply bearing a Roman numeral title, serving as individual chapters in a larger overall story (involving "a naïve assassin and his bizarre journey that inevitably leads to its tragic end", according to Profound Lore), Black's sharpened songwriting comes even more into focus. The 6/8 stomp of "I" is a perfect opener to Black's tale, setting the stage lyrically and at the same time giving listeners a riveting tune, bolstered by the chorus of, "Silence, you bastard!" "II" brings the speed, while the organ-driven "VI" slows things down in a jam reminiscent of Deep Purple and Rainbow. The best of the lot, though, is the startlingly beautiful "V", a ballad so wide-eyed and sincere, it hearkens back to the ballads Alice Cooper wrote with Dick Wagner in the late-1970s. Some people continue to gripe about Black's limited vocal range, but his strained rasp is in good form on this album, and especially on "V", which is as impassioned a vocal performance as he has ever given on record, and strong a song as he has ever written.
Jarvis Cocker of the great UK band Pulp always had a dry running gag on their albums, writing in the liner notes, "NB Please do not read the words whilst listening to the recordings." Essentially what Cocker was saying was that he wished listeners would take in the music instead of placing so much emphasis on his lyrics, and judging by what Black does on Into the Lair of the Sun God, he clearly thinks the same way. Highly unusual for a metal concept album, no lyrics have been included with the CD, with nothing but a spartan tri-fold booklet. Instead of following Black's storyline, the absence of lyrics forces the listener to listen to the album more closely, which means the overall impact of the record will be even greater as people are drawn into it more easily (just listen to the tension of the climactic "VIII" and the mournful denouement of "IX"). Couple that with the fact that the songs are so restrained, immaculately arranged, and instantly memorable, and you've got an absolutely essential heavy metal album. If you think new metal albums just don't have the magic that the '80s classic did, this one just might change your mind.
Listen to "III" via Soundcloud 
Listen to "VII" at Invisible Oranges
Also out this week:
Blood Mortized, The Key To A Black Heart (FDA Rekotz): If the excellent recent Asphyx album isn't enough crusty, old-school death metal for you, look no further than the new album by Sweden's Blood Mortized. Not only does it channel that classic, rampaging sound, but they add more theatrical touches to the music, not unlike Amon Amarth, which lends the music an even more epic quality. This is one death metal record you don't want to miss out on.
Dehuman, Black Throne of All Creation (Kaotoxin): The Belgian band's first album is admirable in that it's an extremely devout homage to classic early-'90s death metal, right down to the muddy production. But because this has been done countless times before, the songwriting desperately needs to stand out, and sadly that hasn't happened. While it's not terrible - the band is convincing in their approach – it's just not catchy enough. Even Grave and Unleashed had great hooks and grooves. See Blood Mortized above.
Engel, Blood Of Saints (Season Of Mist): The Swedish melodic death metal band continue to veer more toward the middle of the road, and while some might grumble about this album's reliance on In Flames-style active rock arrangements and Magnus Klavborn's soaring choruses, this is very catchy stuff. Trite? Of course. Cynical? Not a chance.
Ides Of Gemini, Constantinople (Neurot): After showing a great deal of promise on 2010's The Disruption Writ EP, bassist Sera Timms and guitarist J. Bennett have recruited drummer vocalist Kelly Johnston, who gives the band much more depth on their full-length debut. What makes Ides of Gemini so unique is their emphasis on space and atmosphere; Bennett's guitar work is on equal footing with Johnston's measured, decidedly non-metal drumming style and the haunting vocal harmonies by Timms and Johnston. That less-is-more approach yields beautiful, unsettling results, a dreamy record that's the perfect accompaniment for a dark night of the soul.
Malice, New Breed Of Godz (SPV): Best known for appearing on 1982's legendary Metal Massacre compilation alongside Metallica, Los Angeles's Malice has gotten back together to put out their first album since 1986's License to Kill. Instead of original singer James Neal, though, the band has brought in the great Helstar screamer James Rivera, and his charismatic, Halford-esque delivery is perfectly suited to the band's straightforward heavy metal attack. Although it's far from the album of the year, this is one reunion album that doesn't disappoint in the least.
Mirrormaze, Walkabout (Bakerteam): A progressive metal album in the tradition of Fates Warning and Dream Theater, this debut by the Italian band it tastefully written and capably performed, and while it does start to drag on like a lot of ambitious prog/power efforts, it's nevertheless a decent first outing.
The Reticent, Le Temps Detruit Tout (Heaven and Hell): Fitting somewhere between Tool and Porcupine Tree, the latest by the North Carolina project is very understated, yet has a way of working its way into your head. Even more impressive is that this is the work of singer-songwriter-mu​lti-instrumentalist Chris Hathcock, whose mournful guitar work and melancholy singing lends the record a bleak beauty, capped off by a brave cover of R.E.M.'s "Losing My Religion" that blows away the cover by Lacuna Coil earlier this year.
Sexcrement, Sloppy Seconds (Comatose): Ugly, pulverizing, and very tongue-in-cheek, the second album by the Massachusetts band is loaded with enough death metal grooves and tasteless song titles for anyone who wishes death metal wouldn't take itself so seriously all the time.
Sledge Leather, Imagine Me Alive (Metal Up): Featuring former Chastain singer Leather Leone and her Rude Girl bandmate, drummer Sandy Sledge – hence the name – as well as former Dio members Jimmy Bain (bass) and Scott Warren (keyboards), this is solid yet unspectacular traditional metal that sees Leone in terrific form, sounding as powerful as she did 25 years ago.
live local music on
Enter your ZIP code to see concerts happening in your area.
Data provided by Zvents
follow msn music