2012 Mid-Year Report
A quick look at some of the better albums from January to June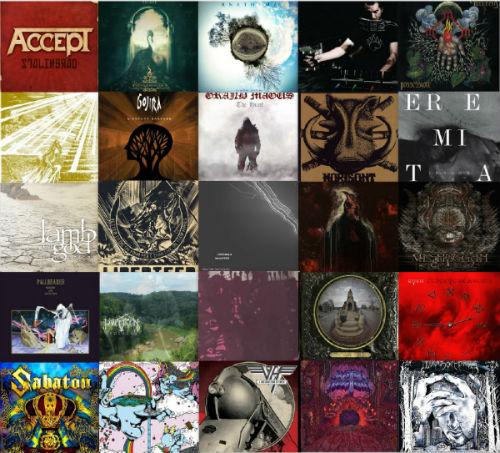 Now that we've just passed the halfway point of 2012, it's time for the ubiquitous mid-year report. Having heard hundreds of albums this year already, I was quite surprised to see the 25 titles I singled out turn out to be as eclectic as they are, but as I always say, variety's a good thing.
Interestingly, despite some very good albums by Cannibal Corpse, Unleashed, Cattle Decapitation, and Dying Fetus, it's been a bit of a down year for death metal so far, but look for that to drastically improve with new albums by Nile, Portal, Gorguts, and Suffocation on the horizon.
While these albums are the best releases to come out from January to June, there's still a lot on the way during the latter half of the year (Baroness, Converge, Pig Destroyer, Witchcraft, Testament, Deftones, and hopefully Ghost and Black Sabbath), plus there are some terrific albums that have not been officially released in America yet (Killing Joke, Swallow the Sun) so who knows where these will rank come December. At any rate, each one is well worth checking out…here they are, in alphabetical order:
Accept, Stalingrad (Nuclear Blast)
Alcest, Les Voyages de l'Âme (Prophecy)
Anathema, Weather Systems (The End)
Author & Punisher, Ursus Americanus (Seventh Rule)
Christian Mistress, Possession (Relapse)
Dawnbringer, Into The Lair Of The Sun God (Profound Lore)
Gojira, L'Enfant Sauvage (Roadrunner)
Grand Magus, The Hunt (Nuclear Blast)
Horisont, Second Assault (Metal Blade)
Lamb of God, Resolution (Epic/Sony)
Liberteer, Better To Die On Your Feet Than Live On Your Knees (Relapse)
Locrian & Mamiffer, Bless Them That Curse You (Profound Lore)
Mares of Thrace, The Pilgrimage (Sonic Unyon)
Meshuggah, Koloss (Nuclear Blast)
Pallbearer, Sorrow and Extinction (Profound Lore)
Panopticon, Kentucky (Handmade Birds/Pagan Flames)
Pinkish Black, Pinkish Black (Handmade Birds)
Rush, Clockwork Angels (Roadrunner)
Sabaton, Carolus Rex (Nuclear Blast)
Van Halen, A Different Kind of Truth (Interscope)
Witch Mountain, Cauldron Of The Wild (Profound Lore)
Woods Of Ypres, Woods 5: Grey Skies and Electric Light (Earache)
live local music on
Enter your ZIP code to see concerts happening in your area.
Data provided by Zvents
follow msn music