Morbid Angel Announce US Tour
Finally taking the polarizing 'Ilud Divinum Insanus' on the road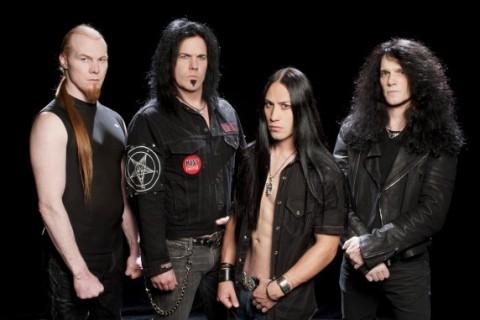 Nearly a full year after the release of Ilud Divinum Insanus, one of the most controversial (a polite way of saying "universally reviled") metal albums in recent memory, Morbid Angel finally appear ready to take their show on the road on this side of the Atlantic, having just announced a full US tour with Dark Funeral and Grave, with a couple of Canadian dates tossed in as well.
The band most recently played Maryland Deathfest last weekend, but they were contractually obligated to play only old material, nothing from Ilud Divinum Insanus, an indication of just how much death metal fans hate that record. So it'll be interesting to see what, if any, new songs the band plays on the tour. While it's nice and safe to only play fan favorites, the tension and confrontation created by playing more polarizing material in front of a passionate audience can yield an exciting show. I'm not a fan of the new album in the least, but it'd be good to see Morbid Angel show some integrity and stand behind the new stuff. At any rate, here's the full itinerary:
Sep. 21 - Atlanta, GA - The Masquerade
Sep. 22 - Louisville, KY - Headliner's Music Hall
Sep. 23 - Columbus, OH - Screamin Willie's
Sep. 24 - Washington, DC - Howard Theater
Sep. 26 - New York City - B.B. King's
Sep. 27 - Pittsburgh, PA - Altar Bar
Sep. 28 - Philadelphia, PA - The Trocadero
Sep. 29 - Worcester, MA - The Palladium
Sep. 30 - Montreal, QC - Club Soda
Oct. 01 - Toronto, ON - Opera House
Oct. 02 - Cleveland, OH - Peabody's
Oct. 04 - Joliet, Il - Mojoe's
Oct. 05 - St. Paul, MN - Station 4
Oct. 06 - Des Moines, IA - Peoples Court
Oct. 07 - Englewood, CO - Gothic Theater
Oct. 08 - Salt Lake City, UT - The Complex
Oct. 10 - Seattle, WA - El Corazon
Oct. 11 - Portland, OR - Hawthorne Theater
Oct. 12 - San Francisco, CA - Slim's
Oct. 13 - Sacramento, CA - Ace Of Spades
Oct. 14 - Anaheim, CA - The Grove
Oct. 15 - Tempe, AZ - Marquee Theatre
Oct. 17 - Dallas, TX - Trees
Oct. 18 - Houston, TX - Scout Bar
Oct. 19 - San Antonio, TX - Backstage Lounge
live local music on
Enter your ZIP code to see concerts happening in your area.
Data provided by Zvents
follow msn music