25 @ 25: Warlock, 'Triumph and Agony'
Doro Pesch's metamorphosis from curiosity to metal goddess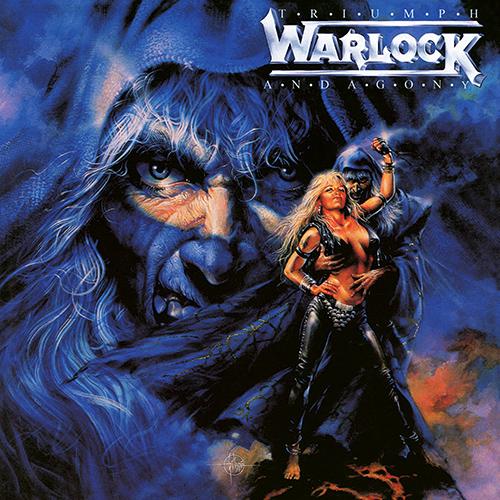 While women in metal were far from nonexistent by 1987 - Girlschool, Rock Goddess, Lita Ford, Lee Aaron, Bitch, Vixen, and Holy Moses were all among the more well-known – they were still treated largely as a novelty by the media, record labels, and, sadly, many fans as well. Although Vixen and Lita Ford made serious commercial headway that year with a pair of breakthrough singles that year, a petite 23 year-old singer from Germany with a massive voice was on the verge of becoming metal's first true female icon.
Musically speaking, Dusseldorf band Warlock was nothing really special, merely a solid version of the "Teutonic metal" sound created by Scorpions and Accept. With a singer named Dorothee Pesch at the helm, though, they immediately became something memorable. Metal had never known a frontwoman quite like Doro Pesch: here was a singer who could sing and scream with as much power as her male counterparts, and oozed sex appeal yet was fully in control of her image, presenting herself in a way that captured audiences' attention without detracting from the music at hand. However, as the 1980s wore on, Pesch was quickly becoming too big a focal point for the band to deal with, which could be heard in an oddly inconsistent string of albums.
1984's spirited Burning the Witches was a good, gritty debut that relied heavily on a "Fast as a Shark" vibe throughout. The following year, Hellbound was more of a transition between aggressive sounds and more commercial-friendly fare, highlighted by the fan favorite "Earthshaker Rock". After guitarist/co-songwri​ter Rudy Graf left the band, True as Steel, Warlock's debut for Mercury Records in 1986, showcased a much more streamlined sound, but despite its charm and the strength of the single "Fight For Rock", it lacked the force of the first two records. If Warlock was to make their true breakthrough, especially in North America, the music had to be a lot more consistent. Pesch herself took the bull by the horns, moving to New York, became the primary creative force behind the band, hired new American members, and teamed up with producer and co-songwriter Joey Balin to create the kind of Warlock record she had in mind all that time.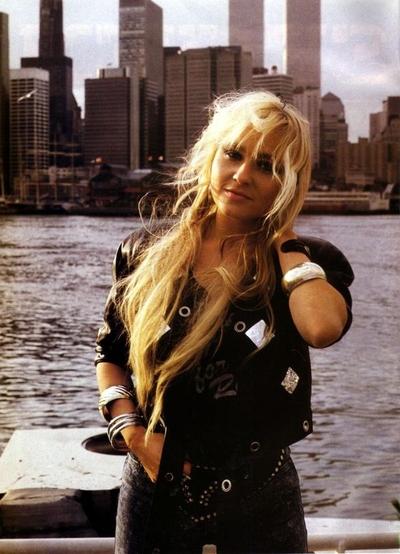 The end result is Triumph and Agony, the most fully realized Warlock album and the first major stepping stone in Pesch's career. Adorned with lavish artwork courtesy Geoffrey Gillespie – the first use of the self-mythologizing "metal goddess" portraits Doro would use to great effect for the next quarter century – it placed Pesch front and center. Although Warlock had been reduced to the singer and a bunch of hired hands, it was exactly the consistent blend of aggression and accessibility that everyone knew the band had in them. In fact, five of its ten tracks remain concert staples for Doro to this day. "I Rule the Ruins" remains the quintessential Doro track, her line "There's a tattooed symbol underneath my sleeve / An iron glove over a hand of steel / You can't touch me," a bold, striking assertion of power by this diminutive yet indefatigable woman. "East Meets West" is a rousing, blunt statement on the Cold War in Germany at the time, while the high-gloss power ballad "Für Immer" is made all the more powerful and sincere thanks to Pesch's German lyrics. "Metal Tango", meanwhile, dares to take the rhythm of the tango, a little rip-off of Cameo's "Word Up", and transform it into an oddly effective song, one of Pesch's most sultry moments on record.
Then there's "All We Are", the album's one breakthrough song and video, a lyrically absurd tune built around one of the most inexplicably silly phrases in metal history ("All we are, all we are, we are, we are all, all we need") that becomes the most ridiculously catchy sing-along anthem in metal history. The appeal of that track is all due to the presence of Pesch, who sings those words with such conviction, that audiences can't help but buy in.
Fleshed out by such excellent deep cuts as the hard-charging "Three Minute Warning" and the brooding "Kiss of Death", Triumph and Agony exudes confidence like no other Warlock record. Unfortunately the days of Warlock the band were numbered. By 1988 Pesch was the sole German band member left, and after former manager Peter Zimmermann successfully sued for the rights to the Warlock brand, Pesch reluctantly carried on with the same band under the name Doro. She and her band released Force Majeure, the intended follow-up to Triumph and Agony, in 1989. While her popularity in North America dipped in the wake of that record, Doro continued to fare very well in Europe, and thanks to her success on that continent she was able to build a solo career that's now yielded 12 albums. Today Doro remains one of metal's most revered artists, a true groundbreaker for every single female metal musician working today, and it was Triumph and Agony that first established her as a singular talent.
Are you sure you want to delete this comment?
live local music on
Enter your ZIP code to see concerts happening in your area.
Data provided by Zvents
follow msn music