Baroness Release New Single "March to the Sea"
Second single from forthcoming double album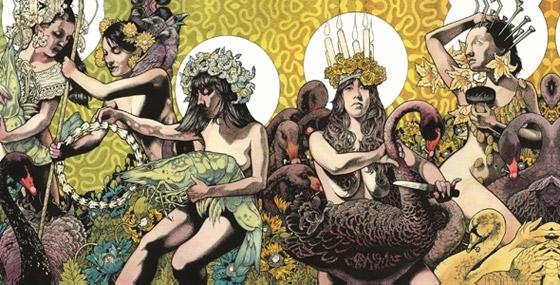 Baroness's third full-length, the admittedly brilliant and near-perfect double album Yellow & Green, will be released next month on Relapse, and both the label and the band seem fully aware that its decided lack of metal influences is going to come as a bit of a surprise to those who prefer the Southern sludge of the band's early work, because they continue to release individual tracks via YouTube and iTunes in an effort to ease listeners into that stylistic change.
The latest song to be unveiled is the beautiful rocker "March to the Sea". Coming right on the heels of Yellow's second song "Take My Bones Away", which was released a month ago, it's the first time listeners can hear Baroness start make that shift from heavy music to something a lot more melodic and '90s indie rock-influenced. And just like that other song, "March to the Sea" is incredibly catchy, built around a contagious vocal melody by guitarist/singer John Baizley, and could very well be the song that introduces Baroness to an audience much broader than just the metal crowd.
Listen to Baroness's "March to the Sea" on YouTube
Purchase "March Across the Sea" at iTunes
It's clear the band is looking to cross over, and that big things could be in their future. Yellow & Green is their last album under their contract with Relapse, and with new management Q Prime – that's right, Metallica's managers – it's expected the band will sign with a bigger record label. Yellow & Green, though, is the first real significant step the band has made in this process, and despite an early backlash from some metal fans – with an album like this a backlash is fully expected - they've done so with their integrity fully intact. One can only hope for crossover success for Baroness, because music this great needs to be heard by everyone.
Yellow & Green comes out July 17 on Relapse.
live local music on
Enter your ZIP code to see concerts happening in your area.
Data provided by Zvents
follow msn music