Emmure, "Speaker Of The Dead"
Deathcore: learn to love it, or just live with it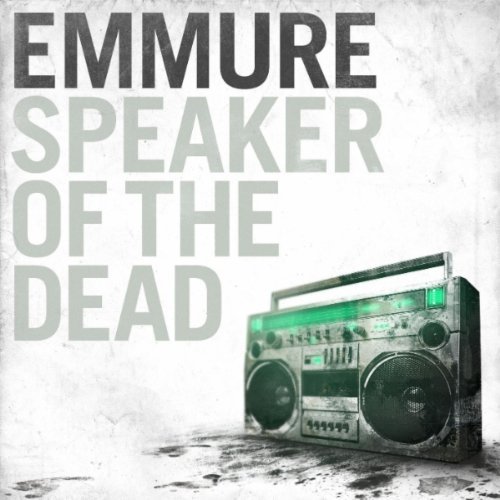 Deathcore doesn't get much respect from old-school headbangers. As was discussed in my interview with
Oceano
frontman
Adam Warren
, the graybeards of the metal scene think these heavily tattooed, earlobe-stretched kids are just a bunch of hip-hop wannabes, and their music is thudding noise with no redeeming value or artistry. Well, like it or not, the genre's not going anywhere, so you might as well pick out the good stuff and try to enjoy it on its own merits.
Emmure
's fourth album,
Speaker of the Dead
, is pretty enjoyable. Metalsucks.net has
compared the band to Limp Bizkit
, and there are superficial similarities to be drawn, but I always found
Limp Bizkit
repugnant, musically and as human beings, and somehow I can't work up a similar hate for Emmure. I think it's because they demonstrated some actual—wait for it—artistry and maturity on 2009's
Felony
. They'd just lost two founding members, guitarist and drummer
Ben
and
Joe Lionetti
, and they came back from that body blow with their most complex and sophisticated album to date, taking their usual ultra-downtuned chugga-chugga metalcore and throwing in female vocals, judiciously deployed synths, and clean vocals and came out with something that could have been recorded by
Deftones
' teenage younger brothers.
Speaker of the Dead abandons almost all that subtlety (the swaying "Bohemian Grove" is one of the few exceptions), opting instead for one-two facepunching brutality from beginning to end. The lyrics are all about how frontman Frankie Palmeri is gonna kick your ass, and the music stutters and grinds, with dissonant squeals punctuating the riffs. Every once in a rare while, there'll be a squiggly hip-hop keyboard noise, or a dash of theremin, popping up in the mix, but overall, this is an album meant to be played loud and with the bass turned all the way up, so it can bounce small objects off your shelves. So check it out, especially if you're over 30 and think kids today can't do anything right. You might wind up pleasantly surprised.
Also out today:
Cauldron
,
Burning Fortune
(Earache): Terrific second album by Canadian retro-metallers. If you like
Dokken
or
Scorpions
, you'll like this.
Darkest Era, The Last Caress of Light (Metal Blade): Irish pagan metal. I haven't heard it, but I plan on checking it out soon.
Deicide
,
To Hell With God
(Century Media): The Florida death metal legends make a strong comeback on their 10th studio album. I have a lot more to say about it
at

BurningAmbulance.com​
.
The Famine, The Architects of Guilt (Solid State): Excellent death metal from Texas. If you like The Black Dahlia Murder, you'll like this.
Korpiklaani, Ukon Wacka (Nuclear Blast): Finnish pagan folk metal. They have an accordion player.
Neuraxis, Asylon (Prosthetic): French-Canadian technical death metal with actual melodies. I've liked these guys for a long time, and they've never disappointed me. This isn't as good as their absolute best album, Trilateral Progression, but it's pretty damn great nonetheless.
Total F***ing Destruction, Hater (Translation Loss): Latest CD from Brutal Truth drummer Rich Hoak's other band. Grindcore with a sense of humor.

Also worth noting: the documentary Lemmy comes out on DVD today. Check it out.
live local music on
Enter your ZIP code to see concerts happening in your area.
Data provided by Zvents
follow msn music