Details of Black Sabbath's new album start to surface
Revolver feature sheds light on '13'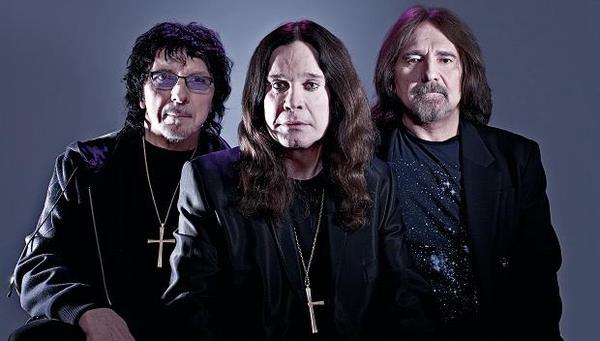 With Black Sabbath's much-hyped new album 13 coming out in June, you know they're going to be building as much anticipation as they can without actually giving the public any glimpses of the music whatsoever. While I'm not a fan of 30-second "album trailers" whatsoever, the past couple days have been fairly interesting as far as gleaning new information about the new Sabbath record.
Yesterday Revolver posted a feature written by Dan Epstein, who was afforded a quick listen of a few of the album's tracks and offered his won descriptions. Granted, his reaction is typically one of a guy who's giddy at being given such a plum assignment – speaking from experience, it's a real challenge to bottle any excitement of attending a private listening session with a world-famous band and react to the music objectively – the descriptions are vague yet intriguing. "The End is the Beginning" "staggers to a close after some eight gloriously demonic minutes, with Iommi's stump-fingered outro solo leaving a spiral-shaped exclamation point on the proceedings." "God is Dead" is a nine-minute track that moves effortlessly from an ominous opening powered by Wilk's tribal tom-tom pattern into a swinging groove reminiscent of Sabotage opener 'Hole in the Sky'." Meanwhile, the seven-minute "Epic" "could also easily pass for a previously unheard outtake from Sabbath's highly creative 1972-75 period."
Another revelation in the story is that while the track listing has yet to be finalized, Ozzy Osbourne says that it's producer Rick Rubin's intention to have nine of the 16 songs the band has apparently recorded on the album. That comes as a big relief, as big-name bands have long had a bad habit of filling out albums with far too many songs that the records deserve. That said, if those nine songs are all in the seven, eight, nine-minute range of the aforementioned three tracks, it could still be troubling. Sabbath fans want a good, crisp Sabbath album like the old days – Ozzy's longest album with Sabbath was Never Say Die at 45 minutes – and the biggest concern from many was that the new record would feel bloated. It's Sabbath, for crying out loud, so this record has to be as perfect as possible. Our collective fingers remain crossed.
In the meantime, Black Sabbath have posted a three-minute album preview today. No, there's no music, but there are some good quotes from Ozzy, Tony, and Geezer, there's some rehearsal footage with session drummer Brad Wilk – no audio, natch – and you get to see Rubin upright and looking like he's actually doing something.
live local music on
Enter your ZIP code to see concerts happening in your area.
Data provided by Zvents
follow msn music