New releases for January 22, 2013
The triumphant return of Voivod highlights this week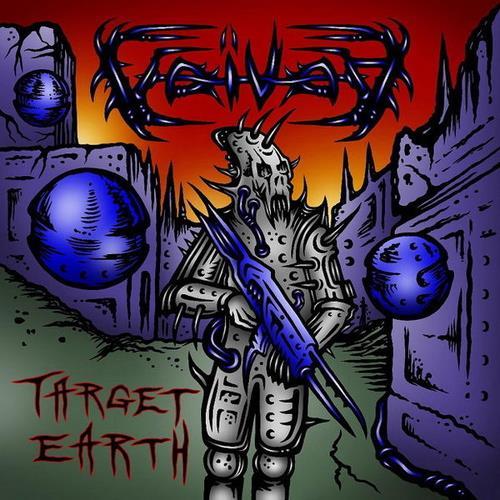 Album of the Week:
Voivod, Target Earth (Century Media)
In 2009 it felt like Voivod had run its course. Infini, the second and final album to feature the guitar work of the late Denis "Piggy" D'Amour – his demo tracks were used as the basis for the albums – were wonderful tributes to the innovative musician, and even though the band had played some reunion shows, drummer Michel "Away" Langevin admitted that if Infini was going to be the last Voivod album, he'd be perfectly content.
By 2010, though, the band started to click creatively again. Dan Mongrain had been recruited to play guitar for the reunion shows, and coupled with the return of bassist Jean-Yves "Blacky" Theriault, the renewed energy in the band's performances was palpable. In early 2011 word got out that the Quebecois legends were writing new music, and in early 2012 they debuted a new song live, and the announcement of their 13th studio album followed soon after.
Nobody ever wanted Voivod to go away, but fans knew that they would only be back if a) the feeling was right to the band, and b) the new music was worth it. Mongrain, who grew up learning to play guitar to Voivod songs, teamed up with Blacky to write the entire new record, and all they've done is come up with the most exciting Voivod album since 1993's The Outer Limits. While Infini and 2006's Katorz were very good in their own right, because the songs were based solely on simple guitar demos they weren't able to be fleshed out more, and Voivod's trademark progressive, experimental tendencies were put on the back burner. Not anymore, as Target Earth marks a return to the band's more adventurous side, and is it ever a welcome return.
While Mongrain is able to replicate Piggy's guitar tone brilliantly, he still makes this record his own. A founding member of Martyr, he knows a thing or two about genre-expanding extreme metal, and his dexterity and creativity are in full bloom on such songs as "Target Earth", "Mechanical Mind", and "Resistance". And step for step with him up all the way is Blacky, whose signature distorted basslines counter those intricate riffs with a primal, hardcore-derived ferocity. Meanwhile, Away, always so fluid a drummer, is right at home delivering his challenging rhythms and time signatures, and vocalist Denis "Snake" Belanger seems particularly driven by the band's renewed energy, putting in an impassioned performance.
Target Earth is not without its moments of pure, anarcho-punk-derived​, Rrröööaaarrr-style speed, and listeners are treated to a couple of gems in the Micmac-inspired "Kluskap O'Kom" and "Corps Etranger" (their first ever song in their native French), in which Away hammers out propulsive d-beats underneath Mongrain's nimble picking. In the end, it's exactly what fans wanted: a Voivod album that sounds like Voivod, but not in a self-plagiarizing way. This is a band bursting with ideas right now – final track "Defiance" is actually the first track of the new album, fading out a la Venom's Black Metal – and after a time where their future was very much in doubt, they've proven that not only are they back for real, but that they're here for the long haul as well.
Also out this week:
Blockheads, This World Is Dead (Relapse): With 25 tracks over 40 minutes, you expect the latest by the French veterans to be your prototypical grindcore, but dig beneath the chaos and you'll hear a strong sense of melody and groove. This one's a pleasant surprise.
Clamfight, I Versus The Glacier (Maple Forum): It might be a silly name, but you remember a word like Clamfight. These New Jersey guys already have your attention because of that, but when they kick into their swinging sludge/doom (think Eyehategod and early High on Fire) they have you hooked. This one's a lot of fun.
Continents, Idle Hands (Victory): A minute into this album by the Welsh band, you expect it to be nothing more than another lowest-common-denomi​nator metalcore record, but these guys smartly avoid a lot of the clichés and offer an energetic, noise-riddled take on the sound.
Corsair, Corsair (Shadow Kingdom): As I first mentioned in early December, Virginia band Corsair is Shadow Kingdom's most significant discovery in ages, excelling at a smooth combination of late-1970s heavy metal, hard rock, and progressive rock. Like Thin Lizzy, Blue Öyster Cult, and Wishbone Ash, it's less about heaviness and more about melody, and the lead vocals – which are shared between three members – focus on soulfulness rather then mere bombast. Flashy, but in an almost shy way, enormously expressive and very catchy, this is a brilliant debut that immediately puts Corsair in the company of Slough Feg and Hammers of Misfortune as purveyors of first class, old-fashioned American heavy metal. Highly recommended. Listen to the album and purchase it at Bandcamp.
Deceptor, Chains Of Delusion (Shadow Kingdom): Your typical Shadow Kingdom signing, this British band hovers somewhere between speed metal, prog, and Manilla Road-style heavy metal. And typical of the label, this is yet another diamond in the rough they've uncovered, a four-song EP that's a bit sloppy but never short on earnestness. "Sentient Shackles" is a corker.
Denouncement Pyre, Almighty Arcanum (Hells Headbangers): Bridging black metal and death metal, this album by the Australian band is suitably imposing and evil, from the drums that sound recorded in a cavern to some truly towering riffs. I've said it before: Hells Headbangers rarely if ever disappoints, and this gets their year off to a roaring start.
Fall City Fall, Victus (Victory): They might have toured with The Devil Wears Prada and Silverstein, but don't lump this Canadian band with that post-hardcore crowd. They're more derived from Converge, and although they don't come close to mastering the blistering rock 'n' roll of those legends (no one in hardcore does), this is nevertheless a fittingly energetic and confident debut full-length. This is the best new singing by Victory Records in forever.
Fen, Dustwalker (Code666): Named after and inspired by a low-lying, marshy region in Eastern England, Fen are good at making music that mirrors that murky, mysterious atmosphere. Black metal that sometimes wavers into expansive, post rock territory, this third album for the most part works well "Hands of Dust" especially), but ultimately lacks the high quality of 2011's attention-grabbing Epoch.
Giant X, I (SPV): The new project led by Running Wild mastermind Rock 'n' Rolf Kasparek sounds refreshing and energetic in the wake of Running Wild's disastrous 2012 album. Good, simple German heavy metal, heavy on '80s heard rock/metal clichés, which are still as popular as ever in that country. Leave your irony at the door, otherwise the unbelievably corny "The Count" will have you running away screaming.
Head Of The Demon, Head Of The Demon (Ajna Offensive): This is an odd one. Described as "a mysterious Swedish entity comprising nameless members from known bands" – okay – it's a strangely minimalist combination of straightforward doom and the uglier side of early Celtic Frost, with some psychedelic elements tossed in as well. Perpetually lurching and always just a little on the awkward side, it's engaging and quite unsettling, as the nine-minute "The Lie in Wait – The Waste" attests.
Helloween, Straight Out Of Hell (The End): I've had a problem with Helloween for many years, as they've never recovered since Kai Hansen left the band eons ago, and singer Andi Deris can't hold a candle to Michael Kiske. It didn't help, either, that their last two albums have been terrible, a couple of pale imitations of the great band they were a quarter century ago. Interestingly, though, their 14th album boasts some nice improvements, especially the opening track "Nebataea", "Far From the Stars", and "World of War". There are still the odd moments of idiocy – "A**hole" is inexcusable – but for the most part this is a decent effort, their most tolerable record in a long time. But Deris still sounds like a Frank Oz-voiced Muppet, sorry.
Holy Grail, Ride The Void (Prosthetic): The Pasadena band are rooted in traditional heavy metal, but instead of stubbornly trying to sound like 1985 as Cauldron and Striker, they incorporate more extreme elements into the music, modernizing it enough to make it click with the younger crowd a little more. And just like on 2010's Crisis in Utopia, they do a good job of it, as power metal, thrash, and even progressive metal blend with those NWOBHM-isms smoothly. The vocal hooks could be a little stronger on a few tracks, but thanks to such highlights as "Dark Passenger" and the title track, not to mention the excellent guitar tandem of Eli Santana and Alex Lee, this album is well worth checking out.
Koldbrann, Vertigo (Season Of Mist): Unspectacular black metal from Norway, plagued by a dry tone and lacking songs that grip the listener. More tedious than inept, it's an exercise in pointlessness.
Kromosom, Live Forever (Southern Lord): Another crust punk album from Southern Lord, you say? A metal fan needs as much filth as they do slick, overproduced music, but this Australian band doesn't sound so much filthy as grating. The guitar tone, a perpetual distorted buzz that drowns everything else out, is ungodly and unbearable.
Lightning Swords Of Death, Baphometic Chaosium (Metal Blade): The Los Angeles band never disappoints, consistently churning out good, blasphemous black metal, but on their third album they've outdone themselves. Suitably ugly and grim, the band revels in this shtick like pigs in slop, and as a result they're absolutely convincing.
Nightfall, Cassiopeia (Metal Blade): Lavish gothic doom awash in synths and adorned with guitar melodies, the Greek veterans turn in a workmanlike effort on their ninth album. If the last Paradise Lost album wasn't heavy enough for you, this might do the trick.
Otep, Hydra (Victory): Otep Shamaya has always meant well. Poet, singer-songwriter, painter, actress, whatever the medium, she's been hell bent on creating capital-A Art within the metal milieu. Despite attracting a cult following, her music has never managed to be nothing more than hackneyed nu-metal with her screaming her teenage journal lyrics petulantly. Hydra is her sixth, and apparently last album, and it's more of the same, a miserable, pretentious, and hookless slog, its nadir being the spoken word atrocity "Voyeur". Sadly, in the end the best thing about this album is the fact that we critics don't have to listen to this awful music in the future anymore.
Rotten Sound, Species At War (Relapse): The Finns are back with a phenomenal new EP that's a perfectly timed pick-me-up in dismal January. Comprised of six songs in just eight minutes, this is ferocious, crust-ridden, indispensable grindcore.
Sammal, Sammal (Svart): If you've ever listened to a Dungen album and thought, This is nice, but it'd be much better if they were singing in Finnish instead of Swedish, then this album is for you.
Sons Of Aeon, Sons Of Aeon (Lifeforce): Not your usual melodic death metal album, this debut featuring members of Ghost Brigade at times dips into the more melancholy side of doom, which offers a good contrast, keeping things from getting too monotonous. This is a promising first record.
Vomitor, The Escalation (Hells Headbangers): Featuring Portal guitarist Horror Illogium, Australia's Vomitor is much more straight-ahead death metal, derived from the genre's infancy, when it was still permeated with a strong thrash influence. That said, the music can still get nuts when it wants to, as on the insane "Hellburst to Fight".
Wartorn, Iconic Nightmare (Southern Lord): Forget that awful Kromosom record mentioned above; this is the Southern Lord album to get if you're in the mood for some good, impassioned, robust-sounding crust punk. Obnoxious (in a good way) but not above tossing in the odd guitar solo, it's both visceral and catchy.
live local music on
Enter your ZIP code to see concerts happening in your area.
Data provided by Zvents
follow msn music