Black Sabbath Plays Epic Hometown Show
Meanwhile, the Bill Ward-Sabbath feud continues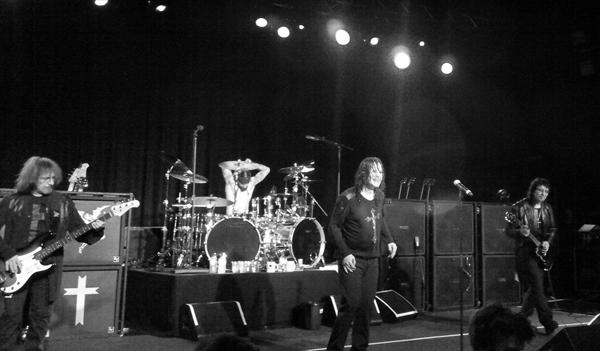 Saturday night Black Sabbath played their first show with Ozzy Osbourne at the helm in seven years, and although the Bill Ward controversy loomed in the days prior to the performance, by all accounts – and judging from the multitudes of YouTube clips that surfaced – it was a resounding success, with Ozzy energetic and Tony Iommi – fresh off treatment for lymphoma - looking indefatigable. As expected, Ozzy's drummer Tommy Clufetos has taken over behind the kit, and although Ward's absence cannot be understated, it looks as though Clufetos did a capable job filling in.
Bassist Geezer Butler had this to say about the show afterward:
Thank you, thank you, thank you Birmingham. Best fans ever- you brought out the best in us. It was a privilege playing for you tonight. Tony was a hero- you were the best medicine he has had. Proud to be a Brummie.
Cheers,
Geezer.
The setlist, meanwhile, was incredible, loaded with classics and highlighted by a pair of Volume 4 deep cuts:
"Into The Void"
"Under The Sun"
"Snowblind"
"War Pigs"
"Wheels Of Confusion"
"Electric Funeral"
"Black Sabbath"
"The Wizard"
"Behind The Wall Of Sleep"
"N.I.B."
"Fairies Wear Boots"
"Tomorrow's Dream"
"Sweet Leaf"
"Symptom Of The Universe" (intro only)
Drum Solo
"Iron Man"
"Dirty Women"
"Children Of The Grave"
"Sabbath Bloody Sabbath" (intro only)
"Paranoid"
Upon seeing that "Under the Sun" and "Tomorrow's Dream" were played, some were wondering why Volume 4's "Supernaut" wasn't pulled out as well, but it's great to see Sabbath surprising their fans with a couple songs that haven't been performed in a while.
As mentioned, there are many YouTube clips, but for a concise video recap, I highly suggest you check out Black-Sabbath.com's video gallery of the show, as well as the one from Blabbermouth. Sabbath's next show is June 10 at the Download Festival.
***
Meanwhile, the war of words between Ward and Sabbath continues. On Friday Butler stated that, "[Ward's representatives] wanted an amount that was so unrealistic that it seemed to have been a joke." Then yesterday Ward fired back, saying he had "asked for a decent fee."
And if that wasn't enough, Black Sabbath's revamped official site featured photos of the band with Ward cropped out, and while there was an online uproar assuming it was an act of pettiness by the band, it was actually Ward's idea, according to the band: "At the request of Bill Ward, through his attorney, so as to not give the public the wrong impression about his involvement in the current Black Sabbath lineup, we have temporarily removed Bill Ward's images from the main pages of the blacksabbath.com official website. In accordance with Bill Ward's attorney's request, we are doing so for the duration of the forthcoming shows."
In the court of public opinion, right now it looks like Ward has the fans on his side – the 1,000,000 Black Sabbath Fans Say Yes to Bill Ward Facebook group continues to gain in popularity – and good on him for being transparent, but no matter who's most at fault for this mess, Black Sabbath needs Ward, and vice versa. The jazz/blues grooves he brought to the band were just as vital as Iommi's towering riffs, Butler's nimble basslines, and Ozzy's charisma, and try as the talented Tommy Clufetos might, he'll never fully replace what Ward brought to Sabbath. That said, how can anyone look at that setlist from Saturday and not get a little excited about the prospect of seeing the band play this year, even if there's a hired hand drumming?
(above photo via Twitter, courtesy Black-Sabbath.com)
live local music on
Enter your ZIP code to see concerts happening in your area.
Data provided by Zvents
follow msn music