Review: Rush, 'Clockwork Angels'
The 20th album by the Canadian legends is one of their most ambitious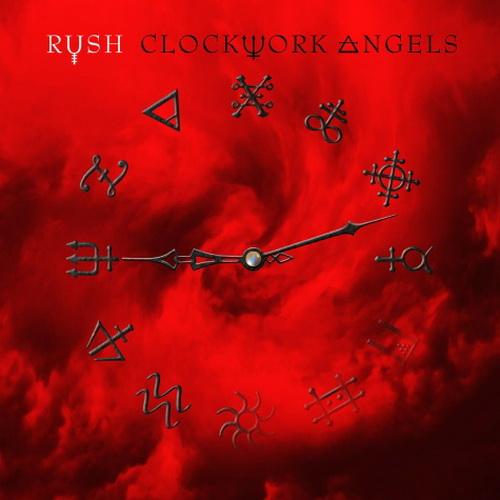 When you're a fan of a band that's carried on for decades, churning out album after album, the later they get into their career, the more you're left hoping that they end their run with a little dignity. "We're not asking for another classic album; just don't embarrass yourselves." But a funny thing happened since a fella named Neil Young first sang about how it's better to burn out than to fade away back in 1978, as a few veteran bands have managed to reignite their creative fire. Iron Maiden has most famously been enjoying a triumphant late chapter in their legendary run, and in recent years, so has Rush.
Yeah, you can call me a Rush fan, but I'm a picky Rush fan. In fact, prior to 2007 I hadn't liked a new Rush album since 1989's Presto. Five years ago, however, Snakes & Arrows floored me with the strength of the songwriting and the energy in the performances of bassist Geddy Lee, guitarist Alex Lifeson, and drummer Neil Peart. Here was a an old band, probably very set in their ways, who decided to challenge themselves with an ambitious, younger producer in Nick Raskulinecz, and emerged with a modest triumph of a record, one that has aged very well since.
When it came to a potential follow-up, though, the band seemed on the cautious side as word spread that they were tinkering with ideas for new songs. Those ideas became a handful of songs the trio was genuinely excited about, so much so that they released two tracks in 2010 – the exuberant "Caravan" and the heavy "BU2B" – long before the album would ever be finished. Then came reports that not only was a new album, titled Clockwork Angels, being written and recorded, but it was going to be a full-on concept album. A steampunk-themed concept album. Complete with a novelization of the story. From the sound of it, this had all the makings of Rush's most ambitious record since 1982's new wave-inspired Signals. And now that it's here, that hunch wasn't far off at all.
At 66 minutes, there is a lot to take in on Clockwork Angels (Roadrunner), so much that it requires several listens for it all to start to settle in, so it's a good thing that those two great 2010 songs "Caravan" and "BU2B" are the first two tracks, that familiarity easing listeners in to the sprawling album. In retrospect it comes across as an ingenious move by the band, because the meat of the album, those middle tracks, are more of a challenge. At seven and a half minutes the title track is a suite-like composition that careens from shimmering to thunderous, Lifeson showing great dexterity, his guitar work lively and unpredictable. A sense of defiance permeates "The Anarchist" as the threesome play insistently and forcefully, while "Carnies" sees them veering from slow, massive grooves to upbeat, melodic choruses. "Seven Cities of Gold", meanwhile, is built around a central riff that sounds straight from the first Rush album, simple, bluesy, and heavy.
It's the last third of the album, though, that turns out to be the most rewarding. As the protagonist in Peart's story grows from innocence to experience, it's reflected in the music. Aside from the bracing, "Bastille Day"-referencing "Headlong Flight" the compositions start to become less throttling and more introspective. "The Garden" hearkens back to the more pastoral touches of the A Farewell to Kings album and climaxes with a wrenchingly pretty coda, and "Wish Them Well" benefits hugely from its more textured arrangement, Lifeson's chiming, upbeat riffs complementing Lee's layered vocals and Peart's optimistic lyrics. Topping those songs, and turning out to be the best song on the entire album is the gorgeous "The Wreckers", which starts off with a blatant, Byrds-referencing opening riff that segues into the kind of iridescent, mature work the band wrote during their Presto period. With its ascending string arrangements and Peart's worldly lyrics ("All I know is that sometimes you have to be wary / Of a miracle too good to be true / All I know is that sometimes the truth is contrary / Everything in life you thought you knew") it's a good enough song to declare it the best "mellow" Rush song since "The Pass".
While Peart's lyrics are always a highlight for fans, there's more focus on his writing this time around because of the whole concept album angle. And it's quite a concept, described as, "a young man's quest across a lavish and colorful world of steampunk and alchemy as he attempts to follow his dreams, [featuring] lost cities, pirates, anarchists, an exotic carnival, and a rigid Watchmaker who imposes precision on every aspect of daily life." Make no mistake, though, this is no rock opera, with songs frantically trying to provide exposition along with hooks. Instead, each song is a chapter in the protagonist's life, with Peart simply painting a vivid portrait of that moment in the story's time. In doing so Peart is able to stick with the central themes while making the lyrics just vague enough to not detract from the appeal of individual tracks, not to mention giving author Kevin J. Anderson a lot of creative freedom as far as the novelization goes. And just as the songs grow more musically mellow as the record progresses, the lyrics become more thoughtful and reflective, to the point where the line between the character and Peart himself starts to blur. By album's end you could easily assume he's writing from his own point of view: "The treasure of a life is a measure of love and respect / The way you live, the gifts that you give / In the fullness of time / It's the only return that you expect…It's a measure of a life."
Although Snakes & Arrows was an excellent album, Clockwork Angels is even better, thanks in part to the thematic and musical focus of Peart, Lifeson, and Lee, and in part to just how vibrant a rock record it is. At times the band rocks as hard as they did on 2112, and others they sound as soulful – that's right, even prog nerds have soul – as they ever have, and they do so with supreme skill and confidence. With the perspective of time, Neil Young's notion of burning out versus fading away seems a little dated now. Instead, with a band like Rush hitting another peak as their career comes closer to its end, there's a third Young phrase that seems even more fitting: "Long may you run."
More on Bing: Rush


This is not just an outstanding album but an achievement in modern rock music.  At a time when rock music is on life support and only heartless digitized disco music is given any attention (unjustifiably), it is refreshing and reassuring to be treated to an album that is well thought it and displays tremendous musicianship that has become the hallmark of Rush.

I have been a Rush fan for 37years and, though I have dutifully bought every record, to be honest I haven't really enjoyed the last 3 albums much.  Yes the playing is always superb, and yes the lyrics are always clever.  But there was something missing...soul.
Clockwork Angels has soul. It is a masterpiece of a record.  The Wreckers is possibly the best song they have ever composed from a melodic viewpoint and The Garden  - well it`s viagra for the soul.
I am very surprised, happily surprised, and of the opinion that this has the potential to become the best damn thing these guys have ever done.

I agree with the reviewer. Rush's best since Presto. The title track is superb! One of Rush's best songs ever. The final two choruses are so intense and powerful, it makes me cry like a baby :P Only Marathon from A Show Of Hands has had that effect on me in the entire Rush catalouge. The performances are much stronger than on Snakes or Vapor Trails. Clockwork Angels really brings back the performance level Rush has lacked since the late 80's. Rush, to me, slowly faded through the 90's and 00's. To be honest I had almost given them up, but then Snakes And Arrows gave promise, and now Clockwork Angels has finally lifted Rush to their former glory. A tremendous album!

Are you sure you want to delete this comment?
live local music on
Enter your ZIP code to see concerts happening in your area.
Data provided by Zvents
follow msn music