New Releases For April 24, 2012
Playing a little catch-up on a Wednesday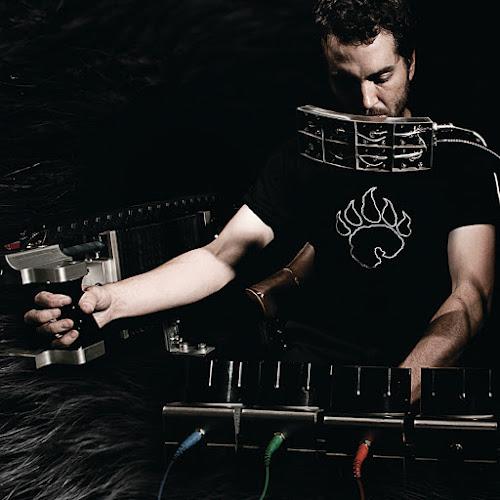 As I
mentioned yesterday
, the new albums by Anathema, Horisont, Mares of Thrace, Torche, and Woods of Ypres deserved special mention, but a ton of other albums came out yesterday (as well as a few other notable ones last week while I was away), so here's the usual run-down of what's good, what's ordinary, and what's just plain awful this week in metal and hard rock. And trust me, the new
Author & Punisher
album (pictured above) has to be heard - and seen - to be believed.
7 Horns 7 Eyes, Throes Of Absolution (Century Media): An intriguing amalgam of progressive rock and death metal from the Seattle band, slickly recorded by Jens Bogren. Yeah, the "djent" tag will be brought out by some, but the combination of undeniable brutality, dexterous lead guitar work, and effective melodies make this effort more than a gimmick.
16, Deep Cuts From Dark Clouds (Relapse): The Los Angeles sludge veterans have returned with the follow-up to their 2009 comeback album Bridges to Burn. While not a lick has changed – the band still churns out sludge as dour and thick as the La Brea Tar Pits – this is a marginal improvement on the previous record.
Author & Punisher, Ursus Americanus (Seventh Rule): The brainchild of budding electronic/industria​l genius Tristan Shone, Author & Punisher's second album feels like a demented combination of Godflesh, The Bug, and Flying Lotus, a punishing barrage of sounds composed entirely on Shone's peculiar homemade instruments, which are designed specifically to bring an organic, physical quality to a form of music best known for coming from a place a lot more sterile. Branches of electronic music have always tinkered with extreme sounds, but the metal-influenced sounds he creates here are menacing and crushing enough to make the Skrillexes of the world run for cover. You've never heard, or seen, anything like this before. Stream the album and order it here.
Bermuda, The Wandering (Mediaskare): There's homage, and there's outright theft. This California band clearly loves Meshuggah, but they're so busy copying their heroes they have no identity of their own.
Cancer Bats, Dead Set On Living (Metal Blade): Contrary to my fellow Canadian and British metal writers, who absolutely flip out over these guys, I've never been a huge fan of Cancer Bats. That they're a very good live act is indisputable, but their albums, which are more and more finding a middle ground between Black Label Society and Every Time I Die, rarely clicked for yours truly. That said, they are slowly improving in the songwriting department, and their fourth album is their most consistent effort to date, thanks to such tracks as "R.A.T.S.", "Bricks and Mortar", and "Old Blood".
Crystal Viper, Crimen Excepta (AFM): Unlike Huntress, singer Marta Gabriel and Crystal Viper show a lot more skill as far as songwriting and vintage metal aesthetics go on the Polish band's fourth album, coming off as a cross between Mercyful Fate and early Warlock.
Deadborn, Mayhem Maniac Machine (Apostasy): Brutal German death metal that loyally follows the example of Immolation and Hate Eternal, but for all the instrumental competence they do little to set themselves apart from their idols. And when the music is not as good as those bands, it quickly becomes pointless.
DragonForce, The Power Within (Roadrunner): The fifth album by the English band came out last week while I was away, but it's so good I can't ignore it. Much has changed since their 2008 album Sonic Beatdown, as singer ZP Theart has been replaced by Marc Hudson and the new songs, while retaining the same flash as we've come to expect, nevertheless are a lot more concise and disciplined. Gone are the eight-minute shred-fests in favor of more compact songs in the four to five-minute range, and coupled with the band's perpetual gift for enormous, soaring melodic choruses, it marks a huge improvement over the last record, songs like "Give Me the Night", "Cry Thunder", and "Wings of Liberty" bursting with energy and hooks, not to mention plenty of searing solos by Herman Li and Sam Totman. The album might have only sold a quarter of what Ultra-Beatdown did in its first week, but make no mistake, The Power Within catapults DragonForce with a mighty trampoline bounce back to the top of the power metal heap, where they rightfully belong.
Exotic Animal Petting Zoo, Tree of Tongues (Mediaskare): Progressive, eclectic, technically sound, but smart enough to avoid slipping into pretentious tech-nerd histrionics, this California foursome impresses on their new album, certain to appeal to fans of The Dillinger Escape Plan and Protest the Hero. Don't let the terrible band name turn you off.
Fair Warning, Best And More (SPV): If you've got a serious weakness for late-80s/early-90s pre-grunge AOR and have not yet heard German band Fair Warning, this two-disc best-of compilation will do the trick. Things get awfully cheesy awfully quickly, but the hooks on many of these tunes are undeniable.
Kissin' Dynamite, Money, Sex & Power (AFM): This German sleaze rock band misses the mark so often on their third album that it soon becomes unbearable. Who do you want to be, guys, Edguy or Trixter? Pick one and stick with it.
Lionheart, Undisputed (Mediaskare): No, this isn't the NWOBHM band featuring former Iron Maiden guitarist Dennis Stratton. These Californians specialize in straightforward metallic hardcore modeled directly after Agnostic Front and Hatebreed, and turns out to be surprisingly potent, Rob Watson's vocal swagger countered by a wickedly abrasive guitar tone. If you like good, meat-and-potatoes hardcore, you need to hear this one.
Occultation, Three & Seven (Profound Lore): It's easy to lump this New York band among all the other Satanic retro women-led bands like Jex Thoth, Blood Ceremony, and Purson (who I've just been talking about), but Occultation's approach is far more enigmatic, their ornate, hymn-like compositions recorded murkily. That lo-fi tone, coupled with the entrancing vocal siren's song of bassist A.L. and drummer V.B., makes for an album that's as bewitching as it is befuddling.
Paradise Lost, Tragic Idol (Century Media): It's not that the 13th album by Paradise Lost is bad – I'll go as far to say it's excellent in small doses – but despite the more aggressive approach taken by the band, the ten tracks here blend into each other too much, at times suffering greatly from a lack of dynamics. This is one of those situations where if you hear a track like "Crucify" or "In This We Dwell" on shuffle or on Sirius, it sounds good, but hearing the entire album from start to finish is actually more tiresome than expected.
Prong, Carved Into Stone (Long Branch): For the longest time I've been less than impressed with the musical output of Prong. In fact, I lost interest in the band after 1990's Beg to Differ, a classic record that they've never come close to topping. Their eighth album, however, is a big improvement on their last few releases, Tommy Victor sticking to his band's strengths – simple, almost mechanical sounding riffs and bludgeoning percussion – as well as tossing in a good bit of groove as well. "Revenge Served Cold" is the most contagious Prong tune since "Snap Your Fingers, Snap Your Neck".
Running Wild, Shadowmaker (SPV): It's nice to see these old German pirate rockers still going, but this 14th album is horrible, and save for a couple of likeable moments ("I am Who I Am", "Sailing Fire"), this a far cry from the glory days of Under Jolly Roger.
Struck By Lightning, True Predation (Translation Loss): Billed as a cross between Disfear, Mastodon, and Big Business, the Columbus, Ohio band delivers just that, sludgy hardcore with equal parts massive riffs and frenetic d-beats. Good crusty fun.
Thousand Foot Krutch, The End is Where We Begin (TFKmusic): It's admirable that these Canadians have been able to self-release their sixth album and still debut in the top 15 in the US, but as far as the music goes, it's nothing but mediocre Christian nu-metal that's obnoxiously stuck in 1997. These boys are trying to be deep, spiritual, and positive in their lyrical content, but that sappy earnestness saps the music of any sense of fun, and save for the gleeful idiocy of "Let the Sparks Fly", it ultimately comes off as cloying as any other Christian contemporary pop.
Teramaze, Anhedonia (Nightmare): Quite similar to latter-day Dream Theater but nowhere near as tedious, the Australian band puts a refreshing twist on progressive metal, at times invoking thrash metal and bolstered by the strong singing of Brett Rerekura.
Unleashed, Odalheim (Nuclear Blast): Another Unleashed album, another dose of Viking-themed, old-school Swedish death metal. And few bands do it better than Johnny Hedlund and his crew, who continue to stubbornly adhere to the same old formula yet somehow once again emerge sounding like the death masters that they are. Like every other Unleashed album, especially the last four, this stuff is impossible to dislike.
Wolfbrigade, Damned (Southern Lord): Another d-beat/crust album from Southern Lord? When it's this good, sure, why not? If you're like me and are craving a new Disfear record, this latest by these fellow Swedish veterans will feed that appetite perfectly.
Are you sure you want to delete this comment?
live local music on
Enter your ZIP code to see concerts happening in your area.
Data provided by Zvents
follow msn music