Heavy MTL, Day One
Ten hours of muggy metal mayhem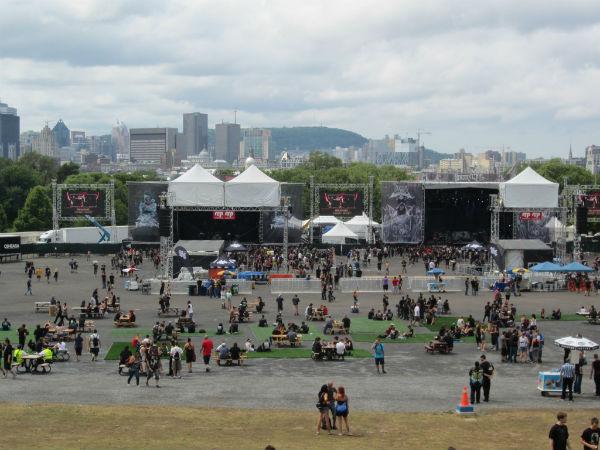 All photos below by Tim Snow
12:45 ET:
I'm all set up in the media tent at Parc Jean-Drapeau, nestled in among the trees behind the two main stages, which are about 100 yards away. It's been raining buckets here in Montreal, and more rain is forecast for this afternoon, but right now the sun's out and it's extremely humid. In 15 minutes Toronto band Diemonds open the fest on the Heavy MTL stage, while local band Bookakee - replacing God Forbid after their last-minute cancellation - kicks things off at 1:00 at the smaller Apocalypse stage. Death metalers Job For a Cowboy takes the Jagermeister stage at 1:30.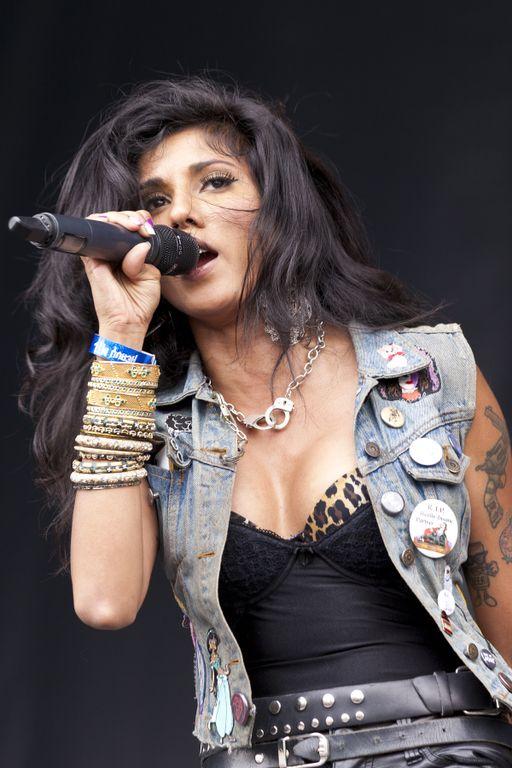 1:47:
Diemonds (above) kick off Heavy MTL with a fairly straightforward helping of hard rock. It's tempting to compare them to Halestorm, but they bear a stronger similarity to Canadian '80s bands Headpins and Jade. Anyone remember them?

Over at the quaint Apocalypse stage, Québécois band Bookakee are playing a weird hybrid of Primus, Unexpect, and nu-metal while two midgets dressed as Super Mario characters toss stuff into the crowd.  When your music is horrendous and unlistenable, throw stuff at the crowd. That'll hold their attention.

Spokesmodels are handing out free rain ponchos. It's muddy already, but as soon as it rains it's going to get very messy very fast.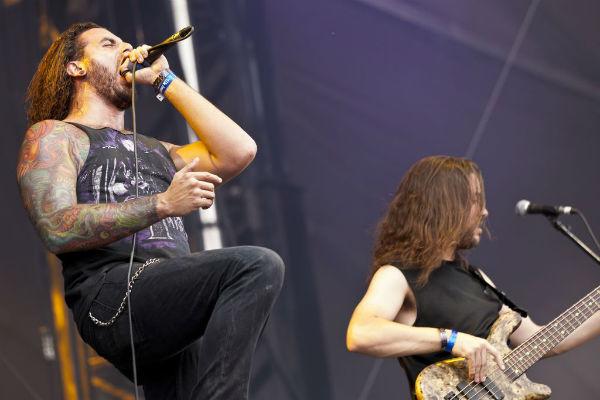 2:33:
Arizona's Job For a Cowboy (above) generates the first big crowd of the day on the Jagermeister stage. Solid death metal from a band that's been improving greatly with every new album. Though those higher-pitched vocals sound terrible. Stick with the death growls, bud.

A short walk over to the little woodsy enclave where the Apocalypse stage is, and Montreal's Dark Century is tearing it up. A terrific death metal band, they're far too good to remain unsigned much longer.

Veil of Maya, one of the many patently uninteresting Sumeriancore bans out there these days, churns out tunes heavily indebted to Meshuggah, but with a fraction of the power.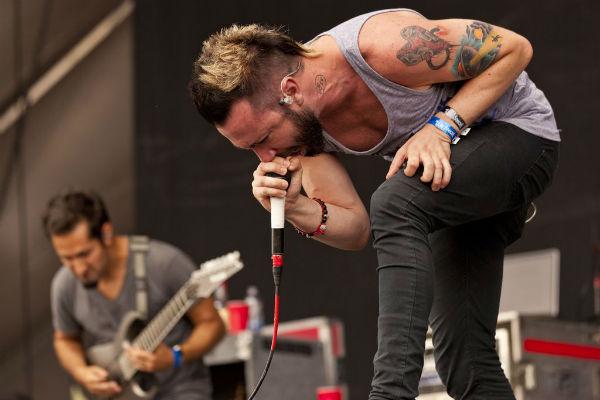 Periphery draws a massive crowd for their 2:45 set, and they're impressing mightily. I had never cared for their music prior to their recently released second album, but that record won me over, and not surprisingly the new material is going over well.

Water hoses spray the huge pit crowd. The heat is becoming oppressive.

Rose Funeral is proving to be a pleasant surprise. Their brutal, technically inclined death metal is accentuated nicely by strong melodies.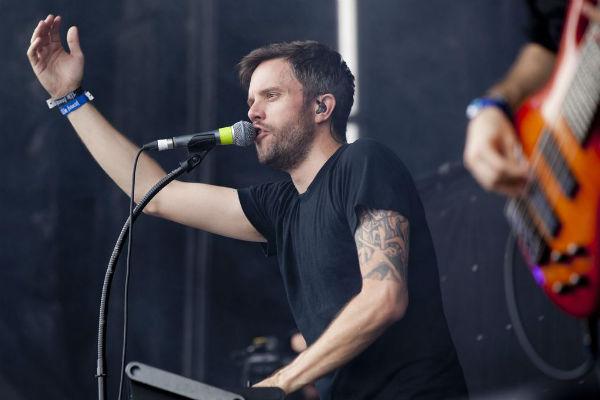 4:32:
A phenomenal set is turned in by Between the Buried and Me, which includes a performance of their latest noodlefest "Telos". One of the most exciting progressive metal bands working today. That's right, BTBAM detractors, I said, "exciting."

A girl walked by flaunting her Burzum t-shirt during Between the Buried and Me's set. She must have been in absolute Hell. Or Helvete, I suppose.

Meanwhile, a strong contingent of old-school headbangers have convened at the Apocalypse stage to see death metal greats Exhumed (below). I expected them to be one of today's highlights, and indeed they've proven to be every bit as fast, brutal, and unrelenting as expected. A soft, cool breeze wafts in off the St. Lawrence River, creating an oddly idyllic moment during "Limb From Limb".

Birds around the media tent tweet away like nothing's going on while Kataklysm roars in the background, by far the heaviest set of the afternoon. Up next, Killswitch Engage, Fleshgod Apocalypse, and the mighty Cannibal Corpse...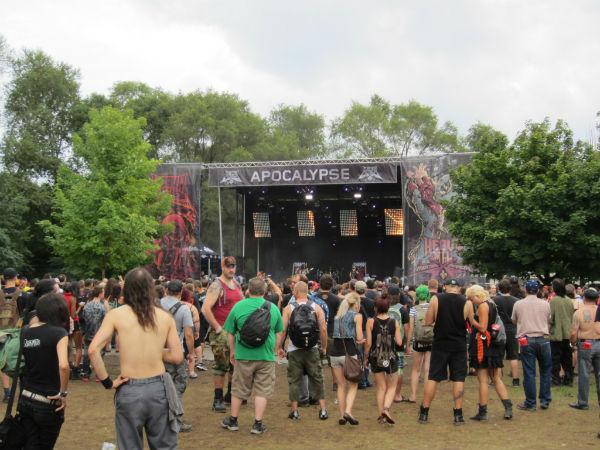 live local music on
Enter your ZIP code to see concerts happening in your area.
Data provided by Zvents
follow msn music