New Releases For July 10, 2012
Vancouver band's second album earns top marks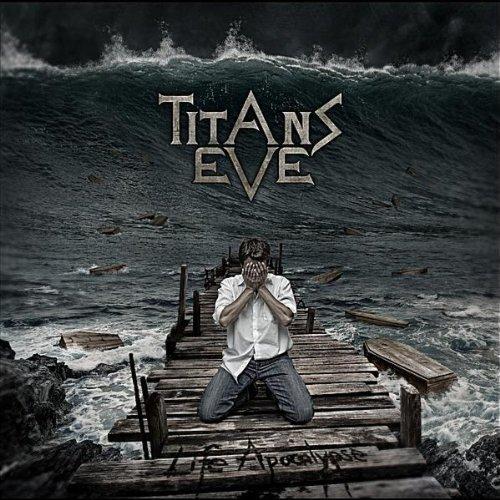 Album of the Week:
Titans Eve, Life Apocalypse (Independent)
One of Canadian metal's best kept secrets, The Divine Equal, the debut album by Vancouver's Titans Eve, made a modest splash among the country's metal scenesters thanks to the way it so effortlessly blended thrash metal with more modern touches, not to mention the fact it was an ambitious concept album about the Book of Genesis and Milton's Paradise Lost. The way it balanced everything – the lyrical theme, the thrash influence, modern extreme metal, and NWOBHM melodies – was so confident that many of us writers were not only marveling at the fact that a band could execute this so impeccably on their debut, but they were doing so as a strictly independent band, sounding epic with no label bucks behind them whatsoever.
For a band that exuded so much potential on their first full-length, people had every right to expect a significant improvement on the follow-up, and that's indeed the case on Life Apocalypse. However, while the production by the band and Sacha Laskow is more robust and the lead vocals by guitarist Brian Gamblin are greatly improved, the biggest leap Titans Eve makes on the new record is in the songwriting. The influences that permeated The Divine Equal are all there, but it's much more seamless this time around, extreme touches like tremolo picking and blastbeats never overshadowing the simpler riffs and rhythms. Best of all, the hooks on this record are enormous, with none of the eleven tracks feeling like a throwaway. The tunes are so insistent and contagious that it feels like they fly by: you've got the Mastodonian stomp of "Destined to Die", the Maiden-esque guitar melody that sneaks into the thunderous "Road to Ruin", the melodic thrash of "The Abyss", the crushing mid-tempo groove that dominates the chorus of "Life Apocalypse."
In the end there's nothing innovative whatsoever about what Titans Eve are doing here. Breaking new ground is nowhere near as important as creating good, honest, credible metal that defies categorization, and Life Apocalypse achieves just that. It's heavy metal that unites rather than polarize, aggressive enough to attract fans of modern mainstream metal while at the same time appealing greatly to those who long for more bands that actually put as much care into the craft of songwriting as technical ability. Without a doubt it will be overshadowed by the latest heavily-hyped big label releases this summer, but if there's any justice this album will find an audience beyond the band's country's borders. Don't miss out on this one.
Life Apocalypse will be released July 13, 2012.
Stream and purchase the album via Bandcamp.
Also out this week:
Chaosweaver, Enter The Realm Of The Doppelganger (Napalm): Symphonic black metal cranked up to a ridiculous degree, these flamboyant Finns try to add a little weirdness to the genre, but ultimately come across as a bland Cradle of Filth. At least Dani Filth's wordplay is always fun; this, for all its hamfisted attempts at weirdness, is patently joyless.
Epitimia, Faces of Insanity (Hypnotic Dirge): The third album by the trio from St. Petersburg, Russia turns out to be a surprisingly graceful blend of black metal's iciness and post-metal's expansive beauty. Never mind the fact that the lyrics are in Russian; the tortured delivery of vocalist/lyricist K. gets the message across. This is forlorn, desolate stuff, yet often as bracing as an icy Baltic Sea wind in January. Stream and order the album via Bandcamp.
Ereb Altor, Gastrike (Napalm): Give these Swedes credit, this third album is a quirky, ambitious combination of black metal and doom wrapped up in a Viking-worshipping package, highlighted by such epic moments as "Dispellation" and the rampaging "The Mistress of Wisdom".
Fastkill, Bestial Thrashing Bulldozer (Pulverised): The Japanese thrash psychos have been doing their thing long before retro thrash became trendy again, and although it might not have the production value of a bigger label-backed band, the energy is nevertheless palpable, the songs frenetic and catchy, the high-pitched screams by Toshio Kimori resembling a cross between Rob Urbinati and Randy Rampage.
Ghostlimb, Confluence (Vitriol): Featuring guitarist Justin Smith of Graf Orlock, Ghostlimb wasted no time following up last year's very good Infrastructure with an album that continues to specialize in the riff-happy hybrid of hardcore and grind they've come to be known for. However, the one huge surprise here is the shockingly sincere cover of Hot Water Music's "Southeast First", which gives the record an emotional core that blindsides listeners, to the point where the rest of the album is overshadowed.
Jar'd Loose, Goes to Purgatory (Cassette Deck): The noise-infused hardcore grooves this Chicago band comes up with on their debut are impressive enough ("Rotten Tooth" especially), but the clincher is vocalist Eddie Gobbo, who hollers in an ostentatious snarl that avoids hardcore cliché in favor of something more derived from the sleaze rock of The Four Horsemen.
Master, The New Elite (Pulverised): Paul Speckmann is back with his eleventh Master album, and it's exactly how you expect it to sound, stubbornly old-fashioned death metal that hearkens back to the early days when the line between death and thrash was a lot blurrier than it is now. Never the most spectacular band in the genre – Speckmann's vocal style can grow tiresome - this is nevertheless a stronger than average collection of songs.
Mercury Tide, Killing Saw (Limited Access): Best known for his work with German power metalers Angel Dust, Dirk Thurisch has resurrected his Mercury Tide project, and the end result couldn't be weaker. He might be a good singer, but these songs are just dreadful.
Monsterworks, Man: Instincts (Mortal): This three-song digital release might be billed as a combination of different metal styles, but the problem is that there are so many styles being touched on by the New Zealand band that it quickly becomes too muddled for its own good. Everything is thrown at the wall, but nothing sticks.
Mortillery, Murder Death Kill (Napalm): It's all so tempting to immediately criticize the Edmonton, Alberta thrash band for it's terrible album title and even worse cover art, but then again, Bonded By Blood was a really dumb title in 1985, and its artwork was pretty awful.  Of course this debut is in no way in the same league as that Exodus classic, but Mortillery nevertheless have a very good thing going with their devoutly old-school approach (think Razor and Flotsam and Jetsam) and especially frontwoman Cara McCutcheon, whose formidable vocal range gives the music a lot more personality than your usual generic growler. Originally released in 2011 and led by such standouts as "Evil Remains" and "Outbreak", this is a sloppy but very enjoyable debut. With a new album in the process of being recorded right now, this is absolutely one band to watch north of the border.
P.O.D., Murdered Love (Razor & Tie): Not much has changed at all in the popular Christian band's approach on their eighth album, an inoffensive, accessible combination of '90s alt-metal, reggae, and rap with an uncanny knack for hooks. They've always been particularly good at avoiding being overbearing in their lyrics, and songs like "Lost in Forever" and hit-in-the-making "Beautiful" should similarly go over well with secular mainstream rock fans.
Saint Diablo, Saint Diablo (Eclipse): It's cool to see a band like Richmond, Virginia's Saint Diablo exploring their Latino heritage in their music, but despite that conviction, the songs themselves don't distinguish themselves from any other metalcore retread out there.
Serj Tankian, Harakiri (Reprise): It's great to see Serj Tankian continuing to make new music as System of a Down stagnates, and in the past he's made some music that holds up on its own, like 2007's Elect the Dead and 2010's Imperfect Harmonies. The more ambitious he gets, though, straying away from the heavier sounds that made him famous, the more difficult it is to bear his solo work. Harikiri might have its moments – the title track and "Figure it Out" are mildly impressive – but far too often do the oddities distract, "Ching Chime" being a prime example, while Tankian's politics once again get in the way of good songwriting. He needs a foil to offset that eccentricity, which is what his old band used to do so well. This will hardly whet the appetites of System of a Down fans, making them all the more impatient for that long, long awaited follow-up to Mezmerize/Hypnotize. Get on with it already, fellas, these side projects aren't cutting it anymore.
The Shrine, Primitive Blast (Tee Pee): This Venice, California band might be recycling the same Stooges/MC5/Nuggets vibe that countless garage rock revivalists did a dozen years ago, but it's a refreshing change of pace for Tee Pee, a boisterous blast of rock 'n' roll that's not afraid to add equal parts of New York Dolls-style glam and punk rock snottiness to the proceedings.
Silent Path, Mourner Portraits (Hypnotic Dirge): The brainchild of Iranian musician Saman Nu and originally completed in 2009, Mourner Portraits is funeral doom at its bleakest, with subtle black metal influences creeping in to give the music an added edge. Atmospheric and at times harrowing, it effortlessly combines melancholy and ornate theatricality. Strange and very, very haunting. Stream and order the album via Bandcamp.
Thick As Blood, Living Proof (Rise): There's not much to this Miami band, just simple hardcore that occasionally strays into metal territory. If you're big into Madball, Agnostic Front, and Terror, there's no reason why you shouldn't like this workmanlike third album.
Unconsecrated, Awakening in the Cemetery Grave (Chaos): A collection of everything the Spanish band has recorded to date, this is outstanding death metal in the Swedish tradition: thick sounding, often crusty, pulverizing while retaining a sense of melody, and often blasphemous. If you need any more convincing, the cover of Unleashed's "Dead Forever" will do it.
Vintersorg, Orkan (Napalm): Who could have seen this coming? Just a year after their seventh album Jordpuls, which was their first in four years, Andreas Hedlund has put together another new Vintersorg album. Typically, it combines folk/pagan elements with his on prog rock tendencies, which makes for a sprawling but never dull sound, the songwriting always tasteful. The keyboards might be utilized to an overbearing degree every so often, but "Polarnatten" and "Norrskensdrömmar" find the band in peak form yet again.
Zombiefication, Reaper's Consecration (Pulverised): This week's fix of the filthier side of death metal comes courtesy the likeable Mexican band, in the form of a five-song EP. No-frills, concise, and sufficiently heavy.
live local music on
Enter your ZIP code to see concerts happening in your area.
Data provided by Zvents
follow msn music