The 25 Best Hard Rock & Metal Albums Mastered By George Marino
In honor of the late, legendary mastering engineer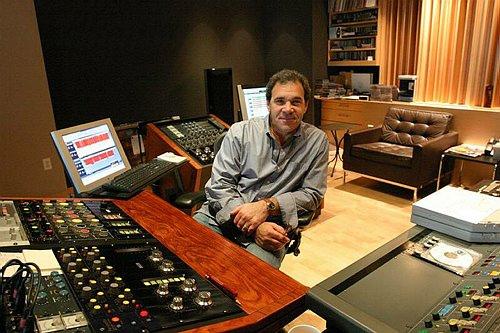 Late yesterday afternoon the news broke that the great mastering engineer George Marino had died of lung cancer. Normally a mastering engineer isn't very famous, but Marino was, having worked on an astonishing number of albums from the early-1970s to the present. If you're a music fan, you don't have one or two albums mastered by Marino; you have many. That's how trusted his ear was when it came to the critical listening of an album.
Marino's body of work is highlighted by many classic and best-selling rock and pop albums, including Stevie Wonder's Innervisions, John Lennon & Yoko Ono's Double Fantasy, Bon Jovi's Slippery When Wet, Whitney Houston's Whitney, Mötley Crüe's Dr. Feelgood, Metallica's Black Album, the great remasters of Led Zeppelin's entire catalog in the 1990s, Coldplay's A Rush of Blood to the Head, and Arcade Fire's The Suburbs, for which he won his third Grammy Award.
His studio Sterling Sound issued this statement: "Today Sterling Sound and the music industry as a whole has suffered a tremendous loss. Senior Mastering Engineer George Marino lost his battle with cancer this morning. Words cannot express the sorrow we feel. George was family to us all and we will miss him dearly."
Marino also worked on a great number of hard rock and metal albums, and just to show you how important he was to those bands during his esteemed career, I've put together a list of 25 of the best metal and hard rock albums mastered by George Marino. Needless to say, he left his mark on an unbelievable amount of classic heavy music, and these 25 are only a fraction of what the man worked on.
1. Metallica, Master of Puppets
2. Led Zeppelin, Box Set, Box Set 2 (1990, 1993 remaster)
3. AC/DC, Highway to Hell (2003 remaster)
4. Ozzy Osbourne, Diary of a Madman (2012 remaster)
5. Iron Maiden, Powerslave
6. Ozzy Osbourne, Blizzard of Ozz (2012 remaster)
7. Anthrax, Among the Living
8. AC/DC, Let There Be Rock
9. Dio, Holy Diver
10. Mötley Crüe, Shout at the Devil
11. Guns N' Roses, Appetite For Destruction
12. Dio, The Last in Line
13. Ace Frehley, Ace Frehley
14. Twisted Sister, Stay Hungry
15. Sepultura, Chaos A.D.
16. Death, Symbolic
17. Sepultura, Roots Bloody Roots
18. Slipknot, Iowa
19. Dokken, Tooth and Nail
20. KISS, Lick it Up
21. Skid Row, Slave to the Grind
22. Fear Factory, Demanufacture
23. Iron Maiden, Brave New World
24. Testament, The Ritual
25. Enslaved, Vertebrae
live local music on
Enter your ZIP code to see concerts happening in your area.
Data provided by Zvents
follow msn music