Iron Maiden to release 'Maiden England '88' on DVD
Double-disc set comes out March 25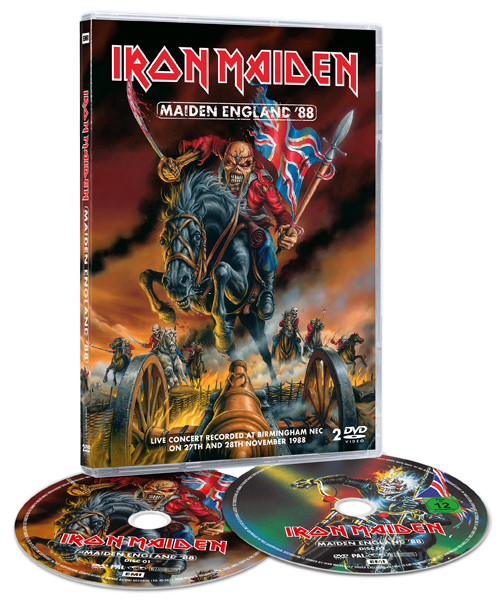 For the past few years fans of
Iron Maiden
had been wondering when the third installment of the band's
History of Iron Maiden
documentary series would be released. Not only that, knowing that the years 1986 to 1988 were next to be covered, anticipation was high that two crucial VHS releases would be issued on DVD for the first time. Seeing how the album
Seventh Son of a Seventh Son
will turn 25 years old in April – it's this week's subject of
Headbang's
'25 @ 25' series, coincidentally – it seemed only fitting that the whole shebang be put out this year, and indeed
Maiden
have followed suit with
Maiden England '88
, a great looking package that will come out on March 25.
Originally released in November 1989, Maiden England is the main feature of the new DVD, shot in Birmingham, England on the Seventh Tour of a Seventh Tour, and in addition to outstanding performances of such classics as "Infinite Dreams", "Still Life", and "Die With Your Boots On", the remastered concert will include three songs not included on the original DVD: "Run to the Hills", "Running Free", and "Sanctuary". Also included is the 1987 feature-length documentary 12 Wasted Years, which while not as thorough as History of Iron Maiden, still has some valuable interviews and live footage. And speaking of which, Part 3 of History of Iron Maiden will also be included. And if that wasn't enough, the Maiden England audio will be released on CD in its entirety for the first time, which will be a perfect companion for the current Maiden England world tour, which hits the UK and Europe this summer.
Good on Iron Maiden for finally putting this stuff out. Watch the trailer below.
live local music on
Enter your ZIP code to see concerts happening in your area.
Data provided by Zvents
follow msn music