Live Review: Volbeat, Hellyeah, Iced Earth, June 29, 2012
A metal show well off the beaten path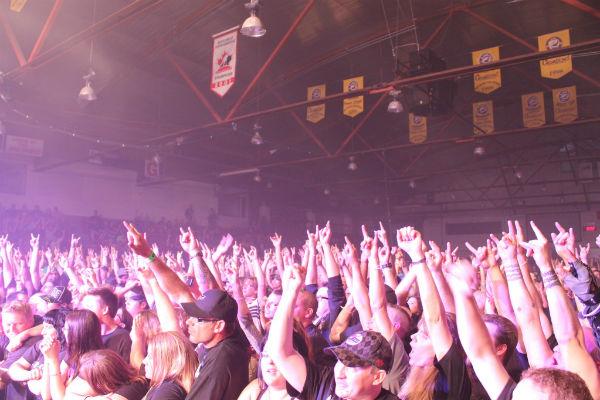 Sometimes it can be a good thing to get away from the usual haunts and go see a metal show somewhere unusual. I certainly didn't need to go cover Volbeat and Iced Earth, having written about their recent stops to my city earlier this year, and I absolutely didn't have to endure another incredibly dumb set by Hellyeah, that's for sure. But the fact that all three bands were playing a show in the small prairie town of Weyburn, Saskatchewan inside a quaint, 50 year-old hockey rink was something I figured I had to check out. So on June 29 I made the three and a half hour, 230 mile drive south in hopes that it'd be at the very least a cool, memorable experience.
Located right smack in the middle of the Great Plains, 75 miles north of the North Dakota border, the land so flat you can literally see for miles and miles in all directions, Weyburn – which bills itself as "the largest inland grain gathering point in Canada" – is hardly a hub for major metal shows, off the beaten path of major highways and for most people a pit stop enroute to Minot or Fargo. Like any other town of 10,000 in this part of the country, life's mostly about farming, hockey, and football. That said, the fact that a band as popular as Volbeat decided to route its Western tour through a place like this had a stroke of genius to it. Sure, it would draw people from cities and towns on both sides of the Canada/US border, but better yet, the odds were good that the town itself would go nuts over such attention. That was certainly the case as I made my way into the old hockey barn at 6:30 to see the beer-drinking section already packed to the gills as some musical abomination that calls itself Heart-Set Self-Destruct was playing its flaccid, grating whinecore in front of about 20 mildly interested youngsters while the rest of the crowd was busy slamming back brews.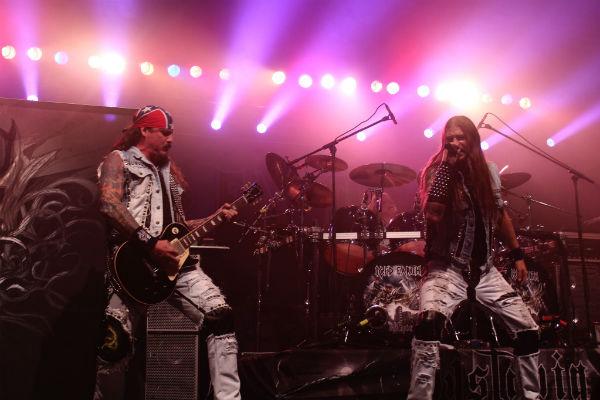 During the changeover the actual interest in the music that was about to be at hand seriously grew as the arena floor and side bleachers started to fill, local police doing a casual walk-through of the pit area just to let their presence be known, a far better way to keep the kids in line than, say, a 'roided-up goon in a yellow "security" t-shirt looking for trouble. Iced Earth kicked things off for real soon after, "Dystopia" sounding a bit of a mess as the sound bounced off the walls and curved wooden roof of the old barn. Those in attendance couldn't care less though, as guitarist Jon Schaffer and singer Stu Block led the band through exuberant renditions of "Burning Times", "V", and "Anthem". During a particularly potent performance of "Pure Evil", a song that Block was born to scream, I found myself thinking, Is it me, or is it getting a little hot in here?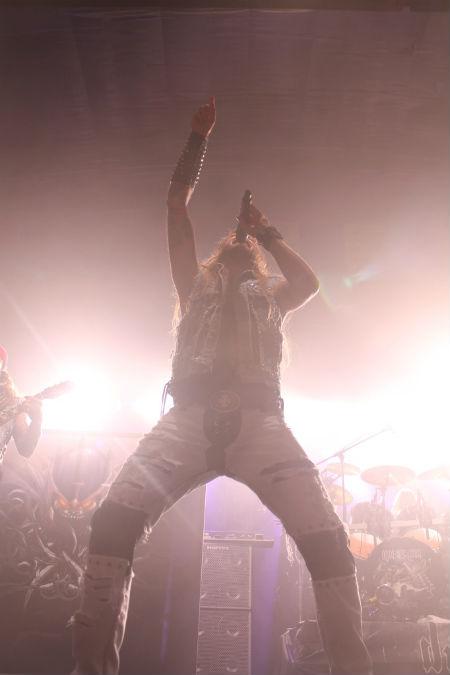 More than a thousand people had crammed into the tiny rink, and being a building more accustomed to hosting events in the middle of January rather than an 80 degree day in June, with terrible ventilation mind you, it got very hot very fast as Iced Earth sweated out "Declaration Day", "Watching Over Me", and "Iced Earth" in front of a very happy and increasingly soused crowd. Of course, Block, who had forged a deep connection with Saskatchewan as singer for Into Eternity and still calls the province his home, loved the reception, once again given a hero's welcome by the faithful, even though he couldn't help but acknowledge the very unorthodox location for an Iced Earth show, quipping facetiously, "Weyburn? Really?"
There's no question Hellyeah is total lowest-common-denomi​nator American metal, former members of Mudvayne and Nothingface scraping the bottom of the metal barrel, giving Vinnie Paul some ridiculously easy songs to play drums behind. In this part of the world, though, people drink up that redneck shtick, from the longhorn bull skills, to the pandering Canadian flags on the amps, to the Pantera-Lite riffery, to the songs about cowboys, drinking, and fighting. So it was no surprise at all that the arena floor was a sweltering mass of humanity when the band opened their 45-minute set with "The Cowboy Way". The heat had become unreal, creating an unbelievable stench of beer, body odor, and decades of prairie hockey sweat that seemed to ooze from the boards and floor as I sat on the players' bench for a breather. Despite the moronic music (new songs "Band of Brothers" and "War in Me" were carted out before capping things off with "Alcohaulin' Ass") the atmosphere by now was phenomenal, a thick fog lingering in the air when the dim house lights went up.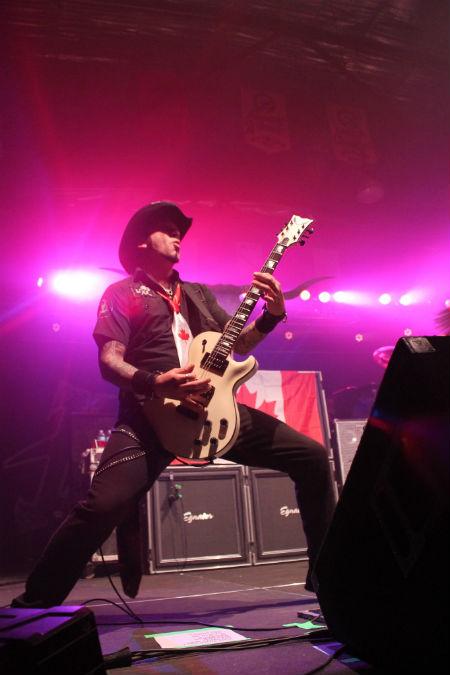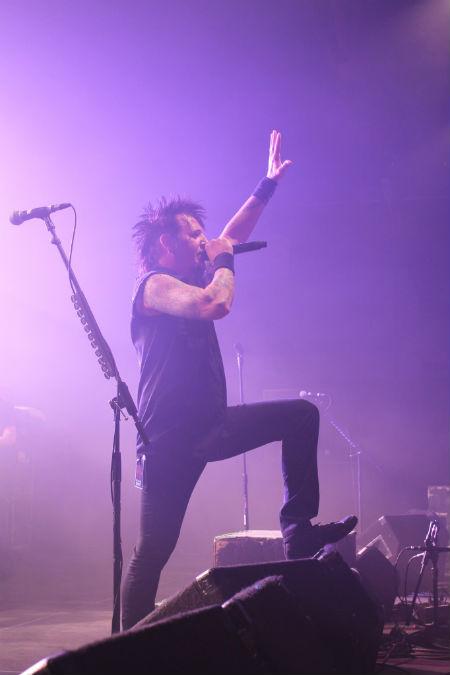 To this day my mind boggles at how quickly Volbeat has become one of the most popular "blue-collar" bands in metal and hard rock. Their rockabilly-metal-as-​sung-by-Danzig shtick gets old very fast for skeptics like yours truly, but the Danish foursome does a few crucial things extremely well. First, they bring the hooks. Not all the time, mind you, but their hits are the kind of simple beer-swilling anthems people like from a party band. Secondly, they are road dogs; unlike a lot of European bands Volbeat is willing to criss-cross the North American heartland in great detail. Sure, the big city shows on the east and west coasts go over huge, but making the effort to play the B, C, and D markets in the middle of the continent go even further to earning a loyal fanbase. Lastly, despite some inconsistent albums, they absolutely bring it live, boasting a singer in Michael Poulsen whose baritone voice sounds as boisterous in person as it does on record.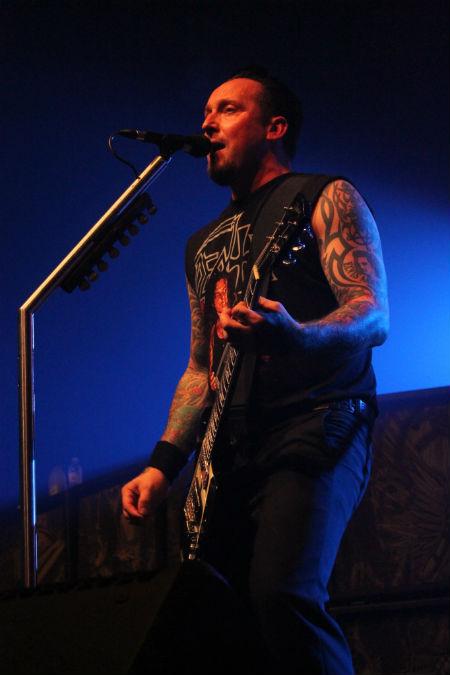 In air so stifling, thick, and smelly it hit you like a wall when you re-enetered the venue after a breather in the air-conditioned lobby, the big crowd as primed as Volbeat came on just after 9:30. Typically the band started off strong, dragging out such crowd-pleasers as "A Warrior's Call", "Guitars, Gangsters and Cadillac Blood", "Hallelujah Goat", and the hooky "Fallen" – far and away their best song – but just as I said back when they played Gigantour 2012, they don't have anywhere near enough strong material to make up a strong headlining set yet. Another couple of albums with a few decent singles and loads of filler, though, and they'll be set. Still, their fans thoroughly enjoyed every thing Volbeat tossed their way, and I even had to smile as the band played the deliriously dumb "Pool of Booze, Booze, Booze" with Iced Earth's Schaffer chipping in on guitar alongside Mercyful Fate's great Hank Shermann, who continues to play rhythm guitar. Capping off the encore with their cover of Dusty Springfield's "I Only Wanna Be With You" and the ska-riddled "Still Counting, their inexplicable hit that has somehow become their calling card, everyone went home happy, stumbling through the dank barn, stepping over copious piles of plastic beer cups, into the muggy prairie night, summer lightning striking fifty miles in the distance. Aside from Iced Earth, who were as reliably good as ever, this wasn't exactly my favorite metal music to listen to, but the energy of the crowd, the way all three bands fed off it, and the incredible atmosphere inside that stinking old hockey barn made it one of the best shows I've seen this year. Metal fans of Weyburn and area, you did your town proud.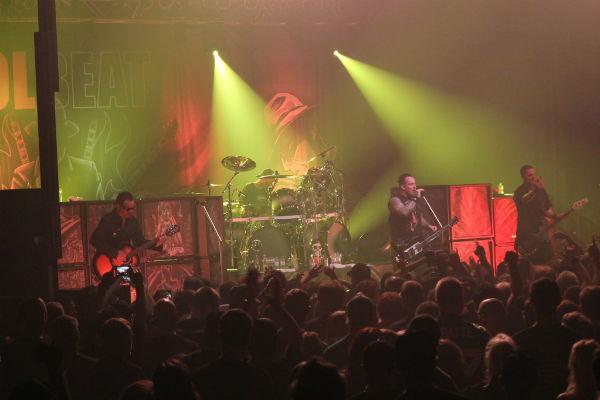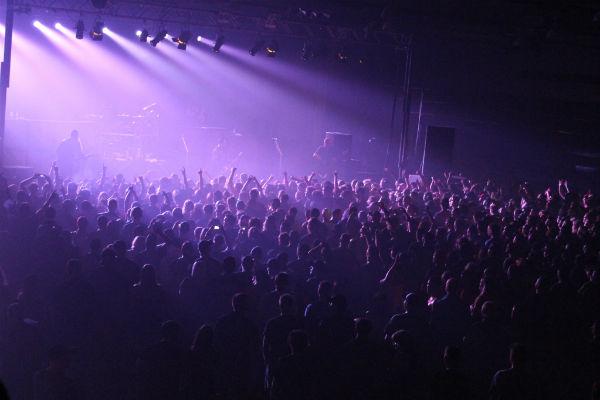 After reading the review of Hell Yeah here I can only come to the conclusion that the writer's only taste lies in his/her mouth. To describe them as "bottom of the metal barrel" and their music as "moronic" leads me to believe that the writer would be better off reviewing some other genre like Britney Spears or N'Suck, as he/she has no idea what good metal is. Those that can't DO, teach... those that can't teach, critique!
m2m


Are you sure you want to delete this comment?
live local music on
Enter your ZIP code to see concerts happening in your area.
Data provided by Zvents
follow msn music