New Release Roundup 9/22/09
This is another pretty big week for metal, with a lot of good releases - nothing by genuinely huge bands, but some veteran underground heroes and promising newcomers are back.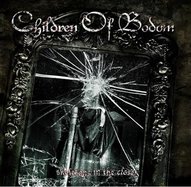 Children of Bodom
,
Skeletons in the Closet
(Spinefarm): These ridiculous Finns have been delivering a happy-faced, shredtastic mix of black and thrash metal for years now, and their U.S. audience has steadily grown. This new album is a collection of cover songs, and the tunes selected run the gamut from
Suicidal Tendencies
' "War Inside My Head,"
Slayer
's "Silent Scream" and
Iron Maiden
's "Aces High" (good) to
Britney Spears
' "Oops...I Did It Again,"
Poison
's "Talk Dirty to Me" and
Pat Benatar
's "Hell is for Children" (not so good). All of them have been thoroughly Bodom-ized, so there are guitar and keyboard solos busting out all over - if this sounds entertaining to you, then by all means pick it up. Me, I'm waiting for them to make another album as good as 2003's
Hate Crew Deathroll
.
Evile
,
Infected Nations
(Earache): The second album by these hyped English thrash revivalists is a big step forward from their debut. They've started modernizing, taking their obvious inspiration from
Testament
,
Exodus
and early
Metallica
and channeling it into a modern sound that's reminiscent of
Trivium
, while displaying much more instrumental technique and talent than those Floridians. Guitarist
Ol Drake
cuts loose with some terrific solos, and the album's final track, "Hundred Wrathful Deities," is an 11-minute instrumental that veers between progressive metal and raw thrash in a way that stomps all over "Suicide and Redemption," Metallica's attempt to do the same thing on
Death Magnetic
. Highly recommended.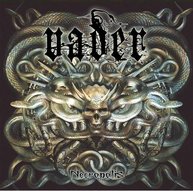 Vader
,
Necropolis
(Nuclear Blast): This Polish band has been crushing skulls for over two decades at this point, and their latest album shows no break with that pattern, even though it represents an almost entirely new lineup - the only original member left at this point is vocalist/guitarist
Piotr Wiwczarek
. But he's got an ace in the hole on this one; new guitarist
Waclaw "Vogg" Kieltyka
of
Decapitated
is the lead axe-slinger, and he delivers his usual awesome displays of fretboard technique, albeit within the context of typically Vader-esque crunching old-school death metal. These guys have been one of the best European DM bands virtually since their inception, with only a few missteps along the way, and this album is another killer addition to their catalog. Like
Infected Nations
,
Necropolis
, is practically a must-hear.
Other stuff out this week:
Crucifist
,
Demon-Haunted World
(Profound Lore): New, ultra-primitive black/thrash metal group featuring
Danny Lilker
of
Brutal Truth
. If you like
Hellhammer
and very early
Celtic Frost
, you'll like this.
Echoes of Eternity
,
As Shadows Burn
(Nuclear Blast): Second album by L.A.-based, female-fronted melodic/progressive metal band.
Five Finger Death Punch
,
War is the Answer
(Prospect Park): Second album by the very hyped, but also very hard-touring melodic thrash/death act.
Insomnium
,
Across the Dark
(Candlelight): Another dose of arty, mournful prog-doom from these Finns.
Skindred
,
Shark Bites and Dog Fights
(Bieler Bros.): Frontman
Benji Webb
pursues his dream, begun with his earlier band
Dub War
, of unifying dancehall, drum 'n' bass, and thrash. Sometimes it works, mostly it doesn't.
live local music on
Enter your ZIP code to see concerts happening in your area.
Data provided by Zvents
follow msn music