Review: Meshuggah, 'Koloss'
Moving well beyond "djent"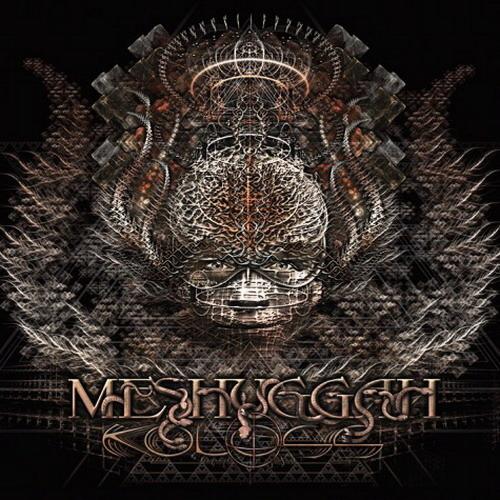 Something weird happened in between the release of Meshuggah's 2008 album obZen and their new record Koloss. All of a sudden a new generation of young metal musicians was making new, largely progressive-minded music based around a specific riffing style that Meshuggah had come up with back in the 1990s. The fact that hundreds of kids were unironically calling this new branch of metal by the name sardonically coined by Meshuggah guitarist Mårten Hagström, a funny onomatopoeic word called "djent", was even weirder. Now, the hilariously-named "djent" is a legitimate scene, with such popular bands as Periphery, TesseracT, Animals as Leaders, and Chimp Spanner leading the way, all of them creating their own form of music that branches off that one heavily distorted, palm-muted riff that Hagström probably created by accident.
Silly as the name is, it's great to see ambitious young musicians trying to create something new in metal music, but that "djent" riffing style has also been so overdone by so many lesser talents that it's become as bad a crutch as the one-note breakdown is in metalcore. When you hear a joke band like Attack Attack! copying Meshuggah on their new record, you know the great Swedish progressive metal band has, totally unbeknownst to them, created a bit of a monster. As a result, with Meshuggah being called the godfathers of a genre they had no ambition to create in the first place, it was going to be very, very interesting to see just what they would pull off on their seventh album in response.
As good as obZen was, if was guilty of anything, it was that Meshuggah wasn't looking forward enough, sounding more like an amalgamation of all the groundbreaking strides they'd made in the previous 15 years rather than something truly progressive. So especially when compared to that record, Koloss sounds a lot fresher.
That sense of experimentation permeates Koloss, yet at the same time this is the catchiest, most (brace yourself) accessible record Meshuggah has ever put out. As drummer Tomas Haake told me in an interview conducted in January, their goal was to create something a lot more organic-sounding and groove-oriented in contrast to the overtly sterile last album, and that's something you definitely hear on Koloss, whether it's the gargantuan, slow-burning "I am Colossus", the sharp, subtly melodic riffing of "The Demon's Name is Surveillance", or the elastic, wickedly swinging riff of "Marrow". Also, with his drums given a much more natural tone than usual, Haake's drumming, while as technically demanding as ever, is a lot looser, allowing the compositions to breath more. All those elements come together the best on the surprising little funk-as-interpreted-​by-aliens jam of "Do Not Look Down", an oddly danceable tune that centers on a funny, burping riff by Hagström and Fredrik Thordendal.
Make no mistake, though, oddly hooky and groovy as Koloss might be, it's still an absolute beast of a Meshuggah record. "The Hurt That Finds You First" is a blast of old-school thrash that hearkens back to Meshuggah's debut Contradictions Collapse. The polyrhythmic riffs and drum beats that propel "Swarm" are venomous, while "Demiurge" and "Break Those Bones Whose Sinews Gave Them Motion" are prime examples of the staggering heaviness that the band has always been so good at. And of course, one big highlight of any Meshuggah record is the soloing by Thordendal, his deceivingly beautiful, jazzy leads contrasting with Hagström's lurching rhythm riffs, and again his delicate solos are fascinating to hear, especially on "Demiurge" and "I am Colossus".
All the while vocalist Jens Kidman bellows Haake's stark, bleak lyrics in typical, commanding fashion, his phrasing as meticulously planned as the most complex guitar parts. The guitar work and drumming are always so absorbing that Kidman's efforts can sometimes feel like an afterthought to some, but when he roars a verse like, "I am pain / I am grief / I'm the things you fear /I'm the lie whispered into your ear /I'm the great leviathan / I'm dominance and greed / You imagined me, so I was conceived," he complements the power of the music perfectly, enhancing it even.
When you've got a wave of copycats making endless amounts of music, all it takes is one new record by that genre's progenitor to render everything else irrelevant, and that's exactly what Meshuggah accomplishes with Koloss. That stupid "djent" riff is the least of their concerns; they've always a band that's cast its gaze forward, and this new album does just that. It's their boldest since 2002's crushingly heavy Nothing, a ('scuse the pun) colossal statement by a band that stubbornly refuses to stagnate.
Koloss is out now on Nuclear Blast.

I wasn't really anticipating this record, but you've piqued my interest, now I'm curious to hear it. "Overtly sterile" has always been my problem with Meshuggah (obZen especially sounded like it was made by robots programmed to play metal), but it sounds like they've addressed that a bit on this album.
Are you sure you want to delete this comment?