New band alert: Corsair
Melody rich progressive metal from Virginia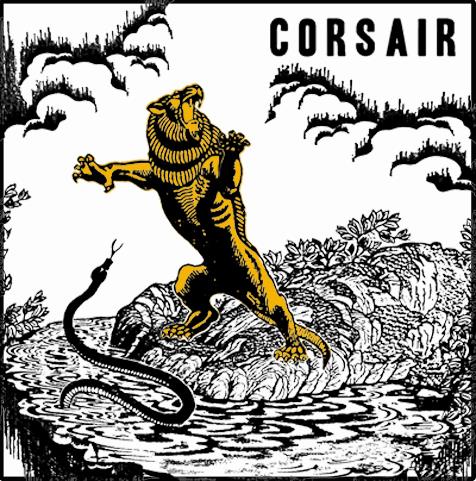 Every year whenever I try to recommend new metal bands to people who grew up in the classic era of the 1970s and '80s, often the response I get is, "You had me until the vocals." And although as a metal writer I'm far more sympathetic towards harsh vocals – these days you pretty much have to be – I do understand where these people are coming from. Cleanly sung vocals are a dying art in metal. While the tradition of bombastic, full-throated singing still carries on, what's much rarer is the more understated side of metal/hard rock singing, in the vein of such bands as Thin Lizzy, Blue Öyster Cult, Glenn Hughes, and Joe Lynn Turner, where the music was plenty heavy and the lyrical content was often fantasy-oriented, but the lead vocals showed a little more soul than mere bombast.
So imagine my surprise when I sampled the debut album by recent Shadow Kingdom signees Corsair, and heard a band that completely understands that aesthetic, where melody, riffs, and escapism merge exceptionally well. The Charlottesville, Virginia band are old-school to the core, but like Hammers of Misfortune, instead of ripping off Thin Lizzy, Wishbone Ash, and King Crimson they smartly take pieces from each and create music that stands out on its own. It can be epic at times but the songs never meander, subtly whimsical melodies often appear to bring a little levity to the music, but best of all, that singing, simple as it is and split between three members, breathes life into the tracks that a monotonous growler could never do. "Chaemera" and "Path of the Chosen Arrow" are good examples of just how strong songwriters these four musicians are, but the entire self-titled album, which came out early this year and will be re-released by Shadow Kingdom in January, is absolutely worth hearing and purchasing.
Listen to Corsair's debut full-length below.
live local music on
Enter your ZIP code to see concerts happening in your area.
Data provided by Zvents
follow msn music