Kiss Post Two New Songs From 20th Album
'Monster' to be released October 9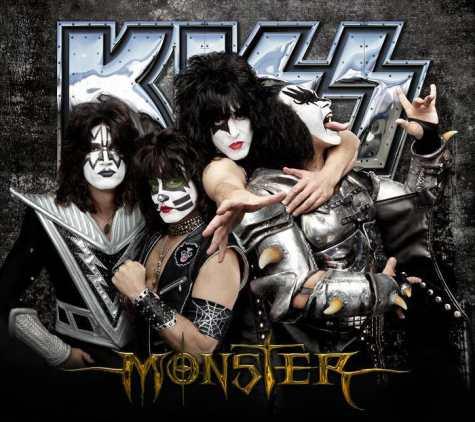 A Kiss fan for a very long time, my interest in the band seriously waned when the band not only replaced Ace Frehley and Peter Criss with Tommy Thayer and Eric Singer, but had Thayer and Singer dress up in Frehley's and Criss's facepaint and costumes. Kiss has always been shamelessly trite, but that stunt just went a little too far, and I pretty much stopped caring about what Kiss did since.
That said, I have to admit my ears perked up when I heard "Hell or Hallelujah", the first single off the band's 20th album Monster. The influence of Thayer, who originally made a name for himself as a founding member of Black 'N' Blue, seems very obvious, and you get the impression he's played a big role in steering Kiss's new music towards the classic, blue-collar style of their first three albums (Kiss, Hotter Than Hell, Dressed to Kill).
Now in anticipation of the album's release next week, Kiss have put out two new tracks, and again, they sound promising. "Long Way Down" is a swinging little groover sung by Stanley, while Singer takes the helm on "All For the Love of Rock & Roll", which takes a little "Mr. Speed" reference and turns into a fun little Hotter Than Hell-style rocker. So could Monster actually turn out to be Kiss's first decent album since 1992's Revenge? We'll just have to wait another six days to find out.
Listen to Kiss's "Long Way Down" here.
Listen to Kiss's "All For the Love of Rock & Roll" here.
live local music on
Enter your ZIP code to see concerts happening in your area.
Data provided by Zvents
follow msn music